A Cascade integration involves taking the content from an external website (non-USD website) which was made by some other company or institution, and manually transposing it, one content section at a time, into the Cascade CMS. During a site relocation the content of a website is converted to appear within the USD website theme, look, and feel.
Any changes desired to the original content should be changed before contacting the web team for Cascade CMS integration, or will need to be completed by the maintainer after integration is complete.
The web team only takes completed content from an origin site and at their best discretion, integrates it into the Cascade CMS. Once the integration is complete, the site's maintainer can make whatever alterations they need as long as they continue to abide by other USD web maintenance guidelines.
The web team will set the release schedule because the size, complexity, and necessary workloads of other projects are all competing for time.
Getting Started
You will need the following to request this type of website:
Selection of a new web address (URL) for your departmental website. Note that we ensure that URLs are SEO-friendly. An example of a good SEO-friendly URL would be https://www.sandiego.edu/climate-action-plan/.


Selection of a maintainer for your new website. Please see below for required training in order to gain access to the maintenance tool (Cascade Server CMS) for the website. ITS will not provision web server space for your site until a maintainer is identified. ITS is not staffed to maintain or otherwise edit your website long-term.


Creation of new navigation (i.e. information architecture) for your site. You can have a maximum of 5 or 6 categories in your navigation (depending on length of navigation items). This determines your primary (horizontal) navigation as well as your secondary (sub-page) navigation. This may or may not be the same as the navigation on the website when it is externally hosted. Any changes to the navigation must be done before the site is transitiond into USD's templates.


Development of an introductory statement for your website. This will be placed on your home page and serve as a welcome for visitors.


Selection of 1 banner image for your website. The sizing of the banner on most USD websites is 2100x350. You can refer to the USD Gallery for professional photography provided by the university for web and print purposes.


Selection of contact information for display on your website. This involves the following for your department:

Phone
E-mail address
Office location
Office hours



Content for each page of your website. This should be provided as a Google Doc the URL of which should be included in the ticket you submit for this request. This includes but is not limited to the following:

The addition or removal of content.
Translation of content from one element to another (i.e. a series of images translated into a carousel).
Which images will be kept and which must be discarded.
The web developer assigned to do the integration will do their best to "translate" the origin content into whatever options currently exist in the Cascade CMS at their discretion.
Note: We are unable to build new functionality or incorporate unsupported USD software tools for purposes of relocating your content. This includes requests for rendering charts accessible (inaccessible charts cannot be published on the USD domain), graphs, images, interactive elements, and so forth.
Request Your Site
You will need to open an online web request to begin the process of building your new site. Select New Website as your request type and Site Integration as the type of site you are looking to build.
Possible Request Denial
The web team will review your request and potentially deny an integration request for any of the following reasons:
Accessibility violations
Content which cannot be rendered accessible on the USD domain with realsonable effort
Lack of content specificity
Lack of project oversight
The final product's likelihood to lack substantial contribution to the USD domain (i.e. not likely to garner many visits or to add to students' well-being or success)
Excessive demands for iterative changes
Excessive content
Pressing commitments to other projects
Site Build
Once the above is collected and/or confirmed, ITS will create your new site based on the navigation structure and content provided.
No work will commence unless we receive the content intended for your new home page and any interior pages.
Cascade Server CMS Training
Attend a Cascade Server training to learn how to use the USD templates within our content management software. This training is mandatory before ITS can authorize a web account in the USD Content Management System. Cascade Server Registration is available online.


Request access to the CMS once you have attended training. To do this please submit an access request.
Getting Help
If you have any questions or suggestions please don't hesitate to contact us using our online request form. This ensures that the first-available team member can assist you.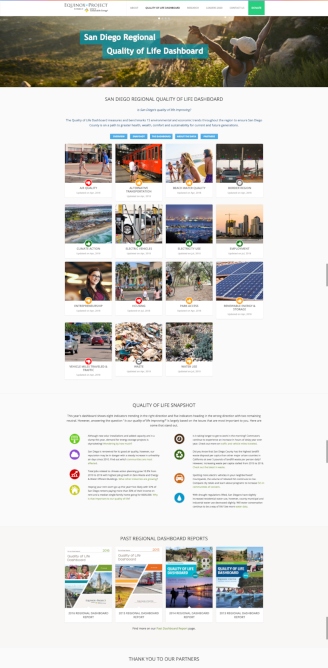 Original Equinox Site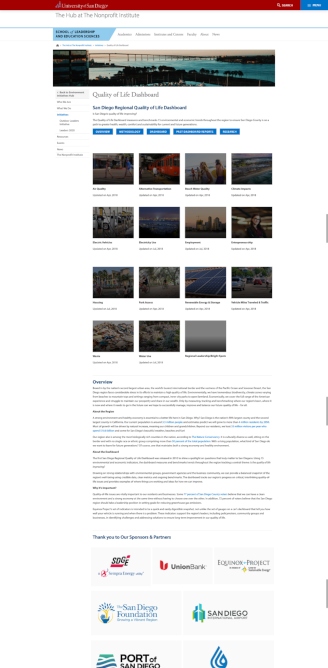 Nonprofit Quality of Life Dashboard