Options for Accessing University Computing Resources Remotely
Terms to consider:
VIA VPN - Virtual Private Network Application to Run when accessing on-campus resources (non google shares, computers and servers) from a remote location
Microsoft RDP - Microsoft Remote Desktop Protocol Application that requires VIA VPN to run before connecting to your on-campus computer. Great for computer-to-computer and computer-to-server connections.
Chrome Remote Desktop - A simple to use remote desktop connection tool that is tied to your USDOne login. Does not require VPN. Access Chrome Remote Desktop by opening this link with Chrome: https://remotedesktop.google.com
On-Campus/On-Premises Computer: Desktop or laptop computer that will stay on premises and has an ethernet connection attached.
Follow the graphical guide below that best fits your needs.
NOTE: If your resources are already located in Google Apps then you are cloud ready. You may not need to access campus resources unless you need access to resources such as Banner and Noetix.
I dont have a laptop but have a home computer and an office computer
Pre-Requisites: Activate Chrome Remote Desktop by turning it on and set a PIN on office computer
I have a USD Laptop only
Use VIA VPN and refresh your "This PC" windows on your computer to access resources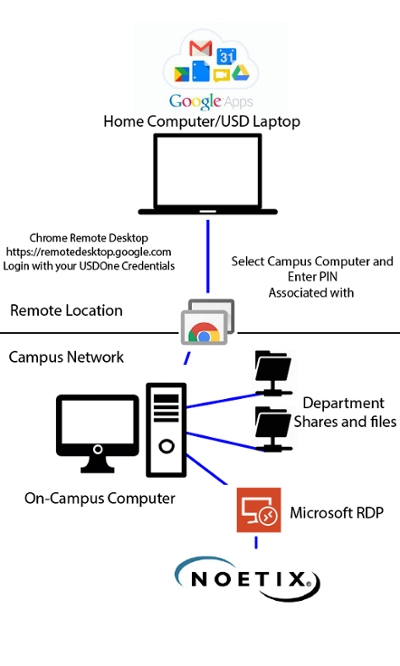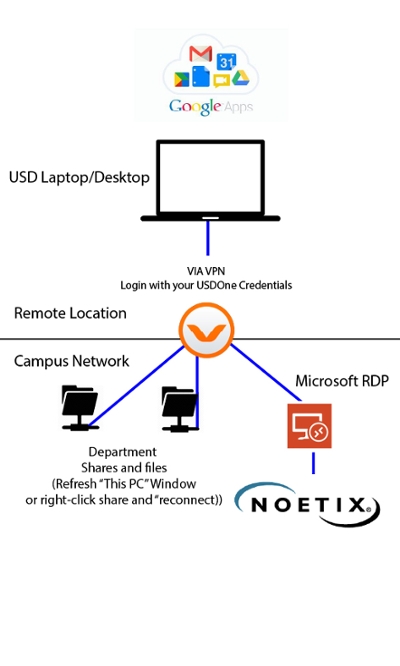 Contact the Helpdesk if you need more assistance with either option.
The Google Chrome option is the easiest to configure. 
Dependencies: On-Premises Desktop computer to act as a host to access resources. It is important that this Chrome Remote Desktop is turned on and that you do not forget your PIN to access the computer on campus. Your PIN is generated upon turning on Chrome Remote Desktop on your campus computer.
Compatibility: Mac and Windows
Accessible by: Any device that supports chrome (ie. connect via an Apple IOS device or Android or another computer)
Pre-requisites: Setup Chrome Remote Desktop PIN on on-campus computer.
The Microsoft Remote Desktop option is great if you only need access to a remote server such as Noetix but it requies VPN. It is also not for accessing MacOSX computers.
Dependencies: VPN, Windows Only
Compatibility: Mac-to-windows and Windows
Accessible by: Mac and Windows devices
Pre-requesites:
Prelogin to VPN 
Member of Remote Desktop Users on on-premise computer
Know the IP Address of your on-premise computer