Zoom Live Captions
ITS is excited to announce that automatic, AI powered, live transcriptions are now available inside all Zoom accounts at no extra cost. Please upgrade your Zoom desktop client to the latest version so you can start using the live transcription feature during your meetings.
Live transcriptions allows participants to:
Follow along while listening and reading at the same time
See the transcript if viewing without headphones or while in louder spaces
Watch the full transcripts to the right of the meeting and save if needed
In order for participants to view a transcript during a meeting, the host must start the live transcription.

* Note that the full transcript with names of each person speaking can also be enabled as a second window to the right of the meeting. 
How to Enable Live Transcription as a Host
Live captions must be enabled by the host prior to the start of the meeting. Log-in to sandiego.zoom.us with your USDOne credentials then navigate to "Settings" > "In Meeting (Advanced)" > "Closed Captioning".
Closed Captioning must then be turned on and you must select the "Enable live transcription service to show transcript on the side panel in-meeting," then click Save. Once you enable this setting the transcription will be live on all future meetings.

How to Launch Live Transcription in Meetings as a Host
During your meeting, you will see the "Live Transcript" option in your Zoom toolbar (it may be an item within the "More" button depending on your window size). Click "Live Transcript" then select "Enable Automatic Transcription".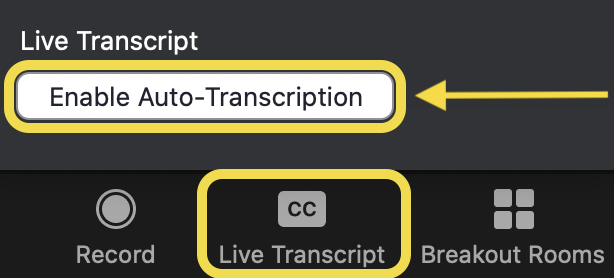 How to View Live Transcription in Meetings as a Participant
Once the host enables "Live Transcript" as seen above, the same button will now appear to all participants who can then select from the three options below.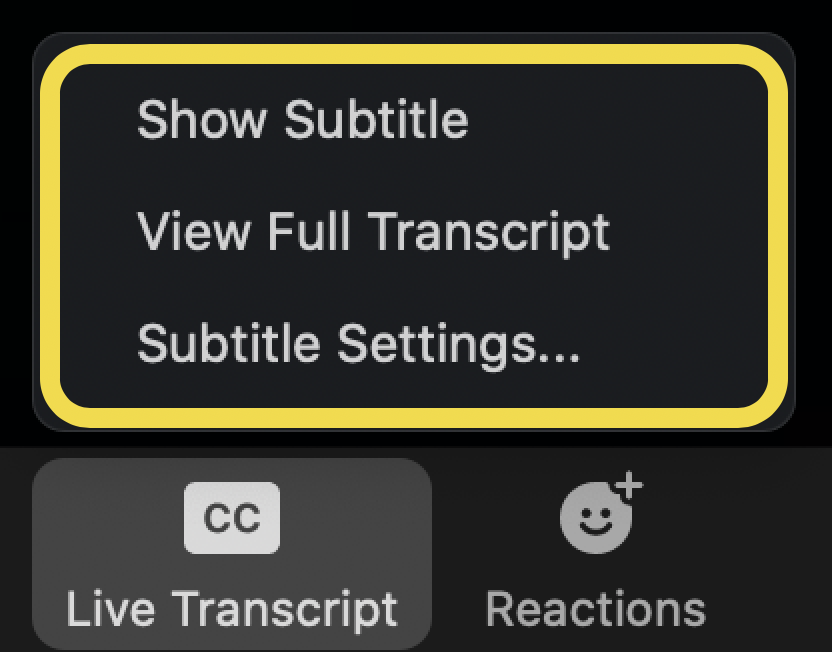 Show Subtitle: View the transcript as scrolling captions within the main meeting window. 
View Full Transcript: Display a full, scrollable, transcript with the speaker name in a window next to the meeting. 
Subtitle Settings: Adjust closed captioning font size and other accessibility options.

* Subtitles and the full transcript can be viewed simultaneously.
Helpful Practices for Better Live Transcription Accuracy
External Mic/Headset with Built-in Mic: Using an external mic can generally create higher quality audio with less backgound noise and result in more accurate live transcriptions. You can also try using your mobile phone headset if it has the capability to plug into your computer.
Background Noise Removal: Consider being closer to the computer microphone if you don't have an external mic and turning down anything that creates more background noise.
Speaking Slowly and Clearly: The automatic transcription is able to provide more accuracy with the words you are saying and speech that is slower. 
Briefly Pausing:  Zoom's full transcript detects who is speaking so if one person is talking and then another person starts talking right after, it can take a second or two before Zoom updates the transcript with who is speaking. 
Requirements and Limitations
Live Transcription is subject to the requirements of Closed

Captioning

.
Transcripts may be started or viewed from the Zoom app, but only viewed when joining via a web browser.
Transcription cannot be started from Zoom for Linux.
Closed

Captioning

and Live Transcription must be enabled in your Zoom settings.
The meeting host must start Live Transcription before participants can view

subtitles

or transcript. Any conversation produced prior to enabling the feature will not be transcribed.
Live Transcripts will not automatically save with local or cloud recordings. Cloud recordings, however, will still generate a transcript as before.
Live Transcripts are not available in Breakout Rooms.
At the moment Live Transcript sare  only available in English.
This feature is not available in Zoom Meetings for HIPAA.