Unveiling the Faculty Teaching Studio! We are thrilled to unveil the Faculty Teaching Studio at Maher Hall 188 available to all faculty as of August 10th, 2020. Our talented Digital Media team has been busy designing and building this 3-in-1 professional recording studio over summer 2020 with three primary stations.
What is the The USD Faculty Teaching Studio?
This studio is designed to accommodate the hybrid, hyflex, and remote teaching so faculty can have more options to produce instructional videos, mini-lecture series using Panopto to flip their class, or use the Learning Glass to depict concepts or prototype processes. Watch the video below to take a tour of the studio in action. 
We are excited to show off and demo the space and its capabilities.  Each station features the latest and very specific HD camera, lighting, and microphone technology so faculty can use the stations on their own. Watch short clips created by faculty at each station below.
Station 1: Classroom Podium Station
The Classroom Podium Station allows you to record as if you were standing in front of a podium in the classroom with unobtrusive professional lighting and microphones above. You can record with Panopto using the Mac computer or connect your own laptop to the built-in camera and microphone.

Classroom Podium Station Views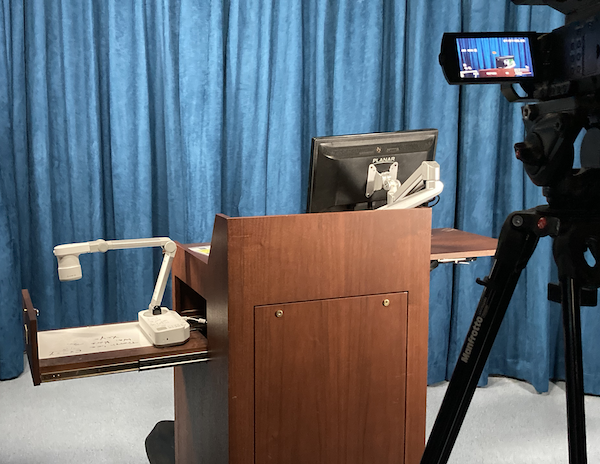 Podium + Curtain Backdrop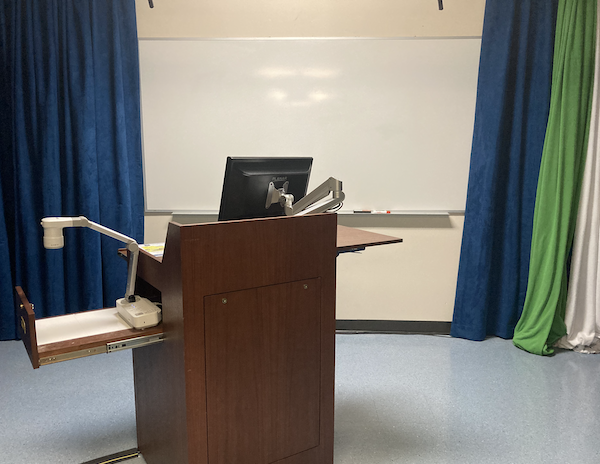 Podium + Whiteboard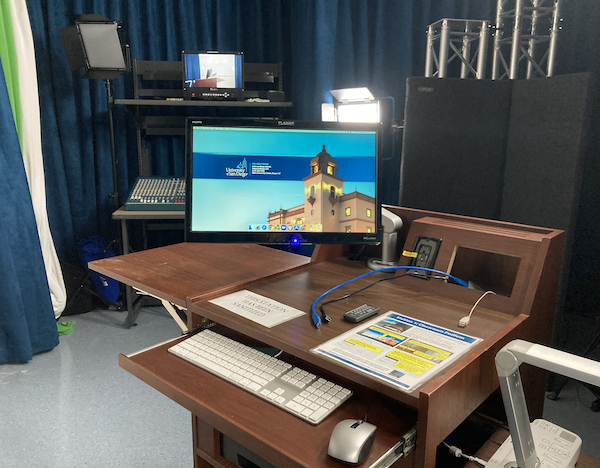 Teaching Behind Podium
Why use the Classroom Podium Station?
Teach lecture style using the only the podium, whiteboard, or both
Show the document camera, computer screen, or your own slides
Stand at the podium or walk anywhere in front of the whiteboard
Write directly on the monitor screen with the podium stylist pen
With this station you can also record with a:
Teleprompter after providing a script to a staff member
Green screen backdrop so you can edit in backgrounds later
Black, blue, or white backdrop that comes in from the side
Along with being able to record directly into Panopto, you can also record HD MP4 files directly into the computer and take the files with you or upload to Google Drive to edit later.
Station 2: Learning Glass Station
The Learning Glass Station gives you the ability to write out material while facing towards the student, giving a more natural and interactive viewing experience. You can choose to record
the Learning Glass, 
your laptop, or both simultaneously. The image is then inverted while recording so your students watching the lectures see the written information the correct way.
Learning Glass Station Views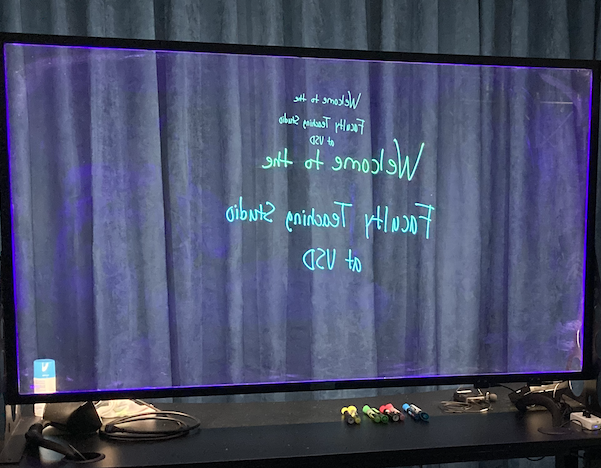 Front of Glass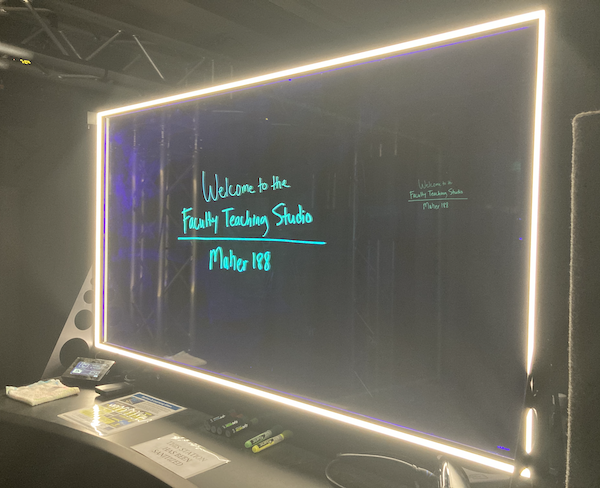 Teaching Behind Glass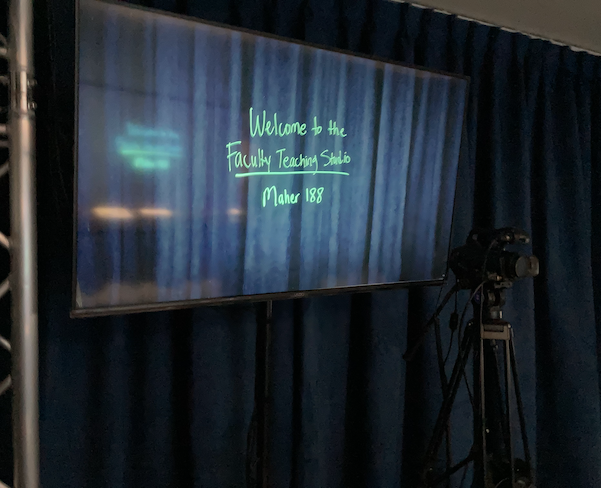 Recording Preview Monitor
Why use the Learning Glass Station?
Give the look of a one-on-one review session where you can be seen and heard just as you would in class
Explain concepts that may be easier to convey in graphical formats, icons, and symbols.
Talk and write without turning back and forth to a traditional whiteboard
Break up lectures into smaller partitions with the glass size being limited to how much can be written
Insert a USB drive and start recording. If you don't have a USB to start the recording, Media Services can provide one. When you are finished you can leave with the MP4 video file on your USB drive or upload the file to your Panopto lecture capture software or Google Drive to edit later. 
Find out more about the USD Learning Glass and watch more short examples from USD faculty.
Station 3: Web Presenter Station
The Web Presenter Station allows you to sit down and start recording with
Panopto
on a Mac laptop or by connecting your own laptop. The system turns on a cinema camera, microphone, and lighting with the push of a button.
Web Presenter Station Views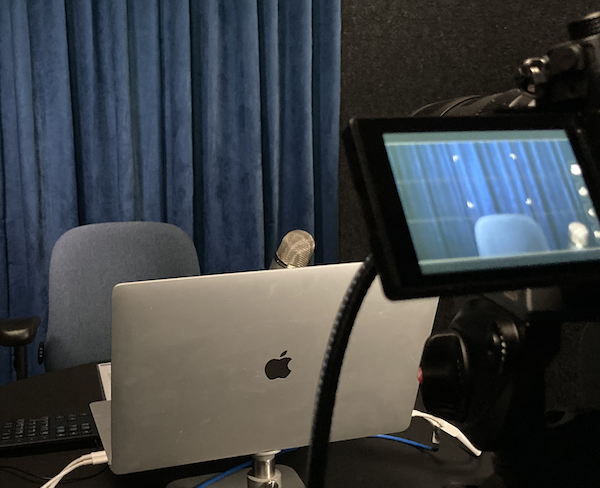 Behind Camera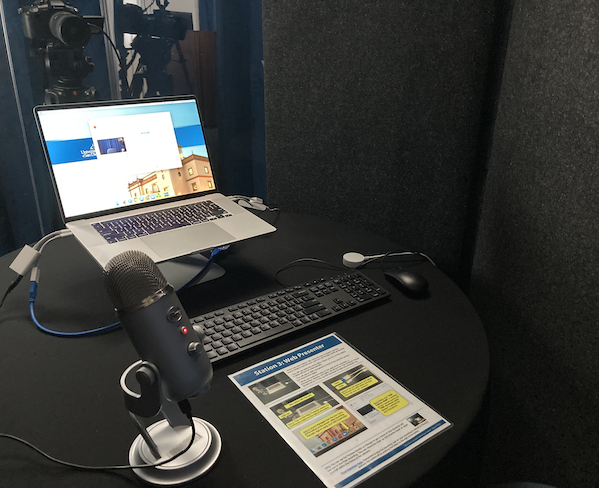 Above Station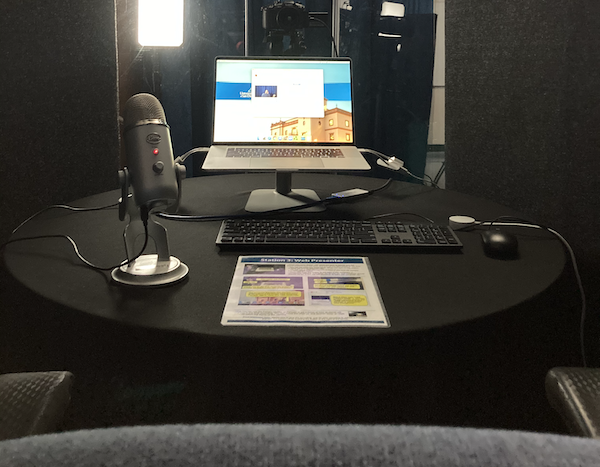 Teaching Behind Station
Why use the Web Presenter Station?
Create microlectures around training and education topics
Record presentations for asynchronous learning
Give a professional HD video look and feel to your videos
You can also bring your own computer to record as long as you have available an USB or USB-C inputs on your computer.