Media Lab and Recording Studios
Media Lab Overview
The Media Lab is located in Maher 176 and available to faculty, staff, and students for assistance with:
Video project consulting
One-on-one or group trainings
HD video recording 
Video project editing
Multimedia project creation
Web video to digital file conversion
Podcasting & voiceover
Video conversion, exporting, and uploading
Our hours of operation are Monday-Friday 8am to 7pm.
* Please note the use of the podcasting/voiceover rooms and Media Lab Presentation Recording Studio by students is specifically for coursework assignments.
Media Lab Stations
There are eight 27" iMac computers equipped with Final Cut X, Adobe Creative Cloud, iMovie, Davinci Resolve, Keynote, and Microsoft Office to assist with multimedia coursework.
The podcasting/voiceover rooms are located on Station 1 (up to 2 people) and Station 2 (up to 3 people). 
The podcast/voiceover rooms soundproofed and the ability to hear yourself and others when recording with the use of built-in headphones.
Each station comes with the ability to download royalty-free HD video clips and music for your coursework directly from Storyblocks.com
Media Lab Presentation Recording Studio
The media lab also has a presentation recording studio where USD students, staff, and faculty can record video. The video get recorded to a thumb drive as a MP4 video file to a built-in flash drive and can then be uploaded to Google Drive or transferred to a computer.
Alternatively, a presenter can plug a USB cable into their laptop to record directly to their laptop by using Zoom or Panopto just as if they were using a webcam. Presenters can also connect their laptop to the built-in video switcher so they can switch between being on camera or showing just the laptop presentation.
Behind the Scenes
The images below can give you a sense of the setup and the flexible preview options available.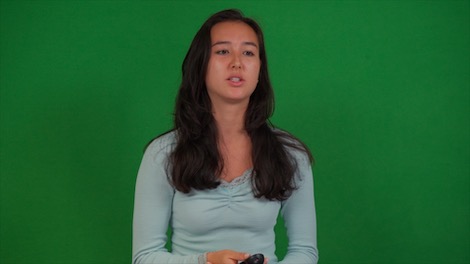 Green Screen + Lighting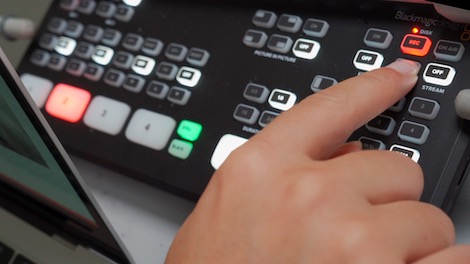 Video Switcher + Record Button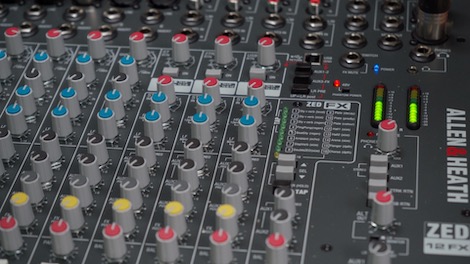 Sound Mixing + Multiple Mic Options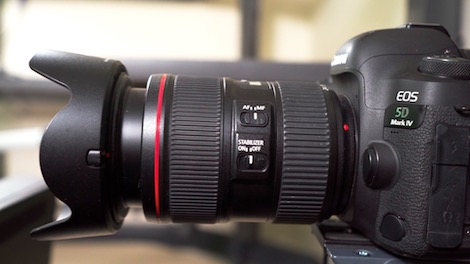 HD Camera + Zoom Lens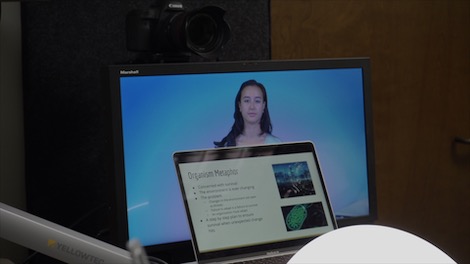 Presenter + Laptop
You can also use your laptop as a teleprompter by going to cuepompter.com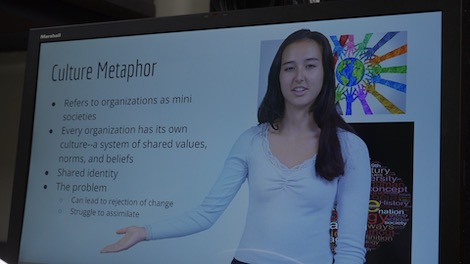 Superimposed Viewing
You can fade yourself in and out by pressing the transition button on the switcher.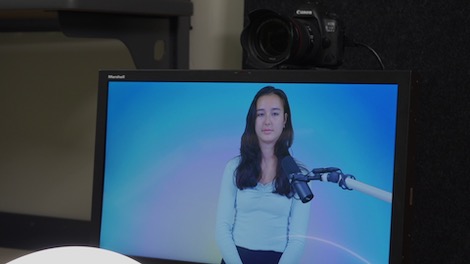 Presenter Only Viewing
You can show yourself full screen without the use of any other presentation material.
Video Clip Samples
See how you can present in different ways or the different backgrounds you can choose from.
When reserving the studio, there are 4 recording setups to choose from:
(1) Presenter full screen in front of a laptop.
(2) Presenter bottom right in front of a laptop.
(3) Presenter full screen or just the laptop. 
Note: The voice of the presenter will still be heard when showing just the laptop.
(4) Presenter full screen without laptop.
Note: The presenter can also bring in their own backdrop in any still image format.
Multimedia Project Support
You can stop by the Media Lab if you have any specific questions as it relates to creating, editing, publishing, filming, and formatting your media. We also provide technical support for editing, camera, and sound mixing settings along with general guidance for creating final video projects or audio podcasts. You may be able to get some of your questions answered below as it relates to filming resources, software, tips, and workflows.