How to report a Phishing email
Got a Phishing email? No problem!
Follow the steps below to report the email as Phishing and save these instructions for future occurrences. This will help 'train' the mail system to know these messages are phishing emails, which will help lessen these types of messages in the future. It's simple:
Open the message in your Google Mail account
Next to Reply click on the drop-down arrow, or the three vertical dots
Click 

Report

 

Phishing

 in the sub-menu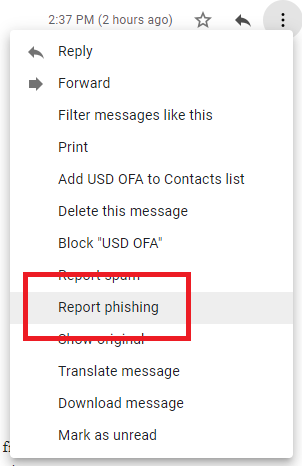 Spam
What is Spam?

Spam is unsolicited commercial electronic communication, often delivered to a large number of individuals.

What should I know?

To reduce the amount of spam that you receive, follow these guidelines:

Do not display your e-mail address in public. This includes in chat rooms, on responses to news stories or blog postings and in online membership directories.
Be sure to read a Web site's privacy policy before providing your e-mail address, or other personal information. Some companies may sell your information.
When submitting a form online, be sure that you have read through all of the information and understand what you are signing up for. You may be able to "opt out" of receiving e-mails from the company, and/or the company's "partners".
Get more tips about how to reduce spam in your inbox from the Federal Trade Commission: You've Got Spam: How to "Can" Unwanted Email

Report Spam

If you get spam e-mail that you think is deceptive, forward it to 

spam@uce.gov

. The Federal Trade Commission uses the spam stored in this database to pursue law enforcement actions against people who send deceptive e-mail. For additional information, visit the FTC's 

Spam Web site

.
Phishing
What is Phishing?

Phishing is an attempt to obtain personal and/or financial information from an individual through the use of e-mail links or pop-up boxes. These methods are often designed to look like they come from an "official" source in an attempt to trick the individual into providing sensitive data.

What should I know?

A legitimate institution will never ask you for any of the following information through any form of electronic communication:

your MySanDiego username and password,
your e-mail address and password,
your computer password,
your Social Security Number,
your mother's maiden name,
your bank account information, or
your bank PIN code.

Signs You May Have Received a Phishing Email:

Unofficial "From" email address
Urgent action required - examples: "Your account be locked out if you don't update your password", "Your account needs attention", "Your account has been compromised" 
Generic greeting - examples: "Dear member, Dear Customer.
Link to fake website - always hover over the link to see the actual website address. (See video below for more examples)
Legitimate links mixed with fake links - examples: university.sandiego.edu is a fake link vs. the legitimate link http://sandiego.edu
 Examples of Phishing emails
 Examples of Phishing emails

Latest Example:

 Phishing email sent out to campus on 07/02/2017 regarding merit increase. Payroll will never send emails regarding merit increases or emails with links to financial information. Please see example below.




 

 

 

 
See Also