Google Disabled Accounts
What is a Google disabled account?
A user's account becomes Google disabled when the Google mail servers notice suspicious activity on the account, most frequently occurring when the password to the user's email account is obtained by a malicious party.
Google disabled accounts often lead to massive amounts of email spam from the user's account, and if this spam is being sent by USD email accounts, it will lead to other websites and organizations temporarily or permanently blocking all email from USD accounts. Because of this potential blacklisting, USD takes our Google disabled accounts very seriously.
Why was my account disabled?
Most commonly, Google accounts become disabled when individuals fall victim to a phishing attempt.
Here is an example of how phishing occurs:
Diego Torero receives an email, like the email below, from someone with malicious intent who is posing as someone legitimate. The email informs Diego that his account has been suspended and he can only reenable it by entering his credentials into a webpage. Diego clicks on the link and enters his credentials, essentially falling into a trap. His username and password are stolen. The malicious sender then uses Diego's credentials to log into the his mailbox and send out the same phishing attempt to several hundred other individuals at USD. More real-life examples of phishing emails can be found here.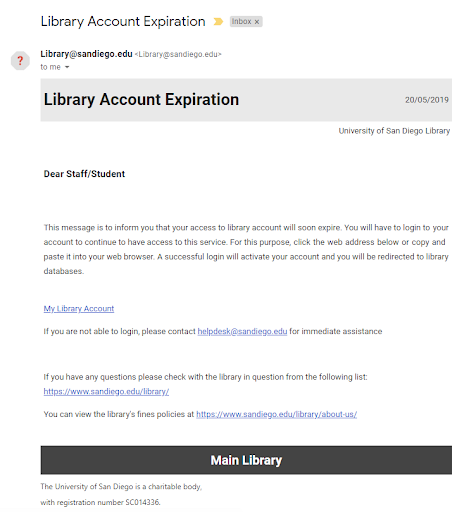 It is usually at this point when Google detects suspicious activity coming from the account, and disables it for the user's protection.
What do I do about my Google disabled account?
In order to reactivate your Google disabled account, Information Technology Services requires that all users complete a series of steps to help educate and defend against Google disabled accounts in the future. These steps are:
Contact the Help Desk as soon as you believe your account has been disabled.
A member of the Help Desk staff will verify your identity by asking you a series of questions. Once your identity has been verified, we will reenable your account.
Once your account has been reenabled, we will walk you through a password reset and check your email account for any changes that may have been made without your knowledge as a result of your account being compromised, and help you correct those changes.
Materials:
Reviewing the following materials is not mandatory, but may be useful in learning more about cyber security to prevent Google disabled accounts.
Watch the Email Phishing Awareness Video