Belarus Native, USD Basketball's Yauhen Massalski: "My Home, My Fear"
Belarus Native, USD Basketball's Yauhen Massalski: "My Home, My Fear"
Saturday, August 29, 2020
Belarus native Yauhen Massalski, a senior for USD's men's basketball team, shares what is going on in his home country in this first-person story. This was first published on the www.usdtoreros.com website on Aug. 28.
Many people know me by "Squirrel." It's a nickname I got when I came to the United States as a freshman at the University of San Diego.
While many people know me by my nickname, they may not know where I am originally from. I am proudly from Belarus, and I am one of two men's college basketball players at the Division I level from the landlocked Eastern European nation. Belarus has the European Union to the west and Russia to the east. It is a country independent from both, however.
Specifically, I was raised in Minsk, the country's capital city. There are nearly two million people in Minsk and nearly 10 million people in the entire country. To be one of two people out of 10 million in anything means I'm somewhat unique in my identity, especially as a Belarusian college basketball player in the U.S. (and with a nickname of "Squirrel").
It also means I have a platform, and I want to use that platform to tell you what is happening in my home country right now.
All of what you're about to read, any statement I make here is made under one simple idea: to express my feelings of disgust and disappointment of what is happening back in my home country.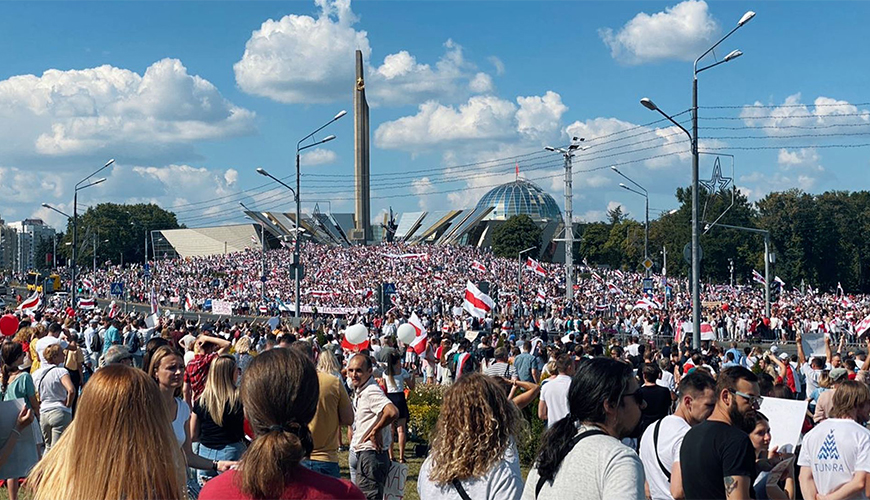 Post Contact
Chris Kutz, Associate Athletics Director, Strategic Communications
ckutz@sandiego.edu
(619) 260-7930