Advice for DACA recipients and applicants
JUNE 18, 2020 — The U.S. Supreme Court issued a decision ruling that the Trump administration's termination of DACA was (1) judicially reviewable and (2) done in an arbitrary and capricious way that violated federal law. The University of San Diego's press release about this decision is available here. Here's what we know now in light of this decision:
U.S. Citizenship and Immigration Services (USCIS) will continue to accept DACA renewal applications from anyone who previously has had DACA.
DACA Renewals and Work authorizations that were issued for 1 year will be extended to 2 years
USCIS should now begin to accept first-time DACA applications (that is, applications from people who haven't already had DACA) and advance parole applications from DACA recipients. HOWEVER, we do not know at this time whether the Trump administration will take action to try to limit these options.
Whether you want to apply to renew your DACA or apply for DACA for the first time, we encourage you to speak first with an immigration attorney or an Office of Legal Access Programs (OLAP)–accredited representative. If you decide to proceed with a renewal or first-time application, we urge that you be represented by an attorney or accredited representative (a Form G-28 should be filed with your application).
This information is taken from the National Immigration Law Center. Visit their website for the most up-to-date information:
5 Things to Know About the SCOTUS Decision on DACA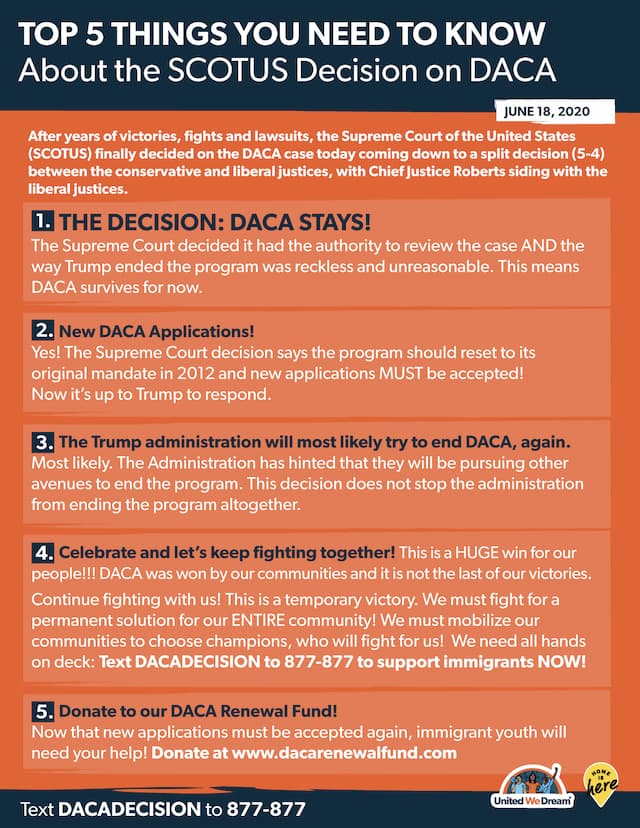 Flier created by National Immigration Law Center and United We Dream.
For more information visit United We Dream
Get Legal Advice
Free legal resources are available to University of San Diego students, as well as others based on financial need, through the USD School of Law. Contact the Immigration Clinic at USD to schedule an appointment by calling (619) 260-7470.
Free Legal Assistance from the USD School of Law
USD legal clinics are able to provide legal consultations and/or referrals as needed. Please reach out to Toreros Dream if needing legal assistance and/or if you have any other questions/ concerns the email link will be provided down below under connect
---
Know Your Rights and Prepare
---
Advice for other students feeling threatened by issues of identity or status
The Center for Inclusion and Diversity (Maher 253) serves as a one-stop for concerned students and students experiencing marginalization. The CID actively supports students with referrals to the right resources and advocacy.
Your faculty can be tremendous resources and can work with the CID and other offices to support students. 
The UFMC, Black Student Resource Center, International Center, University Ministry, Women's Center, Veterans Center, SSS, and other targeted resources will welcome you and support you.
Related Links