President's Welcome
Dear Campus Community: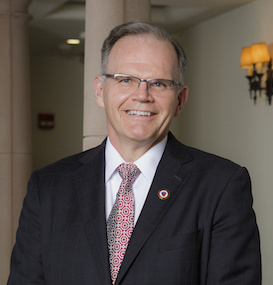 The purpose of this website is to share information about the current national dialogue on potential changes to immigration policy and enforcement and how we can best support our campus community, particularly our students who are immigrants, including those who are eligible for deferred action under the U.S. Department of Homeland Security's Deferred Action for Childhood Arrivals (DACA) process. As a contemporary Catholic university, the principles of access and inclusion have deep roots on this campus, and many actions have been taken over the years in support of these beliefs. I wish to reassure you that we remain committed to and reaffirm all principles reflecting our Culture of Care that protect immigrants on our campus and promote social justice and the dignity of every person.
The presidential task force we established in November will continue to carefully monitor the national dialogue on immigration policy and enforcement throughout the spring semester and collaborate with our national higher education associations on this important topic. The task force has created a thoughtful set of recommendations to help protect our international and immigrant students, faculty, staff and their families. I enthusiastically endorse and actively support these recommendations as we set a standard for engagement to confront any potential forms of discrimination and injustice, while at the same time offering assurances of support, safety and solidarity to those in need.
We are taking immediate steps to begin implementing the recommendations, starting with this dedicated website that features counseling, pastoral and legal services available on and off our campus for our students, employees, their families and members of our local community.
Our students, faculty and staff come to us from all over the world, and we cherish our deeply compassionate, diverse and inclusive learning community. I have been very encouraged by the spirit of solidarity among our Torero family in supporting our community members who are immigrants and who enrich our campus each day.
I encourage you to review the services offered on this website and read our Culture of Care Principles that reflect all the ways in which we stand in solidarity with our immigrant Torero family members.
Sincerely,

James T. Harris III, DEd
President
Related Links