Telefunding Center
Now hiring for Spring 2021!
Gain valuable networking and work experience communicating with alumni, parents and supporters of USD in efforts to fundraise for crucial scholarships. Telefunding is a fun and exciting job where you'll earn a competitive hourly rate plus bonuses.  Telefunding also offers flexible scheduling Sunday through Thursday evenings to work around your academic schedules.
Apply today! Download an application. Email your completed application to telefund@sandiego.edu. Please make sure to email your file as a .doc or .pdf file, .txt and .pages files will not be accepted.
What is Telefunding?
At the University of San Diego Telefunding Center, students raise money for scholarships, financial aid, faculty enrichment, new buildings, technological updates and materials for the library. Each year, a staff of 35 students reach out to over 35,000 alumni, parents and friends to help keep them connected with USD. As representatives of the university, telefunding student callers raise over $400,000 each year.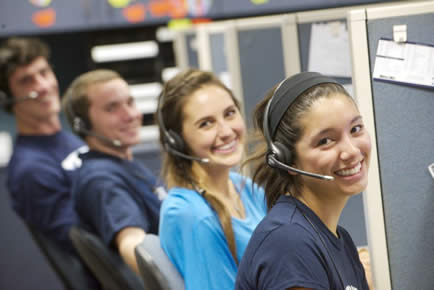 Each semester, students are trained over a three-day course to call our alumni, parents and friends to build relationships and raise money for the university. When you receive a call from the University of San Diego Telefunding Center — even if it's just to thank you for your support — there is a USD student on the other end of the line.
We Thank You For Your Support!

Recognition
The USD telefunding students and staff would like to thank the following businesses for donating goods or services to us during the 2019-2020 school year: 



Ahi Poke
BabyCakes
Belmont Park
Broken Yolk Cafe
Casa Guadalajara
Cafe Coyote
Chick-fil-A
Fiesta de Reyes
Five Guys
Fred's Cafe
Axe Thro Co
Island's burgers
Java Earth Coffee




Luna Grill
Mountain Mike's Pizza
Mission Bay Aquatic Center
Mr Frosty's
Nico's Mexican Food
Sushi Freak
Vivi Bubble Tea
Water's Cafe
WhichWich
Babe Kombucha
Olive Cafe
Seasons 52