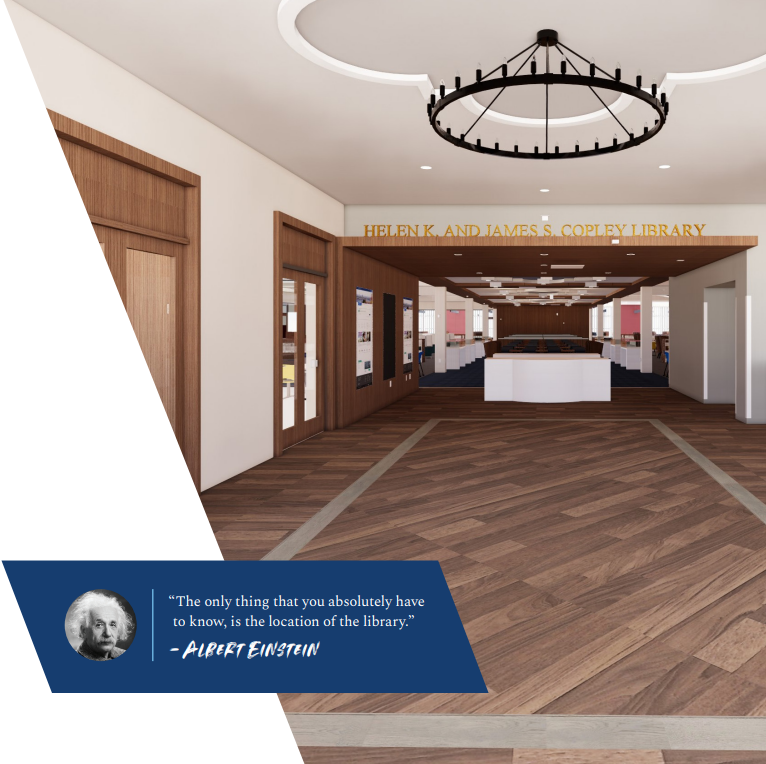 Begin quote

I spent a lot of time in our library studying and doing research. It's great to have a resource like that on our campus.
This is an exciting time on campus. Copley Library is undergoing a complete renovation which will transform Copley into a place where the arts, the humanities, the sciences and the latest in technology converge — a cornerstone of campus that will meet the growing and evolving needs of the students and faculty.
The renovation is part of what the University of San Diego calls its Renaissance Plan, a new beginning, a rebirth, for some of our original and most cherished spaces on campus, as well as new buildings that will enhance learning and the overall student experience.
Located in the heart of Alcalá Park's academic corridor, Copley Library will be adjacent to the new Learning Commons, the future home of USD's Living learning Communities. The library is also directly across from what will eventually become the Knauss Center for Business Education.
The construction and renovation on the west end of campus is generating excitement and energy about all that is yet to come at USD.
What it means for the library is a place where scholars at every level — from first-year undergraduates to PhD candidates to visiting researchers, tenured faculty and lifelong learners of every age — will converge.
USD is committed to securing the philanthropic support necessary to fund the renovation, which will expand Copley Library's resources, ensure student success, and enhance the experience of all library users — whether they're living on campus, visiting from off campus, logging in online or accessing library resources while studying abroad.
To be a part of this exciting renovation, make a gift today.