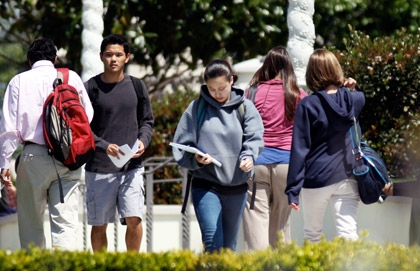 Begin quote

I give back because I am very grateful to USD for the invaluable relationships I made during my time there. USD gave so much to me. It was about time I did the same.
Support of any size ensures that the University of San Diego remains a premier Catholic institution.
Every gift has the power to have an impact.
There are many ways to give, whether your gift is small or large. And every contribution is viewed as important – not only because it will help current students, but also because it will have an incredible impact on future students who attend.
Everybody is different.
We realize that everyone is different. Whether you are a lifelong supporter or new to giving, we welcome your support. There is no measure you can put on a donor's willingness to give back. During these unstable economic times we are very thankful to each and every supporter, volunteer and donor. Because of your gifts, no matter the size, USD continues to grow.
Tell us why you give.
The reasons for giving are as diverse as our alumni and friends. What inspires you? What has USD done that makes you proud to be a Torero? 
Tell us today
 and your reason could be featured.