Print Room Projects
Alexia Sayyed, Class of 2020, Architecture and Art History Studies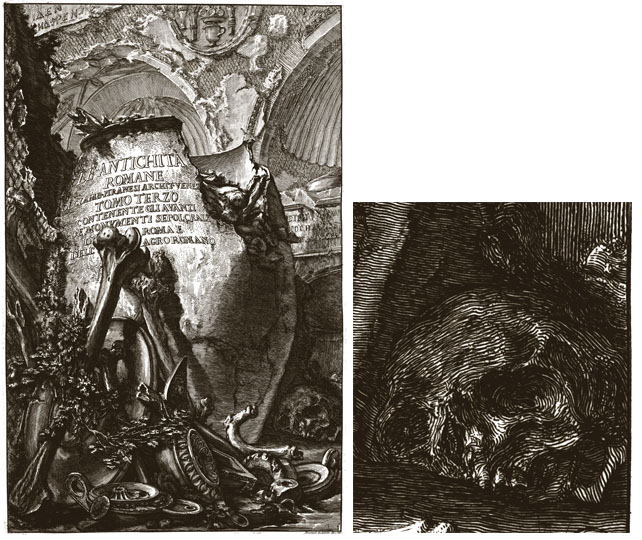 Giovanni Battista Piranesi
(Italian, 1756-1757)
Often considered the founder of modern archaeology, Piranesi completed four volumes of Le Antichità Romane, containing over 250 etchings which documented all types of Roman antiquities. His purpose for this series was to document and preserve the monuments of ancient Rome. Le Antichità Romane (Tomo Terzo) is one of two title pages to the third volume of the series. (fig. 1)
Piranesi frames this architectural fantasy by a mountain of ancient Roman lamps. The title of his series is etched over a large decaying urn surrounded by a skull and bone, perhaps a reference to his earlier works from the Grotteschi series which focuses on human, cultural, and architectural decay. Piranesi represents the city of Rome in decay, rather than in a state of perfection.
In Piranesi's Vedute di Roma (Views of Rome) series, he includes four different etchings of the Tempio di Bacco (Temple of Bacchus). First, he completed an exterior view of the temple (fig 2). Piranesi later created an interior view of the same building, as well as used the temple as a landmark in the background of two other etchings from this series.
The original temple was constructed in the 10th century, built over an existing one from 160 AD. The temple has gone through a number of restorations which are depicted in this print. Shown is a decaying façade being structurally reinforced. Piranesi exaggerated the scale of the building in order to emphasize its monumentality. A piece of the crumbling façade escapes the image frame onto the inscription, a visual device that became a staple in Piranesi's later works.
Inscription: Esso è il più intero di questa forma che sia rimaso a Roma ai giorni nostri, si nell' esterno che nell' interno. La sua Ara si conserva peranche nel Pronao colla inscrizione. Ara di Bacco, Aproniano Sacerdote. 1. Muri fra gl' intercolony del Pronao, e barbacani fatti da Urbano VIII per riparar la rovina del Tempio. 2. Chiavi delle catene di ferro impiegatevi per lo stesso fine. 3. Avanzo dell'antica casa dell'Editue. 'Presso l'Autore a Strada Felice nel palazzo Tomati vicino alla Trinità de' monti' and 'Gio. Batt. Piranesi Arch. F.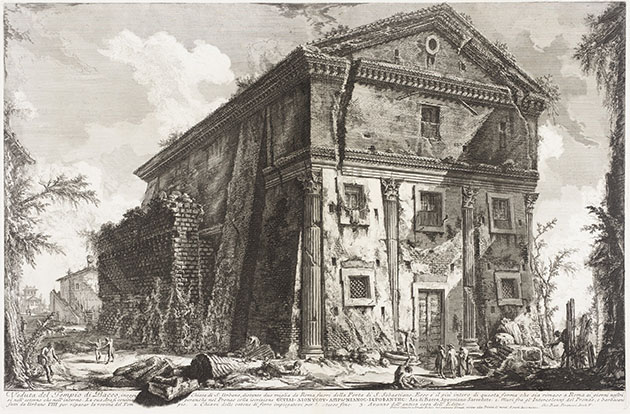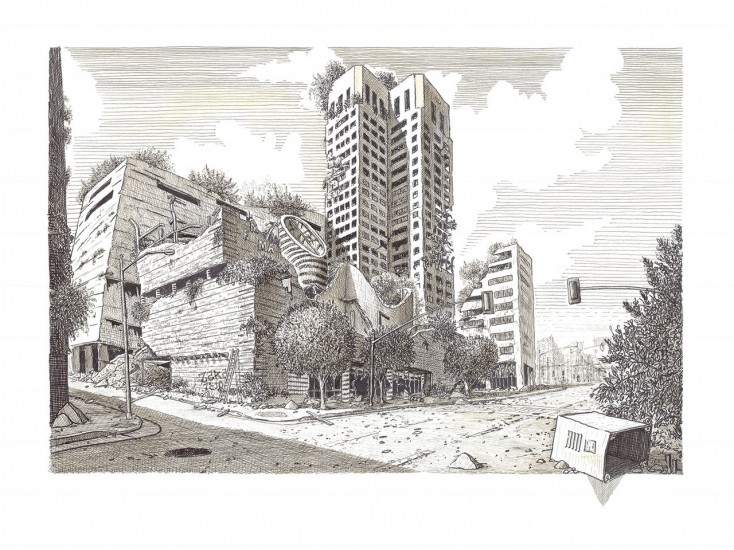 Sandow Birk
(American, b. 1964)
Contemporary artist Sandow Birk pays tribute to Giovanni Battista Piranesi and his series of architectural fantasies. This digital print (fig 3) presents an exterior perspective view of a destroyed San Francisco Museum of Modern Art. Unwieldy plants have encased the decaying façade of the museum. No humans are present in the typically busy downtown San Francisco area. Human existence is suggested, however, by the graffiti written on the façade of the museum wall. An electrical power box is positioned outside of the image frame, an explicit reference to Piranesi's Veduta del Tempio di Bacco (fig. 2) from his Vedute di Roma series.  
Alexia Sayyed, Class of 2020, DAA+AH
Alexia Sayyed worked as an intern during the fall 2019 semester in the Hoehn Print Study Room cataloguing and researching works by Piranesi in the university's collection. You can view her exhibit in person in the Hoehn Print Study Room, Founders Hall 102.