Past Exhibitions
David W. May American Indian Gallery
There Is Hope, If We Rise: Protest Posters from AIM to DAPL
15 November 2019 – 8 May 2020
Curators: Derrick R. Cartwright; Cara Treu, '19; and Carly Kamei, '20, University of San Diego
Thirty representations by both well-known artists and anonymous printmakers were included in There Is Hope, If We Rise, the title of which was borrowed from the multi-part series by Sonny Assu (Ligwilda'xw Kwakwaka'wakw). Taken together, these images recounted numerous occasions when native populations have expressed their outrage—and their hopes—for political, social, and economic change. The earliest posters in this exhibition were produced by activists associated with the American Indian Movement (AIM), a grassroots civil rights organization that began in 1968. More recently, activists associated with protesting the Keystone and Dakota Access Pipelines (DAPL) running through North and South Dakota, Iowa and Illinois, have used posters to express dissent with the environmental despoliation of sacred lands. The works in There Is Hope, If We Rise are part of a growing archive of political posters being assembled by the University Galleries.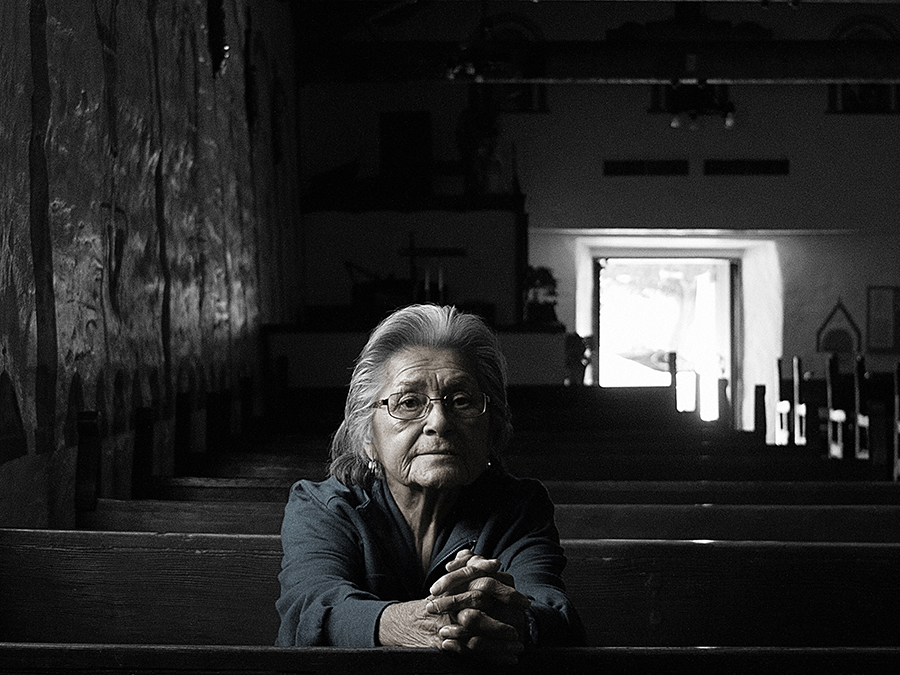 Natural Wanderment: Stewardship. Sovereignty. Sacredness
9 November 2018 – 3 May 2019
Curator: Matika Wilbur, Project 562
A member of the Swinomish and Tulalip tribes, Matika Wilbur has been photographing contemporary Native Americans as part of an epic documentary undertaking titled Project 562. When completed, it will include portraits from all 562 Federally recognized tribes in the United States. Her photography aims to resist the idea of "vanishing races" that has pervaded the narrative surrounding Native American portraiture since the late-19thcentury. This presentation included dozens of Wilbur's recent works, focusing on portraits of individuals from the Southwest.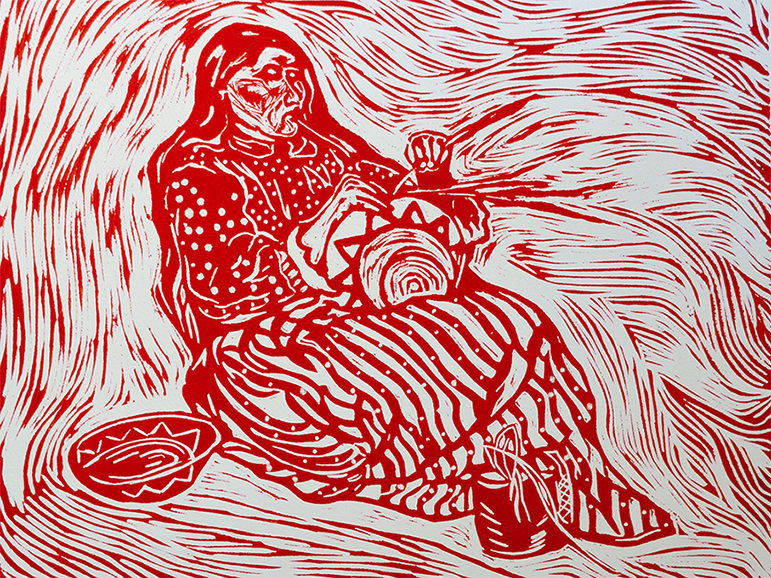 My Ewaa Ah: Johnny Bear Contreras's Scuplture and Kumeyaay Works from the May Collection
22 September 2017 – 18 May 2018
Curators: Joyce Antorietto and Derrick R. Cartwright, University of San Diego
In 2016, local artist Johnny Bear Contreras received a commission from USD to create a public artwork for the Kumeyaay Garden that borders the North east edge of campus. This exhibition explored the artist's proposal through sketches and past creations, as well as by pairing his work with examples of Kumeyaay basketry and ceramics from the May Collection.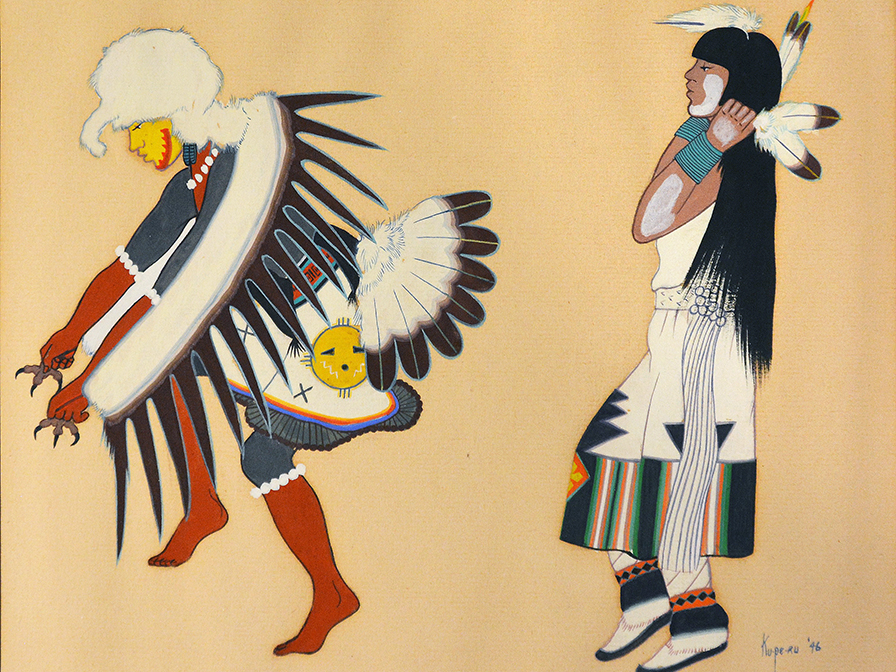 IMPRINT: Recent Acquisitions from the David W. May Collection
29 September 2016 – 19 May 2017
Curators: Joyce Antorietto and Derrick Cartwright, University of San Diego
This exhibition demonstrated what can be gained by championing contemporary Native American artists while placing their works in a dialogue with more historic objects from the collection.  Because Imprint was a celebration of newly-arrived work, 9 images on paper—6 prints and 3 drawings—were included in this presentation of 15 recent acquisitions. The works displayed suggest some new directions and strategic visions for the May Collection.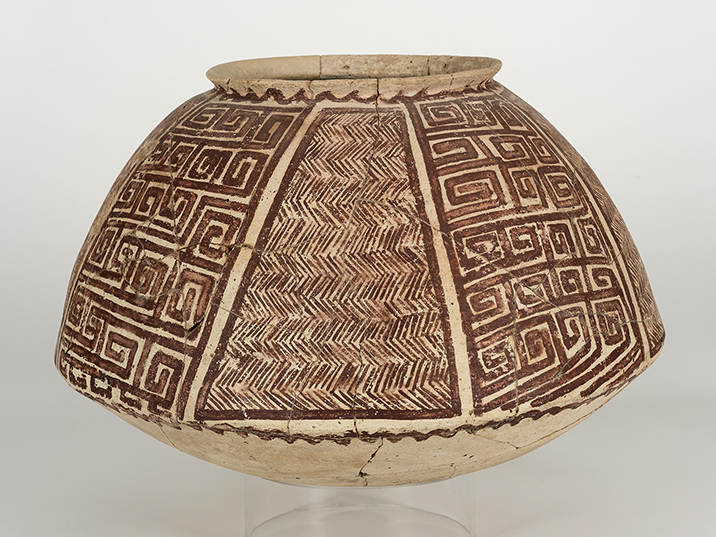 The May Collection: Twenty Works for Twenty Years
24 September 2015 – 20 May 2017
Curator: Alana Cordy-Collins, University of San Diego
In 1995, USD accepted a unique anthropological and fine art collection of more than 1500 objects from a local couple, Dorothy and Robert May. In the twenty years since the May Collection came to campus, the resource has also grown steadily—the total size of the collection, thanks to other gifts and purchases directed by Professor Alana Cordy-Collins, now stands at more than 2000 works. In recognition of two decades of collection-inspired exhibitions and courses, the University Galleries proudly mounted this mini-survey of the May Collection. Twenty representative works were selected by Professor Cordy-Collins. Taken as a whole, this project documented the May Collection's growth and suggested future avenues for research.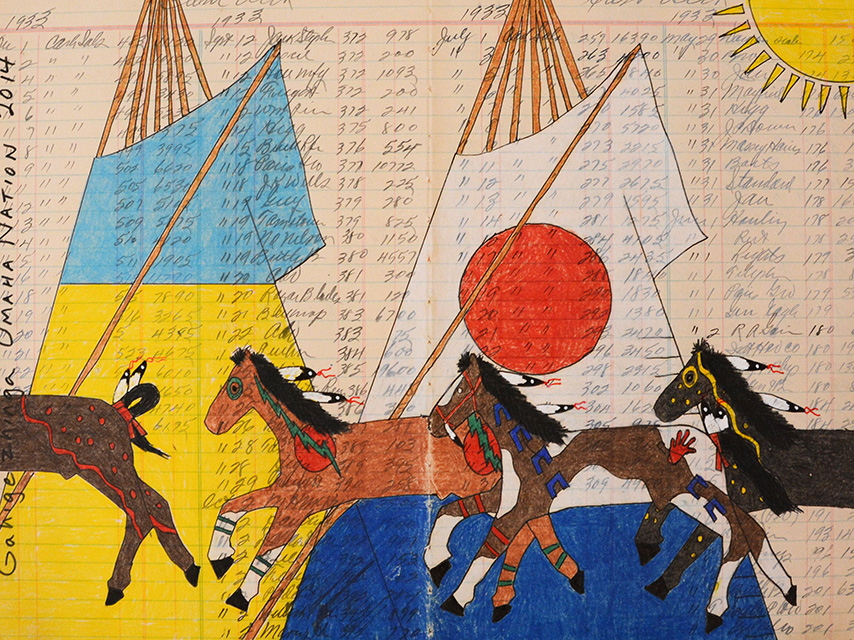 Horses in American Indian Culture
2 October 2014 – 20 May 2015
Curators: Professor Susan Enowitz and students in her Spring 2014 Museology course, University of San Diego
This student-produced exhibit traced the significance of the close bond that developed between Indians of the Southwest and the horse. Horses in American Indian Culture included objects that demonstrate the horse's profound role in warfare, spirituality, and current place in contemporary American Indian Art. Objects on display included a life-size painted sculpture of a horse by renowned local artist Robert Freeman, as well artifacts and traditional jewelry.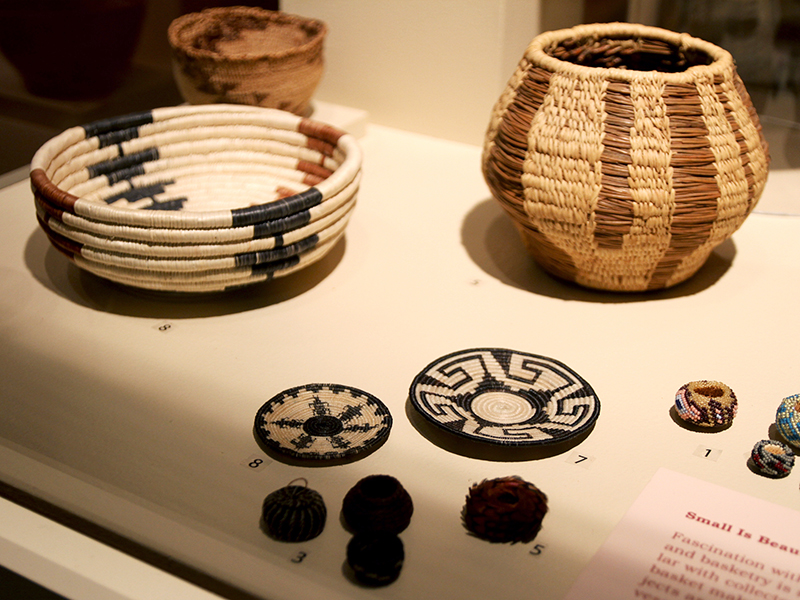 A Textile Art Without Machinery: Basketry from the May Collection
10 October 2013 — 25 May 2014
Guest Curator: Ken Hedges
Basketry is one of the most widespread and ancient of mankind's crafts and a universally practiced art form. This exhibit looked at the techniques, styles, and traditions in use to create these works of art.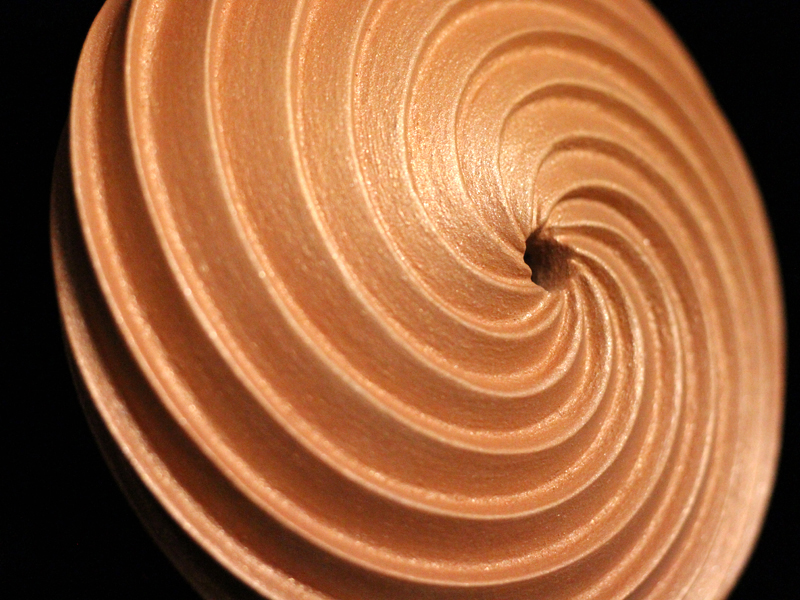 Old Chocolate and Other Surprises: Learning from the May Collection
13 September 2012— 17 May 2013
Curators: Alana Cordy-Collins and Tim Gross, University of San Diego

This exhibition was created in celebration of students' discoveries utilizing May Collection objects in their research. Using the instrumental chemistry labs on campus, students analyzed residues extracted from a sample of 24 mugs and vessels from the May Collection, and found evidence of theobromine, a compound associated with cacao (chocolate). Their research extended the known geographic and temporal range of cacao use in the American Southwest, and helped to explain the mugs' functions within Native American society. 
Silver and Stones, American Indian Jewelry
14 September 2011 — 31 May 2012
Pimans: A Bountiful Life in a Harsh Environment
1 June 2010 — 25 March 2011
Katsina: Commodified and Appropriated Images of Hopi Supernaturals
14 May 2009 — 16 April 2010
Mugs of the Mesas
February 2008 – February 2009
Weaving the Word
May 2006 – October 2007
Indian Cowboys: Images from the May Collection
August 2004
San Diego Public Library Fetish Exhibit
March – May 2004
Sylvia Mejia: Artist in Residence
November 2003
Robert Freeman: Artist in Residence
April 2003
Raven's World: Animals of the Northwest Coast
15 April 2002 – 13 February 2003
Barona Cultural Center & Museum
January – October 2002
Robert Hewson: Artist in Residence
February 2002
Enduring Traditions: Southwest Cultural Expressions
1999-2000
Masterpieces from the May Collection
1996-1997