Past Exhibitions
Robert and Karen Hoehn Family Galleries
Christ: Life, Death, and Resurrection
13 September - 13 December 2019
Curators: Hugo Chapman & Sarah Vowles, The British Museum
Christ: Life, Death, and Resurrection included over 40 original drawings and prints by Italian Renaissance artists—including Michelangelo, Fra Filippo Lippi, and others—from the renowned collection of the British Museum. Michelangelo's drawing entitled The Three Crosses, depicting Christ on the cross between two thieves, is one of the few large-scale, fully finished drawings by the Italian Renaissance painter and sculptor to survive to our present time. The drawing was joined by scenes of the Nativity, Crucifixion and Resurrection in a variety of masterpieces on paper – from woodcuts and etchings – to drawings in chalk and ink.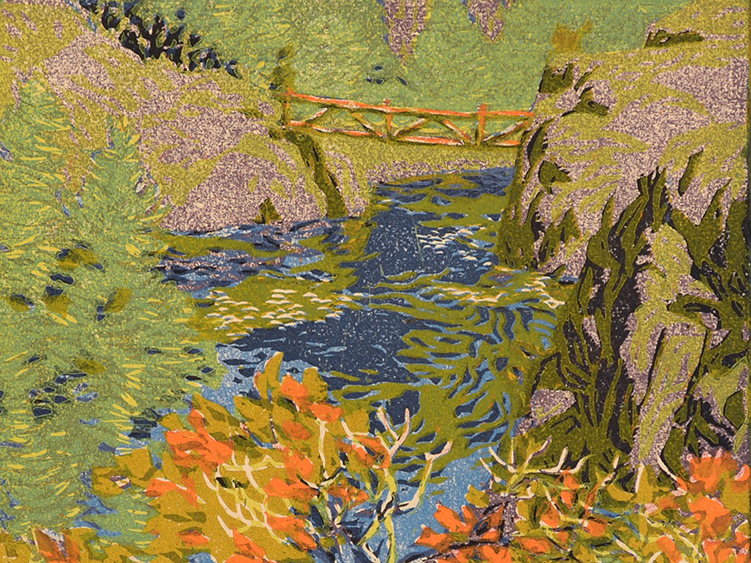 Press / Process: The Art of Prints
22 February – 17 May 2019
Curator: John P. Murphy, University of San Diego
For centuries artists ranging from Rembrandt to Rauschenberg have made original prints to communicate ideas, respond to current events, experiment with new techniques, and produce bold creative statements. Drawing on USD's rapidly growing print collection, Press / Process: The Art of Prints explored the history, materials, and methods of printmaking, treating the process as a "way of thinking" as well as a way of making.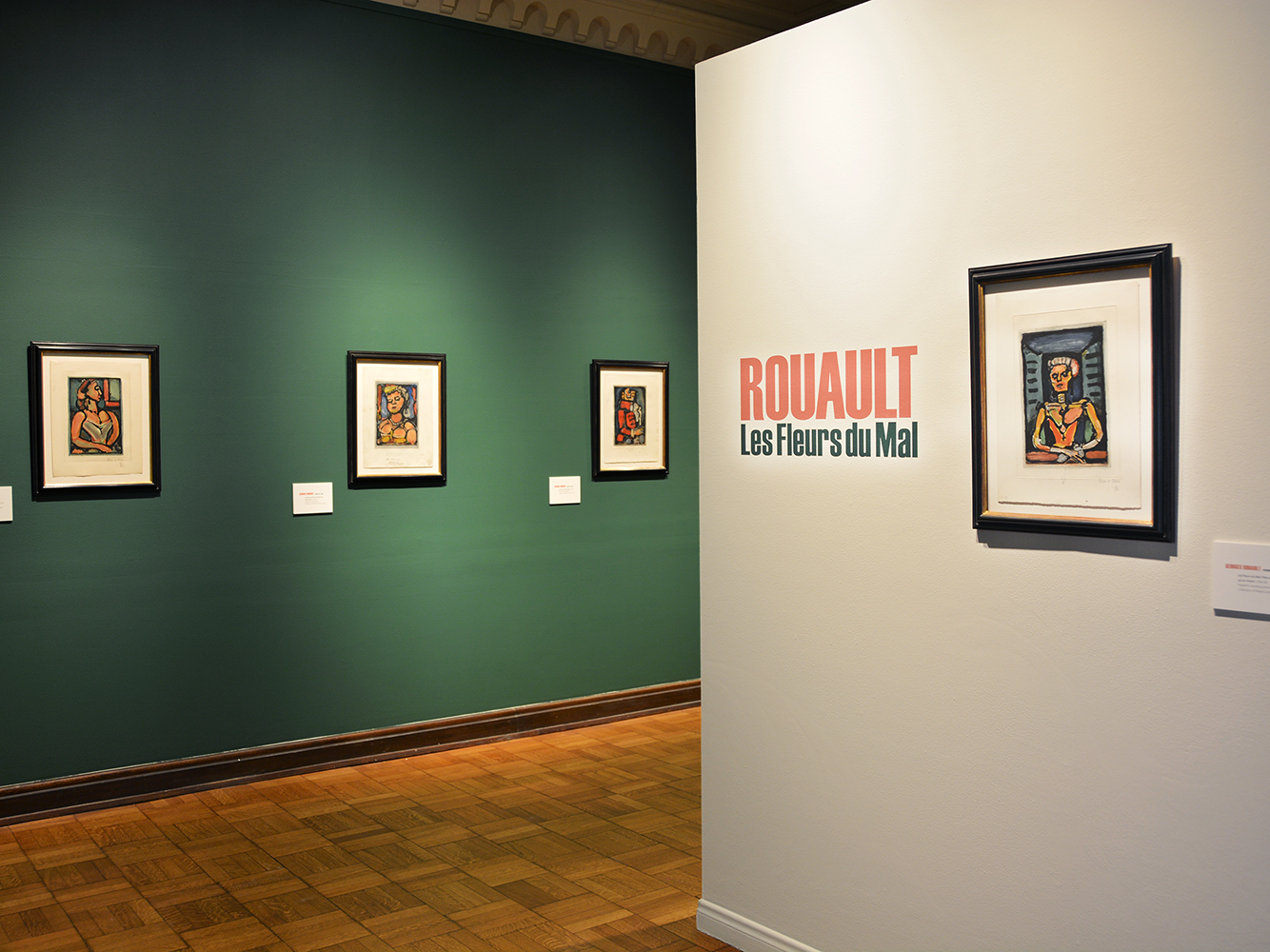 Rouault: Les Fleurs du Mal
22 February – 17 May 2019
Curator: John P. Murphy, University of San Diego
Georges Rouault's (French, 1871-1958) provocative prints and paintings blurred medieval and modern, sacred and secular. In 1936 he began working on an illustrated edition of Les Fleurs du Mal (Flowers of Evil), the cycle of poems by Charles Baudelaire that caused a scandal when first published in 1857. Featuring notations and instructions by Rouault for his master printer, the portfolio offers rare insight into the process of conceiving and executing an ambitious suite of prints.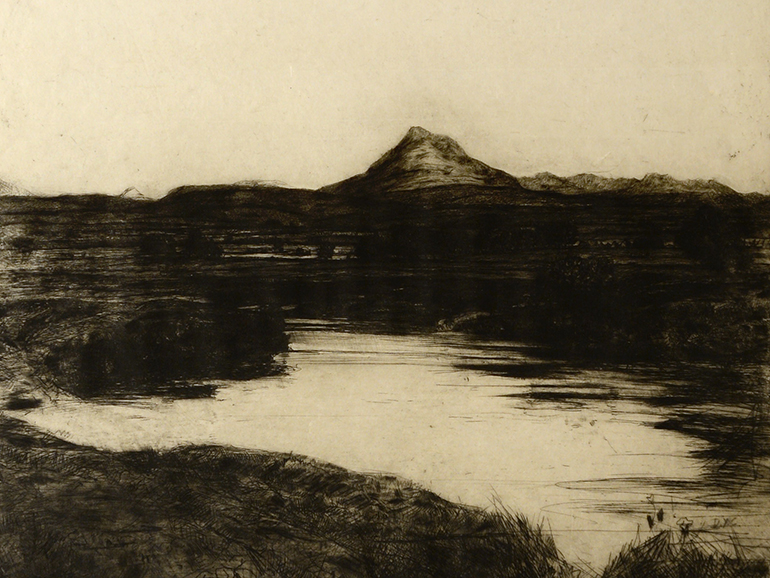 D. Y. Cameron: Mystic Beauty and Sacred Space
28 September – 7 December 2018
Curators: Derrick R. Cartwright and Robert A. Hoehn, University of San Diego
This exhibition represented the first time that the career of the legendary Scottish artist, Sir. David Young Cameron (1865-1945), had been surveyed in depth in California. For most of the first half of the 20th century, Cameron was among the most celebrated British printmakers in the world. Collectors competed avidly for his latest prints, paying record-setting prices and inflating the market for his finest impressions. Mystic Beauty and Sacred Space encompassed over 50 works, including etchings, drawings, watercolors, photogravures, and oil paintings by both the artist and his close contemporaries.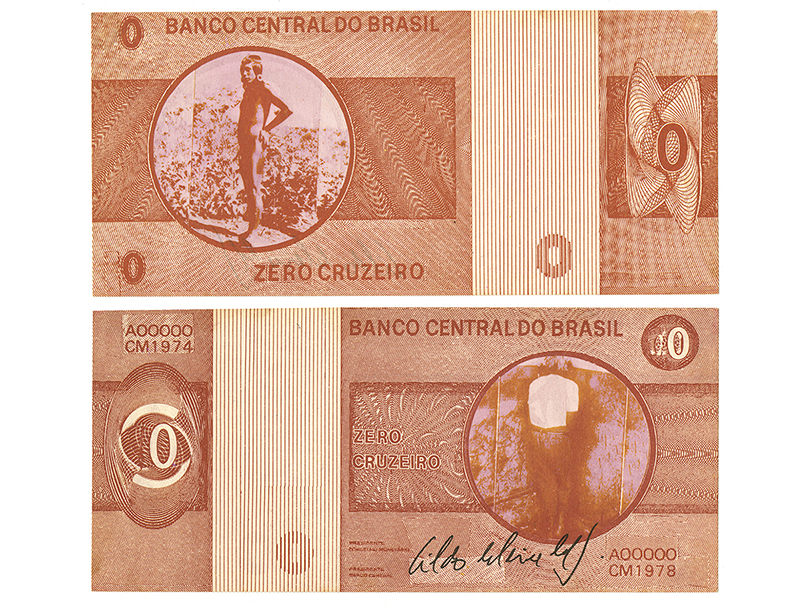 Art Cash: Money in Print
9 February – 18 May, 2018
Curator: Erin Sullivan Maynes, University of San Diego
Art Cash considered the relationship between currency and fine art prints, focusing on the way that artists have explored the similarities between making art and making money. As the artists in this exhibition observed, paper money and fine art prints are both a kind of printed paper. This exhibition examined the workings of one through the other, from circulation and exchange to counterfeiting. Artists included John Baldessari, Chuck Close, Abraham Cruzvillegas, Robert Dowd, Edward Kienholz, Roy Lichtenstein, Cildo Meireles, Al Ruppersburg and Andy Warhol, among others.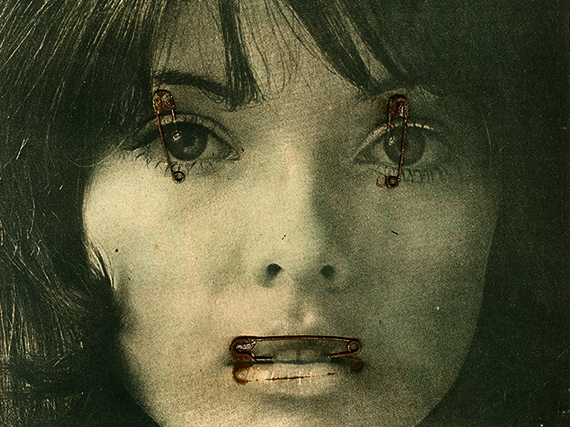 Xerografia: Copyart in Brazil, 1970-1990
15 September – 16 December 2017
Curator: Erin Aldana
Xerografia revealed the innovative uses of ordinary commercial copying practices by artists working in Brazil across two politically fraught decades. The exhibition introduced audiences to this often overlooked work, including not only the innumerable images made on standard copy paper but also works machine-printed on unconventional materials such as metal, wood, and glass. Eventually, this experimentation led to work in fax, videotext, and other forms of early new media. Photocopy became a new artistic medium, offering exciting possibilities for performance, film, documentation, and even international exchange through mail art strategies.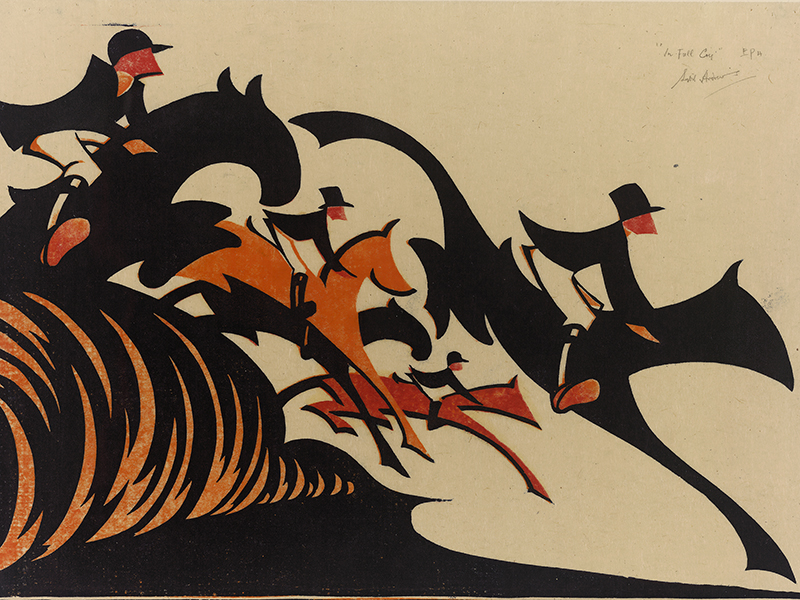 British Modern Prints from the British Museum: From the Great War to the Grosvenor School
10 February – 19 May 2017
Curator: Erin Sullivan Maynes, University of San Diego
This exhibition chronicled the graphic work of two of the most significant movements of early 20th century modern art in Britain: Vorticism and the Grosvenor School.  Selected from the world-renowned print collection of the British Museum, the exhibition featured around sixty works by exemplars of British modernism.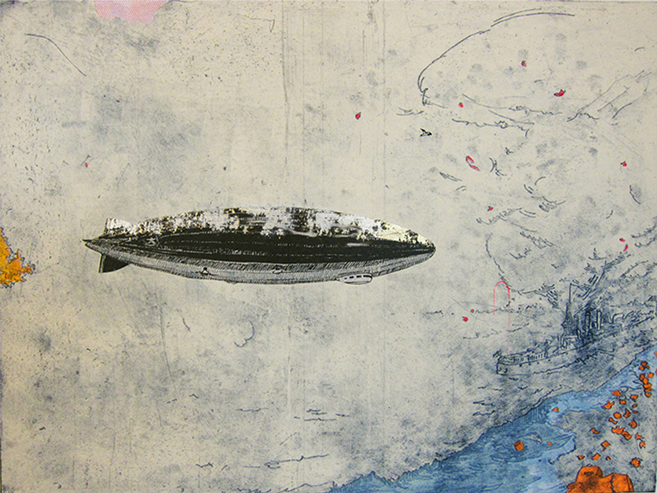 IMPRINT: Recent Acquisitions from USD's Print Collection
7 October - 16 December 2016
Curator: Erin Sullivan Maynes, University of San Diego
Imprint highlighted the University's Print Collection, which has experienced exponential growth in the last four years, nearly tripling in size. Recent acquisitions have reached as far back as the 15th century, and include major works from Asia, Europe, Latin America, and the U.S.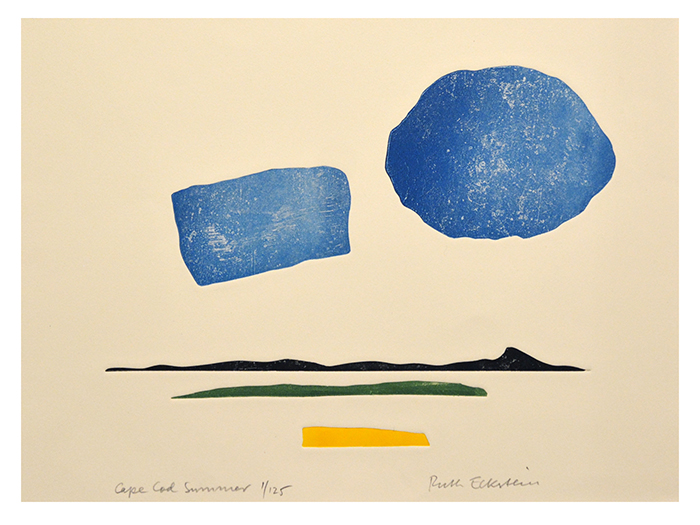 Ruth Eckstein: Topographies
8 July - 2 September 2016
Curator: Erin Sullivan Maynes, University of San Diego
This exhibition presented the graphic work of Ruth Eckstein (1916 - 2011), an artist who explored the possibilities of printmaking as a vehicle for formal experimentation.  Her elegant and refined abstractions often suggest landscapes and evoke the look and feel of different topographies or careful arrangements of land, sea, and sky.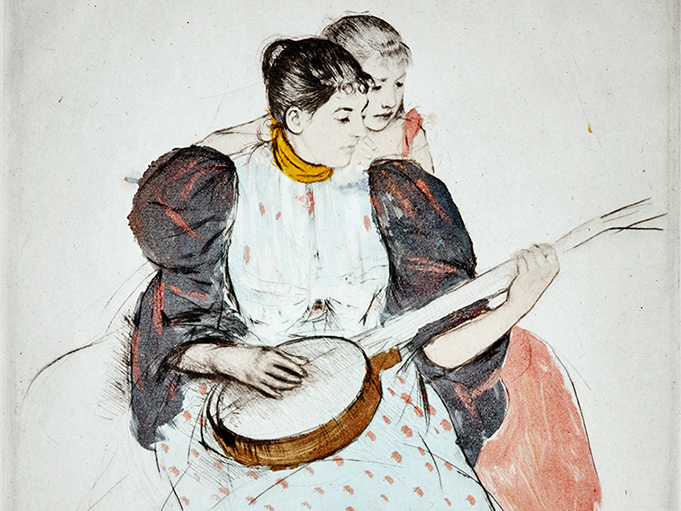 American Art from a Pacific Northwest Collection, 1860-1915
8 July - 2 September 2016
Curator: Derrick R. Cartwright, University of San Diego
This unique exhibition brought together more than 20 extraordinary works by American painters, sculptors and printmakers from a renowned private collection in the Pacific Northwest. From the Hudson River School to American Impressionism, the exhibition provided a strong overview of artistic practice in the United States from the Civil War to the turn of the last century.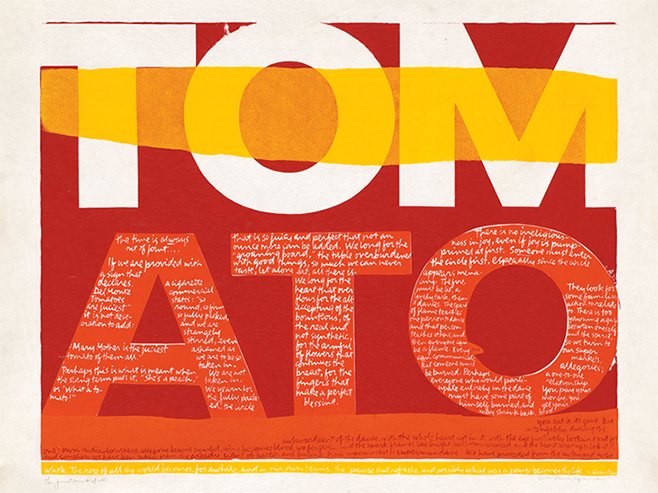 love is here to stay (and that's enough): Prints by Sister Corita Kent
18 February - 13 May 2016
Curators: Erin Sullivan Maynes and Jeffrey Burns, University of San Diego
During her prolific career Kent produced more than 700 prints, most often using text and bright colors to deliver messages that she intended to "oppose crass realism, crass materialism, with religious values or at least with real values."  This exhibition included works from all parts of Kent's career, including many prints from USD's own collection, in addition to archival materials that had never been exhibited publicly before.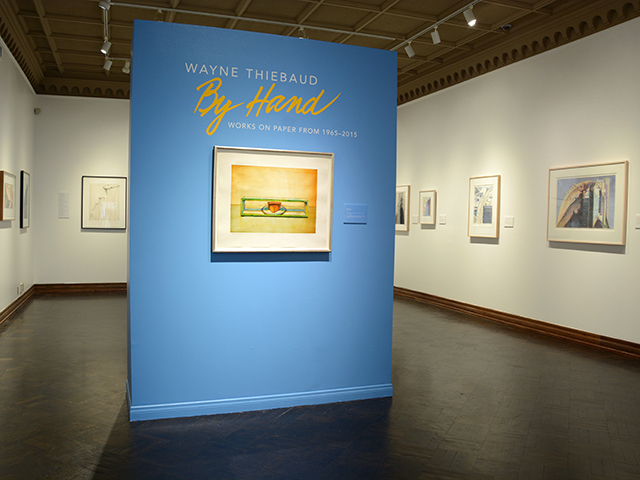 Wayne Thiebaud, By Hand: Works on Paper from 1965-2015
18 September - 11 December 2015
Curators: Erin Sullivan Maynes and Derrick R. Cartwright, University of San Diego
This exhibition examined the career of the celebrated American artist, Wayne Thiebaud, with a special emphasis on his longstanding practice of drawing on his own prints. Through applications of watercolor, pastel, colored pencil and other media on top of these finished etchings, lithographs, and woodcuts, Thiebaud enriches their appreciation and provides insight into the restlessness of his creative pursuits.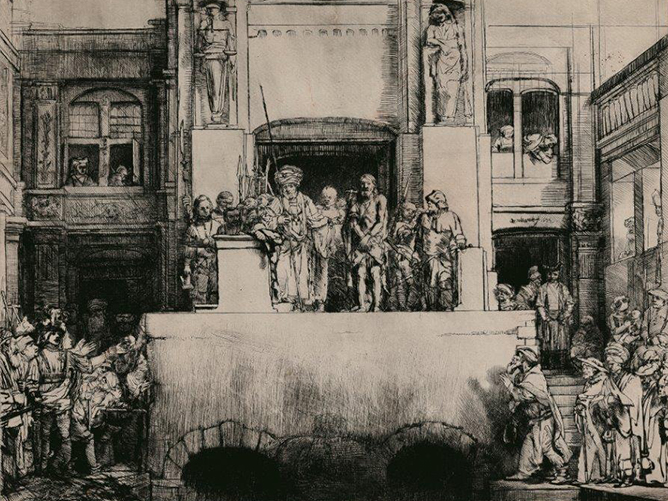 Rembrandt: A Decade of Brilliance, 1648 - 1658
20 March - 24 May 2015
Curator: Adrian Eeles
This exhibition explored the last ten years of Rembrandt's graphic output, a period during which the Dutch artist produced some of his best-known prints and his experimentation with graphic media was at its height. Curated by noted British scholar Adrian Eeles, this exhibition examined Rembrandt's creative process in depth by presenting different impressions of the same print side-by-side to demonstrate the ways Rembrandt employed line and tone to dramatically different effect.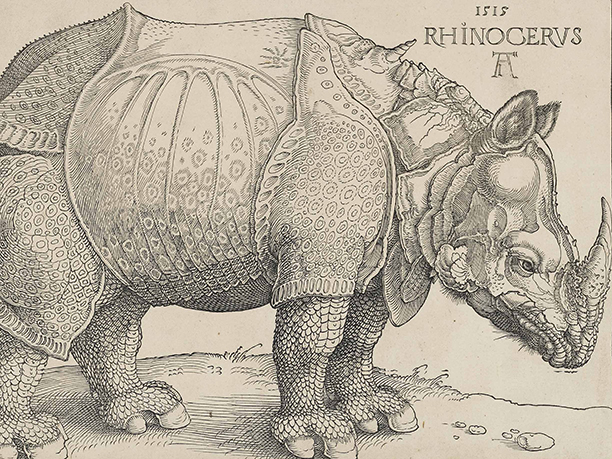 Curious Beasts: Animal Prints from Dürer to Goya
3 October - 12 December 2014
Curator: Alison Wright, The British Museum
This exhibition explored our enduring curiosity about the animal world through the beautiful and bizarre imagery found in prints from the British Museum's incredible collection.  Curious Beasts featured 86 rare woodcuts, engravings, etchings, mezzotints and lithographs from the 15th to the early 19th centuries by the best known artists of these eras, including singular works such as Albrecht Dürer's The Rhinoceros (1515) and George Stubbs's The Sebra (1771).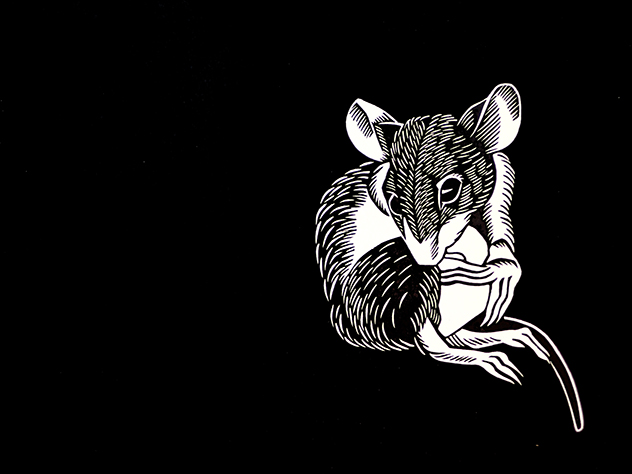 The Cutri Gift: A Summer Celebration of Recent Acquisitions
18 July - 5 September 2014
Curator: Derrick R. Cartwright, University of San Diego
The Cutri Gift was a selection of over thirty works from a much larger gift that was presented to USD in late 2013.  Longtime patrons of the arts and supporters of the local museum community, the Cutri's assembled this ambitious group of modern images with great care and with special strengths in the area of California prints and printmakers. On view included prints by Anders Zorn; a significant group of images by European artists associated with Art Nouveau; a group of early California landscape prints; and linocuts by Belle Baranceanu—a key figure in the history of printmaking in San Diego.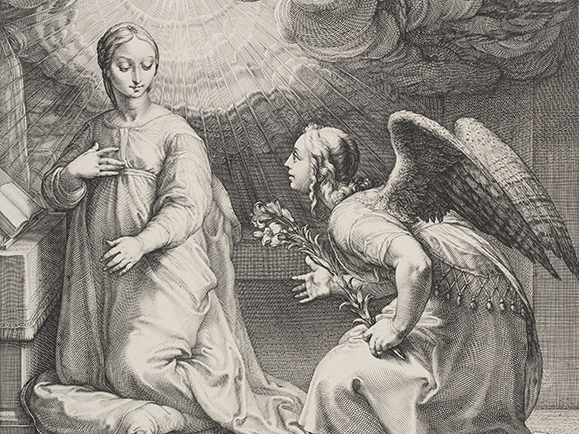 Passion and Virtuosity: Hendrick Goltzius and the Art of Engraving
21 February - 23 May 2014
Curators: William Breazeale, Crocker Art Museum and Victoria Sancho Lobis, University of San Diego
One of the most skilled artists of his time, Hendrick Goltzius (1558–1617) was as important to the art of engraving as Rembrandt would later be to etching. His engaging subjects and highly versatile technique earned him praise and commissions throughout Europe. This exhibition focused on the artist's two most famous series of engravings: the Birth and Early Life of Christ and the Passion. 
Beyond the Book II: USD Students Interpret the Getscher-Wilkinson Collection & Other Prints
and
First Impressions: Recent Acquisitions, 2012 – 2013
12 September – 13 December 2013
Curator: Derrick Cartwright, University of San Diego
Reconsidering Rouault: Prints and Paintings from Three San Diego Collections
8 February – 26 May 2013
Curators: Derrick Cartwright and Victoria Sancho Lobis, University of San Diego
Beyond the Book: Fresh Perspectives on the Print Collection by USD Students
8 February – 26 May 2013
Curators: Derrick Cartwright and Kat Ayd '13, University of San Diego
Character and Crisis: Printmaking in America 1920 - 1950
14 September – 14 December 2012
Curator: Derrick R. Cartwright, University of San Diego
Goya's Disasters of War: A Legacy in Print
9 February – 27 May 2012
Curator: Victoria Sancho Lobis, University of San Diego
New Impressions: Recent Acquisitions for the University of San Diego Print Collection
9 February – 27 May 2012
Curator: Victoria Sancho Lobis, University of San Diego


Atmospheres in Ink: Whistler and the Etching Revival
21 September – 11 December 2011
Curator: Victoria Sancho Lobis, University of San Diego
Dreams & Diversions: 250 Years of Japanese Woodblock Prints at the San Diego Museum of Art
6 November 2010 – 5 June 2011
Curators: Sonya Rhie Quintanilla and Howard A. Link, San Diego Museum of Art; and Hiroko Johnson, San Diego State University
Georges Rouault's Miserere and the Art of Response
25 August – 30 October 2010 
Curator: Victoria Sancho Lobis, University of San Diego
Prints in the Artist Studio: Rubens's Print Collection Reconstructed
4 February – 9 May 2010
Curator: Victoria Sancho Lobis, University of San Diego
Goya's Restless Monsters: Los Caprichos and the Birth of the Modern Print
11 November – 17 January 2009
Curator: Kevin Salatino, Director of Bowdoin College Museum of Art
Japser Johns, Selected Prints, 1963-2008
22 April – 14 June 2009
Curator: John Digesare, San Diego Museum of Art
Georges Rouault, Miserere 
4 February – 22 March 2009
Reinterpreting the Classical Tradition: Mythological Prints from Mantegna to Picasso
13 March – 25 May 2008
Curator: T. Barton Thurber, Hood Museum of Art
The Famous Face - Portraiture in Prints from Dürer to Warhol
2 March – 27 May 2007
Curator: Malcolm Warner, Kimbell Art Museum