Partner With USD
There are many ways to partner with the University of San Diego. The University Events and Partnerships team will work with you to find the best ways we can help you achieve your unique goals. See below to learn more about the exciting ways your organization can engage top-talent students, increase your brand awareness and more.
Event Sponsorship
The University Events and Partnership team provides outstanding experiences that enhance the understanding and appreciation for USD while raising funds for student scholarships and other university priorities.
Event sponsorship is an excellent way of positioning your organization to our greater community. As an event sponsor, there are an array of benefits including brand recognition opportunities, access to USD students, faculty, and administrators, VIP event experiences and more.
Sponsorship opportunities exist with a variety of events including Homecoming and Family Weekend, Founders Gala, Wine Classic, Casino Night, Alumni Honors, President's Club, athletic events and more.
Cause-Related Marketing and Co-Branding Opportunities
The University of San Diego is a Roman Catholic institution committed to advancing academic excellence, expanding liberal and professional knowledge, creating a diverse and inclusive community and preparing leaders who are dedicated to ethical conduct and compassionate service.

We seek to create meaningful partnerships with our community to promote and support the causes we believe in. Partnership opportunities may include community service events, co-branded marketing campaigns, on-campus programs and more.
Athletic Sponsorship
The University of San Diego has a long history of athletic success. USD has been a member of the NCAA Division I Athletics and the West Coast (WCC) Conference since 1979. USD's program includes 17 NCAA Division I teams and overall 23 different sports clubs. Other West Coast Conference teams include Gonzaga, Portland, Pacific, Brigham Young, Loyola Marymount, Pepperdine, Saint Mary's College of California, San Francisco and Santa Clara.

Partnership opportunities are available for the annual Sports Banquet, named athletic scholarships, team sponsorships, season sponsorships and more. Your brand has the opportunity to be displayed in USD's athletic facilities and in front of our audience of students, alumni, faculty, staff and San Diego community members.
Student Internships and Recruitment
Partnering with the University of San Diego is an excellent way to increase your brand awareness to our community and attract top-talent students to your workforce. USD students seek internship opportunities to gain professional experience and contribute their unique perspectives to local organizations' causes.
The Career Development Center organizes Torero Treks in which students visit leading companies and organizations across the country.
To learn more, click here to view USD's Career Services site.
Named Scholarships
By giving the gift of a scholarship, whether it creates a new opportunity or helps to maintain an existing one, your generosity provides a significant level of support to USD students' academic journeys.
You may designate the scholarship to the field or project of your choice. Your organization's name will be connected with this one-time or reoccurring scholarship.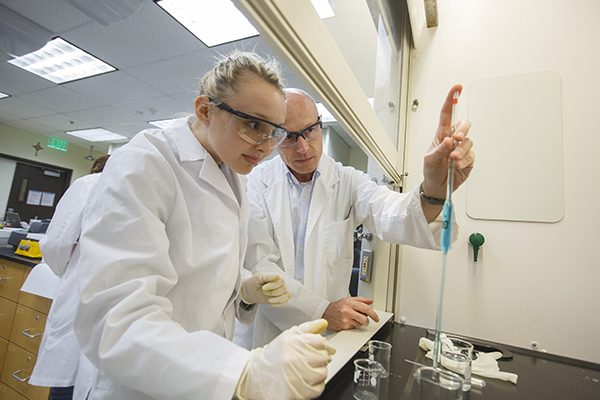 Faculty/Student Research and Development
USD is committed to creating an environment of academic excellence that features real-world projects for USD students. Opportunities exist to leverage USD faculty and students for general research and/or product development projects. Your organization may underwrite an existing project or inquire about partnering to establish a new project to further your organization's goals.
Professional Education
USD provides opportunities for businesses seeking to provide continuing and professional education to their employees.
To learn more, click here to view USD's Professional and Continuing Education site.
In-Kind Product and Services Support
USD is interested in creating mutually beneficial partnerships with national and local organizations through in-kind product and/or service support. Also, donated items for the purpose of fundraising in raffles, silent/live auctions, giveaways and more are graciously accepted. These types of gift may be eligible for a tax-deductible donation.
Partnering in this way is an excellent way to feature your brand in front of USD's community of students, alumni, faculty, staff, event attendees and others.
Connect With Us
Customized partnerships may be built around a combination of any of the above areas. To learn more about these opportunities, contact Corporate Partnerships Manager Derek Legg at (619) 260-4632 or dlegg@sandiego.edu. We look forward to connecting with you!