Making an Impact in My Community
Meet Faye Winkler
Q: When did you decide to pursue a law degree?
A:  My younger brother and I were practically raised to be attorneys as both of my parents have careers in the legal field. We negotiated everything growing up, from who sat in the front seat of the car that week to the severity of our punishments. However, it wasn't until working at a boutique firm that my interest in the law really took off. Working at a small firm allowed me to take on projects and tasks that ordinarily a receptionist wouldn't get the opportunity to do. The more involved in the law I got, the more set on becoming an attorney I became.
Q: Why did you choose USD School of Law?
A: USD has always had my attention. While in high school, I set my sights on attending USD to complete my undergraduate studies in Business Administration. I absolutely fell in love with the relaxed and beautiful campus. I loved the campus and the quality of education that I received so much that I applied to USD School of Law. The rest is history!
Q: When did you become interested in energy law?
A: When I first started law school, I had no idea what area of the law I wanted to focus in. When it came time to select classes for my second year of law school, I decided it was time to give energy law a whirl. My father is an attorney and has worked in the energy law sphere for the past 15 years or so. I saw that his work was always interesting, complicated and fun. I wanted in on the action.
Q: What professional experience have you had since leaving law school?
A: Since leaving law school, I have worked as a paralegal at the Imperial Irrigation District. This has given me the opportunity to learn as much as I possibly can about the District while awaiting my California Bar Exam results. It's really been a win!
Q: How did your experience at USD School of Law prepare you for your current job?
A: My ability to effectively communicate and dig deep into research are the two skills that I have utilized the most on the "outside" thus far. Working on projects with fellow students for classes and clinics prepped me for working with attorneys and staff on a day-to-day basis. Being able to dig deep into research has allowed me to efficiently and effectively answer questions from attorneys and staff as well as give me the confidence to navigate areas of water and energy law that are unfamiliar.  
Q: What advice would you give to a prospective student interested in energy and environmental law? What things might you have done differently?
A: Don't be afraid to take chances and don't give up. While in law school, be fearless. Take that environmental law class that seems interesting but has an inconvenient time. Apply for that internship that you think you won't get. Make connections and work your connections. Looking back, I wish I would have been more fearless.
Q: What activities do you participate in at USD School of Law?
A: I am treasurer of the American Constitution Society, which is a student organization on campus that promotes progressive lawyering. I also am writing two agency audits regarding the California Public Utilities Commission that will be published in the California Regulatory Law Reporter by the Center for Public Interest Law. I also worked a bit for the Energy Policy Initiatives Center and participated in two energy and environmental law related clinics.
Q: What is the best thing that has happened to you during law school?
A:  This may sound cliché, but I learned to really understand myself. I learned what my strengths are and how far I can push myself.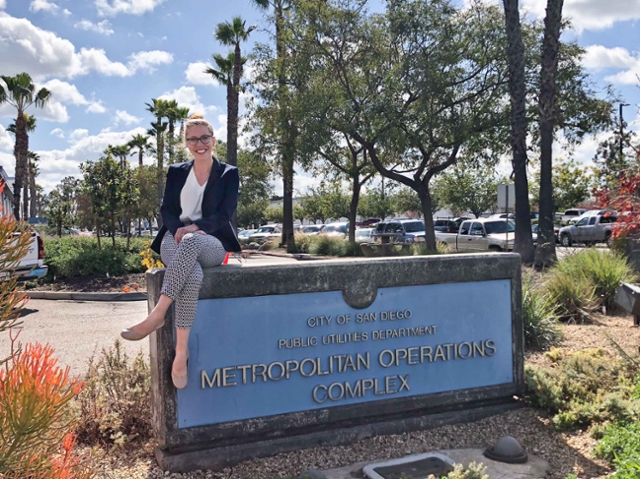 Legal Interests: Renewable energy and water law
USD School of Law Graduation Year: 2018
Bachelor's Degree:  University of San Diego – Bachelor of Business Administration cum laude
Hometown: El Centro, California
Current Job: I am a paralegal at the Imperial Irrigation District. When I pass the California Bar Exam, I will be brought on as Assistant General Counsel.
Related Links