Find the Intersection of Opportunity and Interest
Meet Ian Kearney
Q: When did you decide to pursue a law degree?
A: Sometime between the middle and end of my undergraduate degree.  
Q: Why did you choose USD School of Law?
A: Metropolitan, market, prestige, sun, family, beer, and burritos.
Q: When did you become interested in energy law?
A: I had thought it would be interesting given my environmental background, but I didn't receive any formal experience in energy law until my first summer of law school. It was then that I began interning for EPIC. During that summer, after struggling through the steep learning curve that accompanies energy law, I began to realize how interesting the field was. I knew it was something I wanted to continue to explore.
Q: What professional experience have you had since leaving law school?
A: I got hired at my current job right before graduation, and I have only just begun to work there after taking time off for the Bar. 
Q: How did your experience at USD School of Law prepare you for your current job?
A: It made all the difference in landing my job because many people do not have energy law experience, so gaining that at USD was THE reason I was hired. I have only had a couple work assignments so far, so it is hard to assess. However, I know there is so much to learn that regardless of my time at USD, I have only scratched the surface. So, I expect to continue to feel the steep learning curve but I also feel prepared to enter this field and would not be so confident if not for the opportunities I took advantage of at USD.
Q: What advice would you give to a prospective student interested in energy and environmental law? What things might you have done differently?
A: Get involved early because there is so much to learn! I think someone truly interested should get out ahead and take the energy law class in fall so they can have to opportunity to do the clinic their 2L spring. The environmental law class may be offered either of these semesters, and you can definitely take on these three commitments your second year while taking Bar courses and doing other extracurricular (i.e. journal, etc.). If you really want an energy or environmental summer position your rising 3L summer, you should have some more particularized legal knowledge in these fields, beyond a general interest in the topic. When I summered at the CPUC, my comfort with energy and utility issues allowed me to excel in my work, really have worthwhile discussions with the ALJs (judges), and generally be comfortable with the subject matter discussed.
Q: What activities do you participate in at USD School of Law?
A: A few of the societies (environmental, land use), especially golf law society (we have a yearly tournament!). Softball intramurals is a must. Believe me, get a team together, even if those Thursday nights are your only day off. You will appreciate retaining your sanity.
Q: What is the best thing that has happened to you during law school?
A: Probably getting involved in something I thought could be interesting, energy law, then discovering a passion for it. Now I can add this field of law to my career pursuit that is distinct from the environmental issues I care about. Getting a good job is not easy, especially if you are trying to stay within a particular field of interest, so it is good to get your hands on other sincere interests to broaden the field of legal opportunities that would excite you. Energy law is especially challenging and requires quite a bit of background information to feel comfortable navigating this legal landscape. However, this barrier to entry makes you even more valuable once you begin to learn about energy law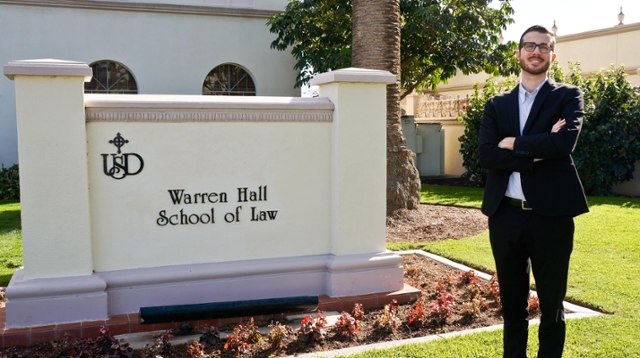 Legal interests: Energy law and policy, water resource management and water rights, urban and sustainable planning, land use law, environmental law, utility law, and municipal law  
USD School of Law Graduation Year: 2018
Bachelor's Degree:  Earth Systems Science, B.S., at the University of California, Irvine.
Hometown: Fresno, CA
Current job: Associate Attorney at Western Energy & Water in Sacramento, California