Anchor Institution
Engage our communities in deep, democratic and meaningful partnerships, with a shared vision and collaborative effort.
USD's anchor partnerships are primarily local, but also extend beyond the borders of our campus and nation. For many years, our faculty and students have engaged in meaningful work locally, whether it was volunteering or developing service-learning courses working closely with the Mulvaney Center or Changemaker Hub on campus. The work of organizations such as University Ministry with the Romero Immersion Programs,  Justice in Mexico or the Trans-border Institute in the Kroc School, which helps to build sustainable peace in Mexico and the border region, are great examples of how we can effectively leverage our position near an international border.
We must intentionally strengthen and deepen our partnership network and join communities as we work to enhance USD's role in the community. This will manifest in many ways since opportunities exist for USD to be more engaged locally in improving K-12 education, enhancing economic development, promoting health care, and serving as a catalyst for community development. This work will help USD emerge as the leading faith-based, anchor university in the United States. In order to set the standard for an engaged, contemporary Catholic university in 2024, we must be a great local university confronting the urgent challenges of our community.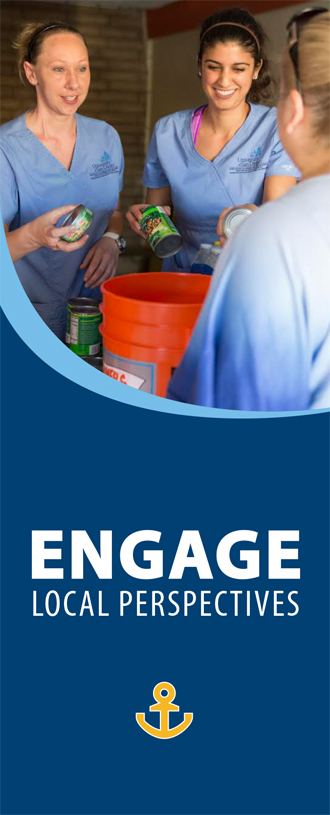 In the
News
// August 28, 2018

Today's youth are the future. You've probably heard that before. Simple, common sense and true. But what are we really doing? How are …

// February 27, 2018

A good idea starts with asking a simple, yet important, question: "How can I get to know the Linda Vista community better?" stat…

// April 26, 2017

Aarti Ivanic, assistant professor of marketing, and Kenny Bates, associate professor of marketing, collaborated on an interdisciplinary proj…