Suzanne Walther, PhD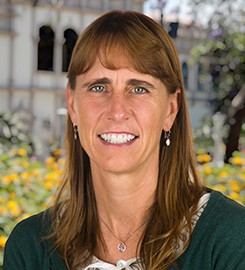 Office:
Shiley Ctr for Science & Techn 265
Associate Professor, Environmental and Ocean Sciences
PhD, University of Oregon, Geography

MS, University of Oregon, Geological Sciences

MS, University of Virginia, Environmental Sciences

BA, University of California, Santa Barbara, Political Science, International Relations

Suzanne Walther, PhD, joined USD faculty in 2015 after teaching at Utah Valley University for 4 years. She teaches courses in physical geography/natural disasters, geomorphology, human impacts on river systems, and geospatial techniques such as geographic information systems (GIS). Her research focus is fluvial geomorphology, using GIS, remote sensing, and other quantitative methods to study the role of natural disturbances and human land use in shaping river system dynamics. Dr. Walther is excited to be forging new research with students here in California and abroad.
Scholarly Work
Walther's research focuses on quantifying changes in fluvial systems, including channel form, sediment volume and mobility, and vegetation cover, in order to understand human influences. Geomorphic research includes field work using GPS and imagery collection as well as traditional fluvial geomorphological techniques such as sediment sampling and channel transect measurements. In the lab, research includes GIS and remote sensing analyses and sedimentary/grain size analyses. Walther has ongoing projects quantifying the geomorphic impacts of flash floods (Capitol Reef National Park) and dams (Jordanelle) on rivers in Utah. New projects include mapping and monitoring restoration recovery in Tecolote Canyon (near campus), mapping outreach and post-earthquake aid in Kathmandu, Nepal, and investigating the impacts of sedimentation on coastal estuary systems (Tijuana and Los Peñasquitos) in southern California. Walther mentors undergraduate research projects that involve geomorphology and/or GIS applications to answer questions related to environmental problems.
Areas of Interest
Walther enjoys teaching a range of geographic and environmental science courses, including the techniques used to study issues generally related to the environment and water resources and river systems in particular. She has worked and taught in the Western US and abroad (Southern Africa, Mexico) and strives to enable students to learn about the complexity of water-related environmental problems in the context of the uniqueness of the place, space, and scale of the investigation. Walther highly values collaboration on projects with researchers, policy-makers, agencies, municipalities, and consultants. Though often more time-consuming, collaborative, interdisciplinary work lends itself to greater, synergistic results that can be used to inform change and she strives to teach students how to think about solving current environmental problems.