Crystal Trull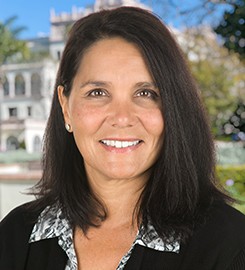 Phone:
(619) 260-4600 ext. 2642
Office:
Mother Rosalie Hill Hall 263
Lecturer
PhD, University of San Diego, Leadership Studies

MA, University of San Diego, Nonprofit Leadership and Management

BA, San Diego State University, Political Science
Since 2002, Crystal Trull has been the Principal of CT Consulting, a consulting firm that provides leadership and expertise while engaging nonprofit organizations to create sustainable solutions. CT Consulting works with nonprofit clients whose missions focus on arts and culture, social services, community development, academia, and civic engagement by providing management consulting in areas of mission, board development, compliance, strategic planning, and fundraising. Trull has facilitated solutions to local, statewide, national and international nonprofits while providing new perspectives to traditional organizational issues. With more than twenty years' experience in the nonprofit sector Trull has a solid background in all aspects of leading a nonprofit organization in leadership positions such as Executive Director, Development Director and Program Director.
Trull received her PhD in Leadership Studies at the University of San Diego with an emphasis on nonprofits and philanthropy. Her research focuses on nonprofit organizations, specifically governance, regulation, and social enterprise earned income programs. Trull earned a Master of Arts Degree in Nonprofit Leadership and Management from the University of San Diego and is a graduate of San Diego State University where she earned a Bachelor of Arts Degree in Political Science with a minor in Middle Eastern Studies. Trull has a love for aviation and is a private pilot as well as an active community volunteer.