Beth O'Shea, PhD
Core Director
The Core Curriculum at USD is totally faculty-driven. The curriculum is thoughtfully designed and successfully maintained because strong collaborations exist between all three undergraduate units at USD: the College of Arts and Sciences, the School of Business and the Shiley Marcos School of Engineering. The Core Director serves as the primary faculty liaison across these units and is responsible for ensuring that courses proposed for the Core align with the learning outcomes that were developed by the faculty. The Core Director coordinates each assessment project, communicating with faculty teaching courses scheduled for assessment, recruiting faculty for norming and scoring sessions, presenting the findings and recommendations of each assessment project to the Core Curriculum Committee for faculty approval and disseminating information to faculty, administrators, accreditors, and the general public.
Beth O'Shea has been the Core Director since implementation of USD's new Core began in Fall 2017. An environmental geochemist by training, Beth has always been interested in pedagogical research and has published in this field. Beth taught in Columbia University's historic Core Curriculum program where her passion for teaching critical thinking, quantitative reasoning, problem solving and other habits of mind helped frame further interests in education and assessment. At USD she naturally filled roles in assessment reporting for her department before co-chairing the committee to write the Quantitative Reasoning learning outcomes for the new Core Curriculum. Her role as Core Director sees her representing USD's largest curricular program on many committees supporting student learning and success.
Carole Huston, PhD
Special Assistant to Institutional Effectiveness and Planning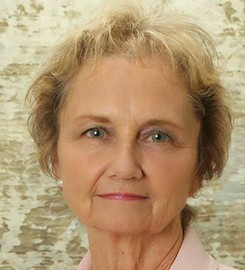 Carole Huston serves as the Special Assistant to the Vice President of Institutional Effectiveness and Strategic Initiatives and a Professor of Communication Studies at the University of San Diego as well as consulting for a number of institutions. She has also served as USD's ALO and director of the Center for Educational Excellence, and participated in WSCUC accreditation review teams. In her more than 30 years of experience in higher education, Carole has researched and presented on many different facets of learning assessment at AI, AAC&U, AALHE, and WSCUC conferences, including competency assessments in general education, multi-institutional and multi-method assessment projects, integrative learning, program review, and assessing diversity and social justice in faith-based institutions. As an alumna, she currently co-facilitates the WSCUC Assessment Leadership Academy and serves as a co-chair of one of WSCUC's Community of Practice institutional teams. Carole has co-authored several articles, books and book chapters on assessment, research methods, interpersonal and intercultural communication, and she contributed to the VALUE rubrics project sponsored by ACC&U.
Debbie Finocchio, MS
Core Assessment Coordinator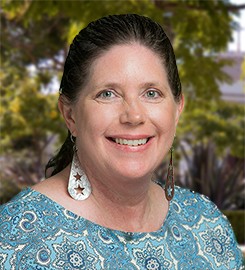 The Coordinator for Core Assessment works closely with other members of the Core Assessment Team to plan and carry out faculty-led, student-centered assessment projects in the core curriculum. The coordinator prepares for and facilitates faculty scorer norming/scoring and feedback sessions, compiles results, drafts assessment reports, and contributes to the sharing of assessment results with the USD community.
Debbie Finocchio has been the Coordinator for Core Assessment since Spring 2018, having started with the Core Assessment Team in Fall 2017. She is a graduate of WASC Senior College and University Commission's Assessment Leadership Academy. She has served on USD's CAS Assessment Team since Fall 2014, where she provides support to several departments in their program-level assessment efforts. She currently serves on multiple assessment-related committees at USD. Finocchio is also an Adjunct Assistant Professor in the Department of Chemistry & Biochemistry, and has led or contributed to many program-level assessment projects in this department since she started working there in 1992. Her strong desire for all students at USD to succeed is a driving force in her work.