Features
Partners Therapeutic Horsemanship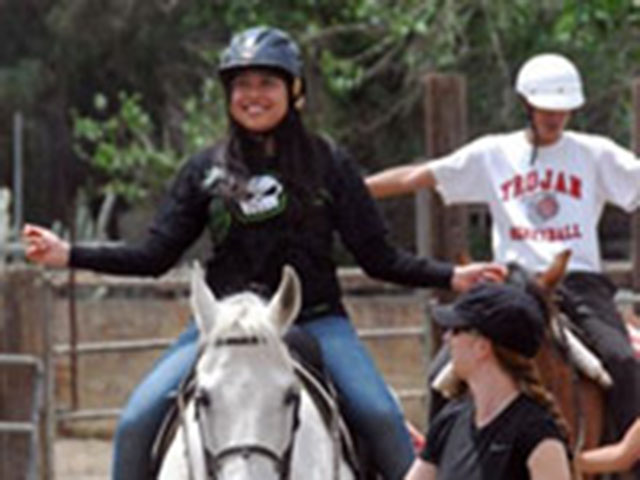 (Lakeside, CA)
Partners is a NARHA (North American Riding for the Handicapped) Center offering therapeutic riding lessons for people with special needs and disabilities. They provide riding instruction, positive physical and emotional experiences through interaction with horses. Children through adults, with various disabilities, can enjoy the immensely rewarding benefits of being outdoors by participating in therapeutic horsebackriding and equine care. Each year, the USD Upward Bound students take a field trip to the Partners Center. The students perform several hours of odd jobs and chores around the stable and, in exchange, they are allowed the opportunity of riding the horses. Many of the students have never ridden or been around a live horse before, so this program promises a wonderful mix of hard work and fun for both parties involved.
The Eleanore Villis Scholarship
The eldest of four daughters, she took care of the hard-working immigrant family's business with the outside world -- while setting a positive, loving example for her younger sisters. She sought management training and experience, and became manager for a large insurance firm. She had enormous empathy for those who are the first generation eligible for college, especially women, and those who balance work and family. Eleanore's interest and belief in others inspired achievement and confidence. Her nature was that of a healer. New acquaintances found themselves asking the reason for her evident happiness; they learned that faith was the fiber of her soul. Her poise and courage during the disappointments in her life won her the admiration of all who knew her. For those wishing to apply for this scholarship, please write ici@sandiego.edu for more information.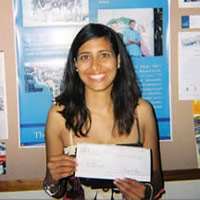 Scholarship recipient Aadila Sabat
USD Upward Bound Art Project Summer 2007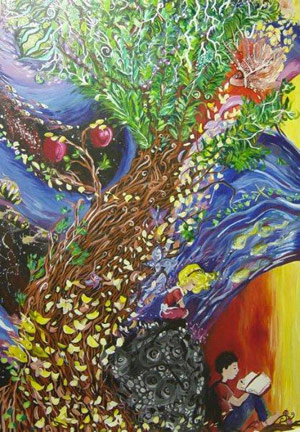 The Rock, The River, The Tree
Led by Art Teachers Adrian Roldan and Cindy Roldan