Changemaker Summer Fellows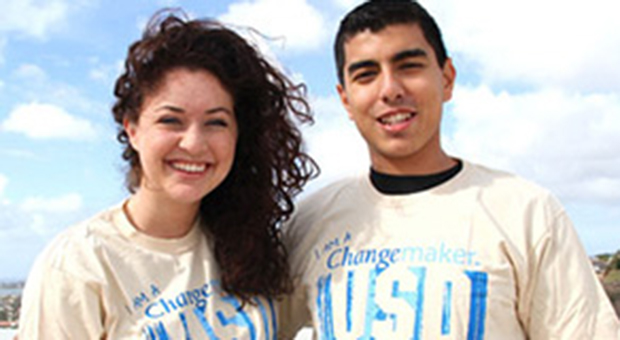 The 2016 Changemaker Summer Fellows
In collaboration with the Office of Undergraduate Research, the Changemaker Hub is excited to offer the Changemaker Fellows program.  Through this program students partner with faculty on summer changemaking research projects.  Meet our 2016 Changemaker Summer Research Fellows!
Name: Alma Pulido
Mentor: Dr. Alberto Pulido
Project Description: I am researching and exploring pedagogies on Contemplative practices. Specifically, looking at Chicano Park and experiences of people of color.
Name: Connor Fitzgerald
Mentor: Dr. Everard Meade
Project Description: I coordinate and compile research for expert witness testimony for related asylum (Convention Against Torture and Withholding of Removal) cases in partnership with Casa Cornelia Law Center and the National Immigrant Justice Center by documenting the experiences of individuals who have fled violence, so that they can be recognized as refugees.
Name: Jeffrey Hallock
Mentor: Maria Silva
Project Description: My research project is being conducted in conjunction with Tijuana based NGO Fundación GAIA. The research will focus on the population that has been recently removed from the Tijuana canal, known as 'El Bordo', and into rehab center around the city. We will be implementing a survey that will yield both qualitative and quantitative answers to better understand the demographic and needs of the homeless deportee population in the city.
Name: Megan Huynh
Mentor: Dr. Everard Meade
Project Description: Analyzing the effect of foreign nationality and/or lack of citizenship in the outcome of death penality cases in California, as compared to other indices of social inequality or marginality, such as race, sex, or poverty.
Name: Kaitlyn Meyer
Mentor: Dr. Everard Meade
Project Description: This research will focus on understanding the circumstances of the ongoing refugee crisis in the Western Hemisphere while analyzing patterns of individuals seeking asylum in the United States from Central America and Mexico. Looking at judicial proceedings, U.S. foreign policy, and country condition data, this research will attempt to ascertain the patterns of asylum from these countries and the relief available to individuals facing persecution.
Name: Katrina Eckweiler
Mentor: Dr. Everard Meade
Name: Aurora Gaumer
Mentor: Dr. Everard Meade
Changemaker Hub
5998 Alcalá Park
San Diego, CA 92110
Phone: (619) 260-4600