Meet former Hive Teams
In 2016 we created the Social Change Corps, which was our first iteration of what would become The Hive. The first teams represented a diverse population of students involved in different organizations and activities all over campus. Their projects focused on a wide range of topics, from exploring how to make USD a more inclusive space to empowering young women in the local community. Check them out!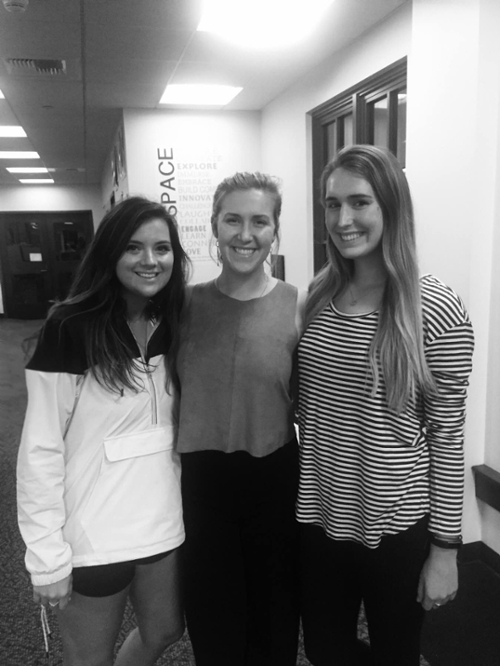 Empowering Girls
Sydney Pidgeon, Elizabeth Alexander, and Kendahl Tyburski
Our goal is to empower, teach, and inspire young women in Linda Vista to embrace all aspects of their femininity through a weekend retreat. There is incredible power in being a woman, but so often this power remains in the shadows because society portrays women through hyper-sexualized, dimwitted, inferior images. We want young girls to recognize their importance in this world as a woman and realize their potential for greatness, before hitting the extremely transformative and vulnerable years of high school. This retreat will give each girl access to activities where they can grow within themselves and acquire leadership skills through self-love training (i.e. healthy habits, self-defense classes), mentors, and community building activities.
Pee in Peace
Brandon Orzolek, Marguerite Lehman, Dr. Evelyn Kirkley, Grace Strumpfer, Julia Francone, and David Alejandro Cervantes
Pee in Peace is concerned with the forward propagation of inclusive social standards encompassing the value and right of each individual to feel safe while doing something that connects us all: using the restroom. We are concerned primarily with the coinstruction and promotion of gender inclusive restrooms on the USD campus, providing not only a Safe Space for gender diverse individuals, but also families, disabled persons and any other person who desires/requires a single-occupancy style restroom. Pee in Peace recognizes USD as a contemporary Catholic institution and is committed to holding the university up to this standard.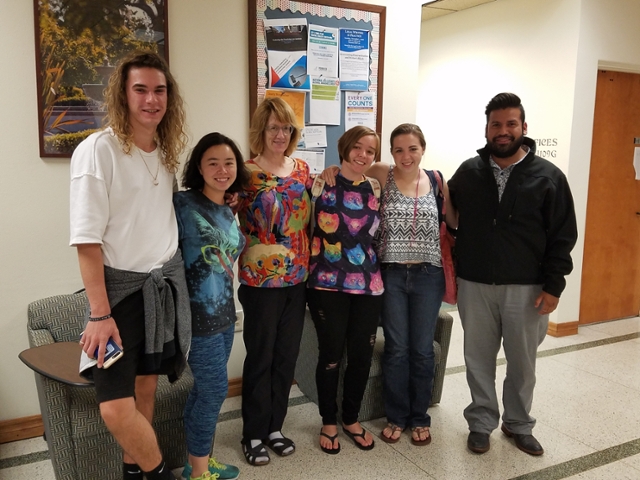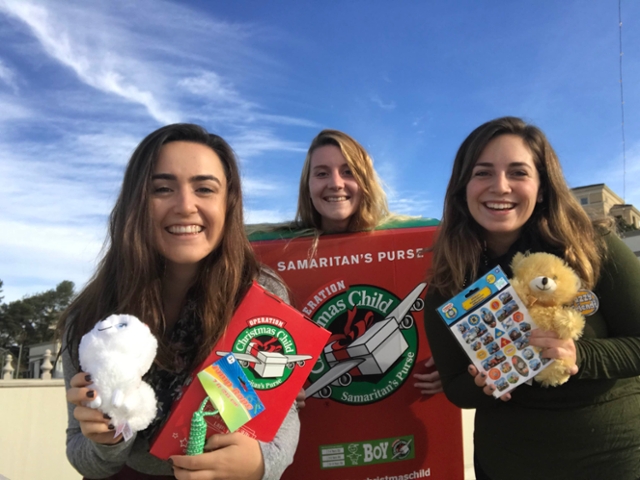 Operation Christmas Child (OCC at USD)
Sarah Di Fede, Tamar Tellado, and Heather Morris
We are a USD chapter of Operation Christmas Child, excited to serve and love children throughout the world this Christmas Season. Our hope is to create a community for students at USD to come together and engage in the topic of poverty, be challenged to understand and empathize with people who are not as privileged, and create ways to respond. Through this we as a community can be pushed out of our comfort zones in hopes of finding our greater purpose in serving others. Visit our Facebook page to learn more.
Beluga Books
Katie Donoho, Hayley Heath, and Rana Verhoog
(Not Pictured: Amelia Paul and Taylor Young) 
Beluga Books boosts literacy and imagination by providing new books to hospitalized children.  Our goal, this December, is to donate over 300 books to the Rady Children's Hospital.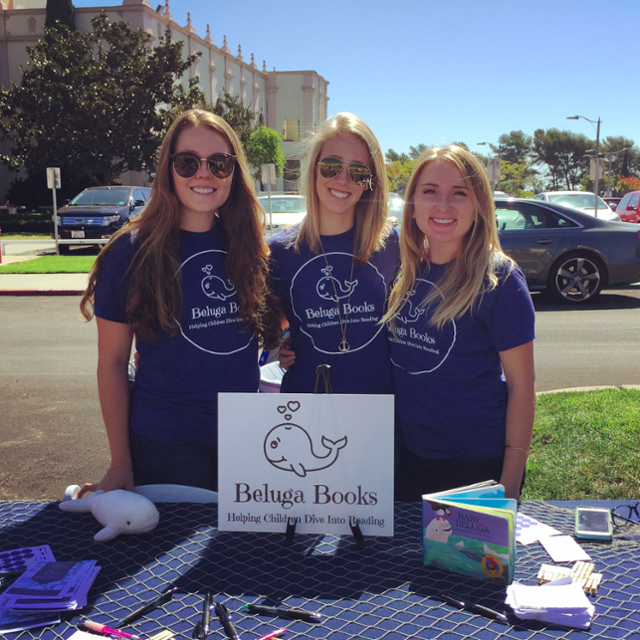 Wholesale Fair Trade
Dylan Valdivia, Isabelle Ashraf, Charlotte Vitak, and Alex Splinter
Our project is focusing on research and development in the area of fair trade wholesale. The World Fair Trade Organization defines fair trade as "trade in which fair prices are paid to producers who manufacture under safe, ethical and sustainable practices." Most of the time, when people think of fair trade they usually associate it with items like coffee or chocolate. In reality, fair trade should apply to any and all items that are produced. Although fair trade is not a new concept it has struggled to gain traction in the wholesale industry. Our team's goal is a three step process: 1) Identify and contact the manufacturers; 2) Assess their practices; 3) Make their products known and available.