Changemaker Champion Profiles 2015-2016
Leeva Chung
Leeva Chung is a Communication Studies professor and an affiliate faculty member in Ethnic Studies. In addition to being a die-hard San Francisco Giants fan, she is a distinguished Changemaker faculty champion through her work establishing the San Diego Asian Film Festival and pairing her students with real-life situations that impact the greater community.
Dr. Chung is a strong proponent of having students practice career skills in and out of the classroom. For example, her students had a four-day, no cell phone detox to understand the impact social media has on everyday life. Additionally under facilitation from Dr. Chung and the communications department, USD students partnered with the City of San Diego to raise awareness about the Pure Water campaign. Twenty-nine USD students were chosen to create innovative marketing and branding strategies so that the city's campaign could raise greater awareness in the community. Some techniques included establishing a presence on social media through YouTube videos, hashtags, and creative infographics. The success of the project earned Chung USD's 2015 Innovation in Community Engagement Award. But more importantly than the award, Dr. Chung's learning model allowed her class to impact the community on a larger scale.
In Dr. Chung's own life, changemaking is always in constant cycle. Every year brings with it new students and a new opportunity to create change in the larger community as well as within the students. Dr. Chung works hard so that students can learn how not only to be a Changemaker, but also become better, more wholesome people in the process.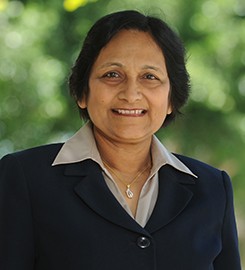 Kokila Doshi
Kokila Doshi is a professor of economics in USD's School of Business. Dr. Doshi's regional research focuses on the economic impact of events such as the X Games and the Rock N' Roll Marathon. In this role, she works with sponsoring organizations such as ESPN and Elite Racing Inc., to analyze these events in terms of the economic impact on the local area hosting the event. Her global research focuses on poverty, inequality, and social change in developing nations.
Professor Doshi's research and publications examine "base of the pyramid" social innovations that address the concerns of people living in poverty in developing nations. This includes analysis of project such as Grameen Phone, which helps poor women entrepreneurs sell mobile phone time and the e-Choupal project that helps farmers sell their crops with state-of- the-art technology.
She also conducts research on Patrimonio Hoy, a housing project of Cemex in Mexico designed to help poor households build affordable homes. Her publications include studies of sustainability of microfinance organizations as well as cellular technology to help the poor and marginalized.
Professor Doshi strives to be a Changemaker by proposing ways in which corporations can step in and scale their innovations to reach and enrich underserved populations at the base of the pyramid. Furthermore, Professor Doshi fosters Changemaker principles in her teaching. She gives base of the pyramid projects to her students, thus creating awareness of companies that meet the needs of people living on less than $2 a day. In her preceptorial course for Sustainability Living Learning Community (LLC) students, she incorporates the Changemaker theme of water. Her students analyze and presente on the causes and solutions of water crises. She's presented on microfinance for the Microfinance Club and on global economic inequality at an event sponsored by Changemaker Hub and the Center for Peace and Commerce.
By practicing changemaking through her research and instilling it amongst her students, Professor Doshi represents the ideals of a Changemaker to its fullest.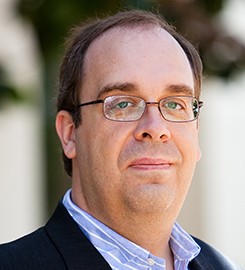 Frank Jacobitz
To Mechanical Engineering Professor Frank Jacobitz, changemaking is much more than a one-way interaction. For him, feedback from the receiving end of change is crucial for the overall success of a project. Dr. Jacobitz's own research of numerical simulation of fluid flow (mixing different liquids and gases), has challenged him to foster his own knowledge and creativity. These traits are instrumental in the realm of effective changemaking that Professor Jacobitz has done through his project: The Simple Seat. The Simple Seat is a project aimed to assist handicapped persons in developing nations to becoming less dependent on others to use the restroom. To create this change, feedback from those directly affected by the Simple Seat has influenced how the seat has been designed and implemented. Not only is Dr. Jacobitz's Simple Seat a great example of how changemaking at USD has reached a global scale, but also shows how changemaking serves to better the livelihood of humanity as a whole.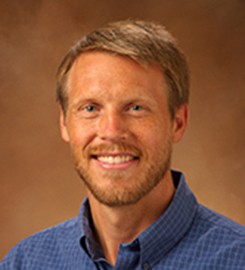 Ian Martin
Dr. Ian Martin is an assistant professor in the School of Leadership and Education Sciences (SOLES). When Dr. Martin isn't teaching at USD or coaching water polo at nearby Mt. Helix High School, he is working as a trainer of academic counselors. By teaching both future and current counselors innovative lessons and curriculum, Dr. Martin is building a changemaking mentality through all students of his lessons. As a result, those who receive his knowledge will branch out into their own communities and cultivate a mentality provoking actions to create change within their respective communities. For example, as a part of USD's counseling graduate program, a multicultural course is offered where students travel to foreign countries to immerse themselves in a culture very different from their own. Dr. Martin's course recently traveled to Jamaica where counseling graduate students volunteered at a career development youth center. A USD student's job consisted of building skills such as college and career readiness, building skills of self-efficacy and promoting an anti-bullying mentality to Jamaican students. This work by Dr. Martin's class is a true example of changemaking. By carrying out this work, Dr. Martin's students are creating future Changemakers, too.
One of Dr. Martin's priorities is to have his students become more intentional about the concept of changemaking. Counseling is a profession dedicated to making a difference in the lives of others, and often times these instrumental people aren't recognized for the transformative hand they have in people's lives. Dr. Martin's hope is for his students to work for the purpose of changemaking, but also to be recognized as Changemakers as well.
Jesse Mills
Ethnic Studies Department Chair and Professor Jesse Mills sees changemaking as bottom-up equity and justice work in the community and also transformative decolonizing internal work within oneself. Working in a department that engages society's views and perspectives, there's always room for growth in pedagogy as well as the self. In Dr. Mills's personal view, changemaking does not always accomplish its goal, or "win," as deep-rooted inequities are not transformed easily or in flash episodes. That is why Professor Mills believes that for change to be successful, it must start from the bottom, stay grounded in the bottom, and work its way up. It means that the perspective of those who are affected by the issue at hand must be centered by those administering the change so that the impact is made on a larger scale.
Dr. Mills has taken this methodology to heart while currently serving as the Board of Directors chairperson for the United Taxi Workers of San Diego. The main goal of this group is to assist San Diego taxi drivers, the vast majority of whom are immigrants and refugees from places such as East Africa, with improving their work conditions and economic standing. Often these men and women are often the victim of unfair business regulations, discrimination, and harassment. Recently, the city of San Diego passed legislation lifting the cap on permits that allows drivers to become owners of their own taxicab business. It was a major victory for driver-led equity and justice changemaking work that Dr. Mills appreciates being able to support.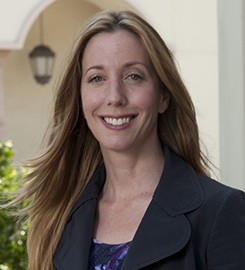 Jennifer Mueller
Jennifer Mueller is an associate professor of management in the School of Business and a representative of the Changemaker Hub as a Changemaker faculty champion. Professor Mueller embodies this title through her trailblazing research regarding creativity, and how it can foster more efficient communication and also in workplace environments.
The root of the problem Professor Mueller is addressing stems from an inhibition of creativity from a young age. When we're in elementary school, for example, we are often told that coloring outside of the lines is bad. Professor Mueller wants to reverse this mentality of a rejection of outside-the- box ideas and thinking to create more productive spaces in job environments. Many times an organization or group will come up with an idea. Unfortunately that idea can never be realized due to a very systematic, rubric-based approach to solving problems and fulfilling the potential of the idea. With new modes of communication, which have been researched by Professor Mueller, groups may finally realize these new ideas and become more successful as a result.
In Professor Mueller's view the mentality of accepting a redefinition of creativity can be most beneficial for businesses because situations involving problem solving and creative idea construction occur often in the business environment. Additionally, businesses often lack the flexibility to embrace creative change due to past successful methods that have gotten the organization to where it currently stands. If creative change can be embraced through effective communication and a redefinition of one's attitude towards this new form of constructing and executing ideas, then changemaking can occur on a larger scale.
Necla Tschirgi
Necla Tschirgi, a professor of practice at the Joan B. Kroc School of Peace Studies, is a native of Turkey, a world traveler, and a scholar/practitioner with extensive experience working internationally. Prior to coming to USD in September 2010, Professor Tschirgi was based in New York from 2001-2010, serving as vice president of the International Peace Academy (IPA) and as a senior policy advisor with the United Nations' Peacebuilding Support Office (PBSO). Created to support the newly established UN Peacebuilding Commission, PBSO was instrumental in linking the growing body of research, policy and practice on peacebuilding to the commission's mandate to assist countries emerging from conflict.
Dr. Tschirgi sees strong parallels between her work at IPA and PBSO and her role as a USD Changemaker faculty champion. In each of these capacities, her main interest has been to link research and knowledge to social impact. At the Kroc School, students enrolled in Professor Tschirgi's classes not only learn about global problems, but also they are encouraged to question their own society and seek out ways they can make a difference in their community and beyond. Professor Tschirgi's current research focuses on international approaches to peacebuilding, including reforming the UN's Peacebuilding Commission. Proposing solutions and techniques on how to make the organization not only more efficient, but also more effective. Professor Tschirgi's hope is that by reading her articles, students and the general population will have opinions of their own and, together, progressive change can be made to create a better UN Peace Commission.
Related Links