Changemaker Faculty Fellows
The following faculty members are recognized as Changemaker Faculty Fellows because of their passion for innovative pedagogy in their respective fields, for their scholarship, and their commitment to co-develop the USD Changemaker Campus. The Changemaker Faculty Fellows hope to advocate for collaboration among students, faculty, and community members at USD, to increase dialogue and spread awareness about what it means to be a Changemaker Campus.
Every year, at the end of their fellowship, faculty share with the USD community what they learned in a TedTalk-style presentation. Check out the short video below to learn more about the 2018 cohort.
Timothy McCarty
Assistant Professor, Political Science, and International Relation
tmccarty@sandiego.edu
Kroc Institute for Peace & Jus 282
Victor Carmona
Assistant Professor, Theology and Religious Studies
vcarmona@sandiego.edu
(619) 260-4069
Maher Hall 297
Martha Adkins
Assistant Professor, Reference Librarian
marthaa@sandiego.edu
(619) 260-2592
University Modular Offices #1 100L
Jesse Mills
Associate Professor, Ethnic Studies
jessemills@sandiego.edu
(619) 260-7740
Maher Hall 204
---
Professor Mills believes that for change to be successful, it must start from the bottom, stay grounded in the bottom, and work its way up. 
Learn more about Dr. Mills's changemaking work, or read his full bio.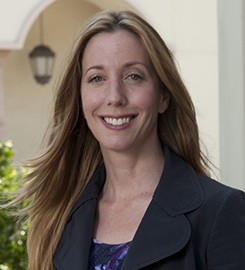 Jennifer Mueller
Associate Professor of Management
jmueller@sandiego.edu
(619) 260-4861
Olin Hall 114
---
In Professor Mueller's view, the mentality of accepting a redefinition of creativity can be most beneficial for businesses because situations involving problem solving and creative idea construction occur often in the business environment.
Learn more about Dr. Mueller's changemaking work, or read her full bio.
Necla Tschirgi
Distinguished Professor, Human Security and Peacebuilding
neclatschirgi@sandiego.edu
(619) 260-7912
Kroc Inst for Peace & Justice 125
---
At the Kroc School, students enrolled in Professor Tschirgi's classes not only learn about global problems, but also they are encouraged to question their own society and seek out ways they can make a difference in their community and beyond.
Learn more about Dr. Tschirgi's changemaking work, or read her full bio.