Students Encouraged to Think Differently in New MA in Social Innovation, Wasson Lab
Students Encouraged to Think Differently in New MA in Social Innovation, Wasson Lab
Thursday, August 31, 2017
What does a crosswalk look like to you? In most intersections in the U.S., a pair of thick white lines stretching from one side of the road to the other is pretty much the norm.
French-Venezuelan artist Carlos Cruz-Diez, 95, sees things differently. His kinetic artwork can be seen on a crosswalk near the Caracas, Venezuelan airport with a bonus splash of color. In his artistic way, it portrays a challenge to the concept that everything needs to be the same. There's room for different. There's a need for creative thinking outside the norm, or, in this instance, outside the lines.
"We need to develop Changemakers who are willing to see something else, that not every crosswalk is the same," said Patricia Marquez, dean of the University of San Diego's Kroc School. "This is what we're trying to build here at the School of Peace and Justice, we're trying to figure out how to solve the kind of problems we face, but we cannot do it in the same ways as we did a decade, 20 or 50 years ago."
On Thursday morning, Marquez and the Kroc School launched its newest degree program, the Master of Arts in Social Innovation (MASI), with an audience of faculty, staff, alumni, administrators and community advisors gathered as well as the inaugural MASI cohort of 25 students who were on hand for their orientation.
"These are the Changemakers of today and Changemakers of tomorrow," Marquez said. "I feel we're ready to ignite. We need to orientate you … but we want you to orientate us. We want an explosion here, a combustion of ideas, combustions of imagination. This is what we're going to bring today as well as the years to come."
In addition to the degree program's introduction, Thursday's program also unveiled the newly converted Kroc IPJ Room 247 into the Wasson Social Innovation Lab space within the Kroc Institute for Peace and Justice. Each guest received a marker and had the opportunity to write on walls to answer such questions as naming a favorite social innovation, writing the name of an admired social innovator, write one word to describe a Changemaker and to ask what social issue you'd want to change.
A kaleidoscope of colorful answers was scrawled onto the white walls, but the important thing was that everyone added to the conversation, added their personal touch and provided knowledge, just as each of the MASI students will do in a thought-provoking and active curriculum with experienced faculty and experiential practice opportunities to stimulate learning for future careers.
"My heart is into an education that prepares generations for the practice of changemaking," Marquez said. "One that prepares people to solve humanity's greatest challenges. This is part of the University of San Diego's mission and I'm one hundred percent in that belief about what education can achieve."
Wes Wasson, CEO and co-founder of DreamStart Labs, addressed the audience and he, too, finds inspiration in students as part of "the next generation of leaders, social innovators and dreamers who come in and make a profound impact not just on this community, but on the world."
"These dreamers have the courage to look out on these big intractable social problems that we all see around us in the world today and do not cower in the face of it. They also don't look at one source of government, charity, or somebody out there to go solve it," he continued. "They have the courage to believe that answers are out there, but only when we bring together different disciplines in science, engineering, technology and business, academia and research and say it's only the combination of these sources and bringing together actors who maybe aren't comfortable or familiar with working together and can come at these problems with a new spirit of innovation, promise and opportunity."
Marquez, who was inaugural director of USD's Changemaker Hub when USD received its designation as an Ashoka U Changemaker Campus, maintains her passion for developing student Changemakers through the MASI degree.
"This is a world of infinite possibilities and it can happen if you have the attitude of a Changemaker. You have to want it, you have to pursue it. This is what we want to foster at the Kroc School. We invite all of you to be part of this because, at the end of the day, you tell me, what can be more central to our lives than fulfilling this goal and achieving peace and justice in a better world?"
— Ryan T. Blystone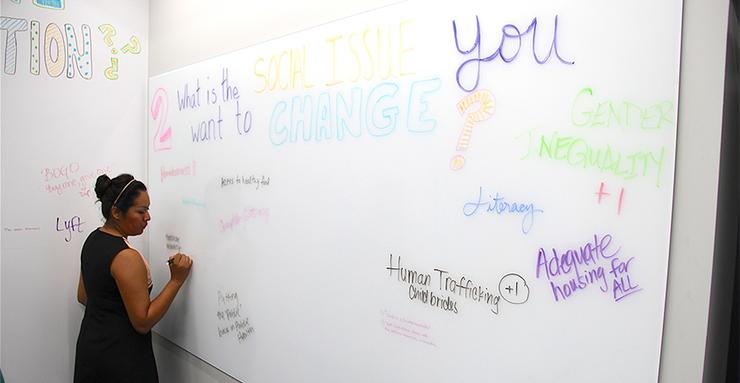 Changemaker Hub
5998 Alcalá Park
San Diego, CA 92110
Phone: (619) 260-4600