What is Changemaking?
Changemaking is a practice. 
At USD, we believe that everyone can practice changemaking. We encourage our community to commit themselves be in the service of addressing social issues that matter to you and exploring new ideas that will have a positive social impact.
"To be in the service of" means that we approach our changemaking pursuits with humility and that we understand that our efforts are linked to those who have pursued social justice in the past and those who will follow our own efforts.
Evolving Definitions
Changemaking, social innovation, and social entrepreneurship are all some of the terms used to define this new and developing field. 
In the context of higher education, we would like to include the following concepts:
Social entrepreneurship
Social Innovation
Service learning
Civic engagement
Social justice
Philanthropy
Changemaker
Someone who has found the self-permission to advance change for the good of all.
Someone who is intentional about solving a social or environmental problem, motivated to act and be creative.
Social Entrepreneur
A type of changemaker who creates widespread impact by being focused on systems change. Every social entrepreneur is highly skilled at collaboration, and is often focused on equipping others to thrive and collaborate in solving social problems (i.e. to be changemakers). 
Social Innovation
Methodology to create social value and potentially economic value at the systems-change level, which addresses the root cause of a problem. It includes new strategies, concepts, ideas and organizations that address social needs of all kinds – from working conditions and education to community development and health.
*We want to thank St. Thomas University, also a Changemaker Designated campus, for the inspiration they gave us to create this page providing succinct and specific ways of defining these concepts.
Characteristics of a Changemaker: 
Intentional about solving a social problem. A changemaker has empathy

for others and is driven by the genuine goal of making the world a better place. 

Motivated to act.

A changemaker gives themselves the permission to

do something

about a social problem, and keeps trying until they have made a difference. 

Creative.

Changemakers are inquisitive, open-minded and resourceful. They have the

courage to see and do

things differently. 
- Rahman, Herbst, and Mobley (2016)
What does it mean to be a Changemaker campus?
For the past 8 years, USD has been a designated Changemaker campus because we have shown a full commitment to provide opportunities for all students to engage in social change and social innovation both inside and outside the classroom. 
We belong to a network of almost 50 colleges and universities around the world, including universities such as Brown, Tulane, Cornell and Duke in the USA.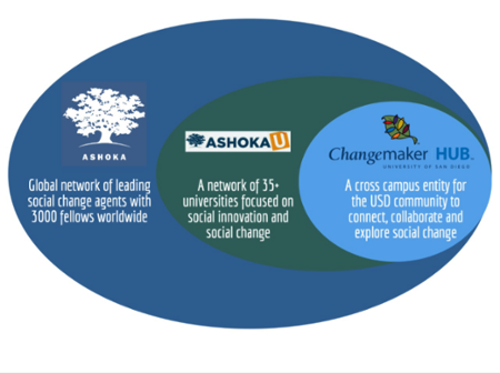 Ashoka's Four Levels of Impact
1. Direct Service
Work in populations needing services, food, and/or a direct benefit to their wellbeing. Direct service has a clear and concrete feedback loop – you can see hungry people being fed; students are gaining skills and confidence through mentorship; or the clients getting legal help.
Examples: Soup kitchens, small-scale mentoring programs for students, legal services for community members
2. Scaled Direct Service
Models that unlock efficiency and impact through well-managed logistics of an intervention or solution. Scaled Direct Service benefits large numbers of individuals.
Examples:The Red Cross, Americorps, or large-scale refugee resettlement programs
3. Systems Change
A new model that is addressing the root cause of a problem. It often involves policy change, widespread adoption of a specific methodology by leading organizations in a sector, or creates new behaviors within an existing market or ecosystem.
Examples: Micro-credit was a fundamentally new innovation for women to lift themselves out of poverty. B-Corporations rethink corporate responsibility. Wikipedia democratizes the way information is shared online.
4. Framework Change
Framework Change affects individual mindsets at a large scale, which will ultimately change behaviors across society as a whole. While Framework Change is not a specific field-level or country-level intervention, it compounds the work of many individual organizations to create a paradigm shift.
Examples: Universal Human Rights, Women's Rights, Civil Rights, Democracy, or the idea of Social Entrepreneurship.
To learn more about changemaking in the context of higher education, visit The Rise of the Sophisticated Changemaker by Marina Kim and Erin Krampetz
Explore Your Changemaking Journey
Changemaking happens every day across campus. What will you do while you are at USD to be in the service of an issue that matters to you? Whatever it is, we encourage you to work with other like-minded individuals to make a positive difference for your community and to leave a legacy and a path for others to follow.
If you would like to explore and connect with the many departments providing opportunities to engage in social change, explore our virtual map of Changemaking at USD. To make it easier, we have added three tours to the virtual map: Campus Initiatives, Centers and Spaces, and Courses. Each tour offers unique ways to explore so check out all three and begin your changemaking journey today!