Faculty Reading Circles
Faculty Reading circles are small, self-paced groups who meet at least twice a semester, virtually, to discuss a selected book, provided by the CEE. Faculty from varied disciplines and stages in their career are welcomed to join. By participating, faculty will enhance their teaching through shared learning with colleagues. 
Our Spring 2021 Faculty Reading Circles will start in mid to late February. All meeting dates and times will be determined by the groups availability (collected during sign-up).
Spring 2021 Circles: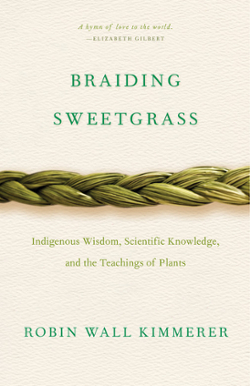 Braiding Sweetgrass: Indigenous Wisdom, Scientific Knowledge, and the Teachings of Plants by Robin Wall Kimmerer
"Robin Wall Kimmerer has written an extraordinary book, showing how the factual, objective approach of science can be enriched by the ancient knowledge of the indigenous people." — Jane Goodall
A New York Times Bestseller. As a botanist, Robin Wall Kimmerer has been trained to ask questions of nature with the tools of science. As a member of the Citizen Potawatomi Nation, she embraces the notion that plants and animals are our oldest teachers. In Braiding Sweetgrass, Kimmerer brings these two lenses of knowledge together to take us on "a journey that is every bit as mythic as it is scientific, as sacred as it is historical, as clever as it is wise" (Elizabeth Gilbert). Read more...
 Distracted: Why Students Can't Focus and What You Can Do About It by James M. Lang
"Lang's lucid prose and dry wit make for a pleasant reading experience, and his evidence is consistently on-point. Teachers and parents teaching at home will find inspiration and insight in this sterling study of 'the crucial connection between attention and learning.'" — Publishers Weekly
Why is it so hard to get students to pay attention? Conventional wisdom blames iPhones, insisting that access to technology has ruined students' ability to focus. The logical response is to ban electronics in class. But acclaimed educator James M. Lang argues that this solution obscures a deeper problem: how we teach is often at odds with how students learn. 
Read more...
Me & White Supremacy by Layla F. Saad
"Buy this book for yourself, your family, your students. Don't put it off and don't look away. It's time." — New York Times bestselling author, Elizabeth Gilbert
Me and White Supremacy teaches readers how to dismantle the privilege within themselves so that they can stop (often unconsciously) inflicting damage on people of colour, and in turn, help other white people do better, too. Read more... 
We Want to Do More Than Survive: Abolitionist Teaching and the Pursuit of Educational Freedom by Bettina L. Love
Sign up for this circle
"Offering readers a profoundly fresh perspective on teaching, Bettina Love breaks new ground. Using both the language of critical thinking and radical resistance, this book challenges and dares us all to teach for justice." —bell hooks
Winner of the 2020 Society of Professors of Education Outstanding Book Award. Drawing on personal stories, research, and historical events, an esteemed educator offers a vision of educational justice inspired by the rebellious spirit and methods of abolitionists. Read more... 
⇒ The CEE is also welcoming Dr. Bettina Love for a workshop and keynote address to the USD community. Learn more here. 
Research and Reconcilitation: 

Unsettling Ways of Knowing through Indigenous Relationships edited by Wilson, Breen, and DuPré
"This insightful anthology dives deep into story and offers an intimate perspective the tensions that demarcate Indigenous research and reconciliation. In doing so, the contributors remind us that an enduring reconciliation requires a daily commitment to show of for each other. The message of Research and Reconciliation is that relationships matter now more than ever." —Margaret Kovach, University of Saskatchewan
In this edited collection, leading scholars seek to disrupt Eurocentric research methods by introducing students, professors, administrators, and practitioners to frameworks of Indigenous research methods through a lens of reconciliation. Read more...