Faculty Reading Circles
Faculty Reading circles are small, self-paced groups who meet at least twice a semester, virtually, to discuss a selected book, provided by the CEE. Faculty from varied disciplines and stages in their career are welcomed to join. By participating, faculty will enhance their teaching through shared learning with colleagues. 
Our Fall 2020 Faculty Reading Circles will start in September. All meeting dates and times will be determined by the groups availability (collected during sign-up).
Fall 2020 Circles: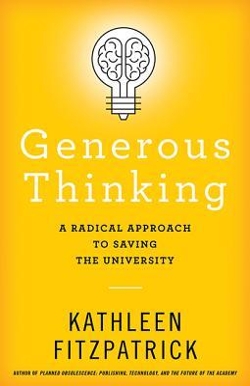 Generous Thinking: A Radical Approach to Saving the University by Kathleen Fitzpatrick
"For anyone concerned with the future of higher education, Fitzpatrick makes a passionate argument for a simple yet potentially revolutionary idea." — Library Journal
Higher education occupies a difficult place in twenty-first-century American culture. Universities—the institutions that bear so much responsibility for the future health of our nation—are at odds with the very publics they are intended to serve. As Kathleen Fitzpatrick asserts, it is imperative that we re-center the mission of the university to rebuild that lost trust. Read more about the book or view the first 4 pages here to get inspired!

How to Be an Antiracist by Ibram X. Kendi
"How to Be an Antiracist gives us a clear and compelling way to approach, as Kendi puts it in his introduction, "the basic struggle we're all in, the struggle to be fully human and to see that others are fully human." —Ericka Taylor, DC Working Families Organizing Director (NPR review)
Ibram X. Kendi's concept of antiracism reenergizes and reshapes the conversation about racial justice in America--but even more fundamentally, points us toward liberating new ways of thinking about ourselves and each other. In How to be an Antiracist, Kendi asks us to think about what an antiracist society might look like, and how we can play an active role in building it. Read more. 
Small Teaching Online: Applying Learning Science in Online Classes by Flower Darby
"With so many schools teaching at least partially online, teachers need to consider the best ways to reach these learners, many of whom wouldn't have chosen online classes if given a choice. For that reason, Small Teaching Online provides value in how it approaches virtual classrooms and connecting with students online." —Jesika Brooks, Medium Editor
The concept of small teaching is simple: small and strategic changes have enormous power to improve student learning. Instructors face unique and specific challenges when teaching an online course. This book offers small teaching strategies that will positively impact the online classroom. Read more. 
⇒ Engage with us further! The CEE is excited to share that Flower Darby will be joining us live on September 17th! Learn more and register here.