Faculty in the Spotlight
Dr. David Miller, Lecturer of History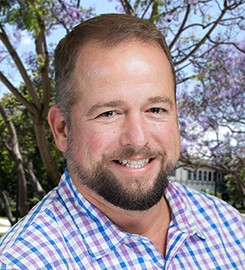 Interviewed and written by Dr. Rebekah Wanic, CEE Adjunct Liaison and Professor of Psychological Sciences - October 18th, 2019
History in the Spotlight - A Conversation with David Miller
For this month's Spotlight, I sat down to talk with History professor David Miller.  David has been at USD since 2005, teaching a variety of courses for the History Department including Race and Ethnicity in the United States and The Civil War and Reconstruction, and more recently he also became the History Internship Coordinator.  In addition, David works for the San Diego History Center and is co-editor of The Journal of San Diego History – one of only a few academic peer-reviewed history journals to focus on just one city (more broadly San Diego County).  This past year, David has been involved with events surrounding San Diego's 250th "birthday," represented the History Center at the San Diego Civic Commemoration as a Key Note Speaker in July, and, after doing a publicity spot on the Chris Cantore morning show to promote these events, was invited to do regular spots featuring San Diego history.  Whew, I need to take a breath….!
David is mostly a local, having moved here when he was 4 and taking a brief trip out east for undergraduate studies at the University of North Carolina before returning to San Diego for graduate school at UCSD.  Like many of us in the non-tenure track role, David spent some time teaching at various places before becoming a benefits-based lecturer here as USD through what he described as "good timing, hard work and the support of his peers." 
David was drawn to history from an early age, as it was always a part of his childhood and something that he enjoyed, perhaps in part because his mother was an educator who herself went on to teach U.S. and Native American History locally at Mesa and Palomar colleges.  As he got older, and moved beyond reading the Civil War book in his childhood library, he realized that he could continue his involvement with the topic in a more meaningful way by pursuing a graduate degree and the rest is well…history.
I asked David to tell me a bit about his gig with the radio show, admitting that I was not familiar with Chris Cantore.  His initial dismay was dispelled when I indicated that I was not from San Diego, as Cantore has been a local radio fixture for many years.  David enjoys the Cantore show and views it as a good vehicle for sharing his knowledge because of its style - it is not as serious as NPR but not a nonsensical as many other morning shows.  Thus, he can disseminate what he knows about San Diego history with a balance of seriousness and fun.  His radio pieces help to fill the gap between very serious historical inquiry and the sometimes silly spots (the origin of street names for example) that often feature in popular public history and thus provide the ideal venue for him to share his historical knowledge more publicly.  You can find some of his pieces here: https://www.1007sandiego.com/article/entertainment/radio/cantore-show/cantore-show-san-diego-history-balboa-pak/511-fb9c9c88-7366-47d0-a503-f37d8dcba71a.
One of the interesting things about his work with the radio show is its connection with teaching.  As professors, we are tasked with sharing our high-level discipline-specific knowledge with students, who may have little or no background knowledge or even (we must sometimes admit) any interest.  Finding ways to make content accessible and interesting is a requirement for both teaching and presentation to more general radio show audience.  I joked that perhaps David could make his work on future spots easier by assigning students to create their own…then quickly decided I should keep that idea for my own classes. :)  
I was curious to know more about the history internship program and what it entailed.  Sadly, according to David "it does not involve sending students back in time," but perhaps someday….  In the meantime, the internship program is designed for those majors who want to gain experience in historical inquiry in a community setting.  Building on the work of the prior internship coordinator, David has worked with local museums, historical societies and research organizations to help students get real, hands-on experience in the practice of history.  That is, students are not just "interns" in the sense of the underling getting coffee and making copies.  A requirement of placement is that they can be involved in a meaningful way in a currently active project.  In his second year as internship coordinator, David has been working to formalize the process of placement and expand the network of organizations with which students can work.  The internship now counts as Advanced Integration credit for the core and provides a valuable opportunity for students to utilize their academic knowledge through engagement with the community.
David himself works at the San Diego History Center, which serves as the official history museum and archive of San Diego.  It has been around since the 1920's and has locations in both Balboa Park and the Serra Museum in Old Town.  In 2018, David became a co-editor of The Journal of San Diego History, which has been in publication since 1955.  Such experiences make David a great mentor for students in the internship program, given that he is involved in community work as well.
David's desire to provide students with an exceptional experience also shines through in his involvement with programs designed to promote teaching success.  He has won a CEE Participation Award, attended a CEE travel grant-funded conference, and was the recipient of the CAS Award for Exceptional Teaching.  David finds opportunities to continually expand his instructional skills and has even taught in the First Year Writing program.  This course was one he found to be incredibly rewarding, providing him with valuable interdisciplinary instructional experience.
To conclude our interview, I asked David to share a bit about some of his favorite courses. He mentioned the he enjoys teaching lower division courses because for some students that might be their only exposure to college-level history, and he challenges himself to make the material presentable for those with diverse interests and preparation.  One specific topic he enjoys is the Civil War.  The courses he teaches related to this event create a context where students who often begin the course interested in the traditional narrative are challenged to engage in important conversations about democracy, race and citizenship.  He pointed out that confronting these critical issues in historical context can help to shed light on how they are currently construed in politics and society more generally. 
In sum, my interview with David left me impressed with his dedication to educational success.  His work with students and his civic engagement demonstrate his passion for historical inquiry and for sharing his knowledge with others in meaningful ways.  Being from San Diego, David is thankful that he gets to not only stick around, but to teach at USD with the opportunity to share stories on topics he loves in the classroom and community and USD is lucky to have him!
Related Links