Faculty Travel Seminar 2018
The Holy Land: Art, Architecture, Engineering, and Politics
Jerusalem, Bethlehem, Nazareth, Galilee, and Mount Tabor, January 8-14, 2018
"O Lord, I have loved the beauty of thy house." Psalm 125 
"By wisdom a house is built, And by understanding it is established; And by knowledge the rooms are filled With all precious and pleasant riches". Proverbs 24:3-4
"Woe to him who builds his house without righteousness And his upper rooms without justice." Jeremiah 22:13-14.
The Holy Land is a sacred place for three of the world's great religions: Catholicism, Judaism, and Islam. Integral to each are sacred sites and buildings. This year's faculty travel immersion visited the Holy Land to examine the art, architecture, and engineering surrounding the most sacred sites in Jerusalem, Bethlehem, Nazareth, Galilee, and Mount Tabor.  What does sacred architecture tell us about each faith? Is sacred architecture different from secular architecture? How do the buildings facilitate different types of liturgical celebration and expressions of faith? How do they contribute to the life of the community? Buildings also function as important metaphors in all three faiths and these implications were explored.
The Second Vatican Council's Nostra Aetate, "On the Church's Relation to Non-Christian Religions," was used as a lens to view the interaction of the three faiths. Time was spent on contemporary issues as well, some involving architecture.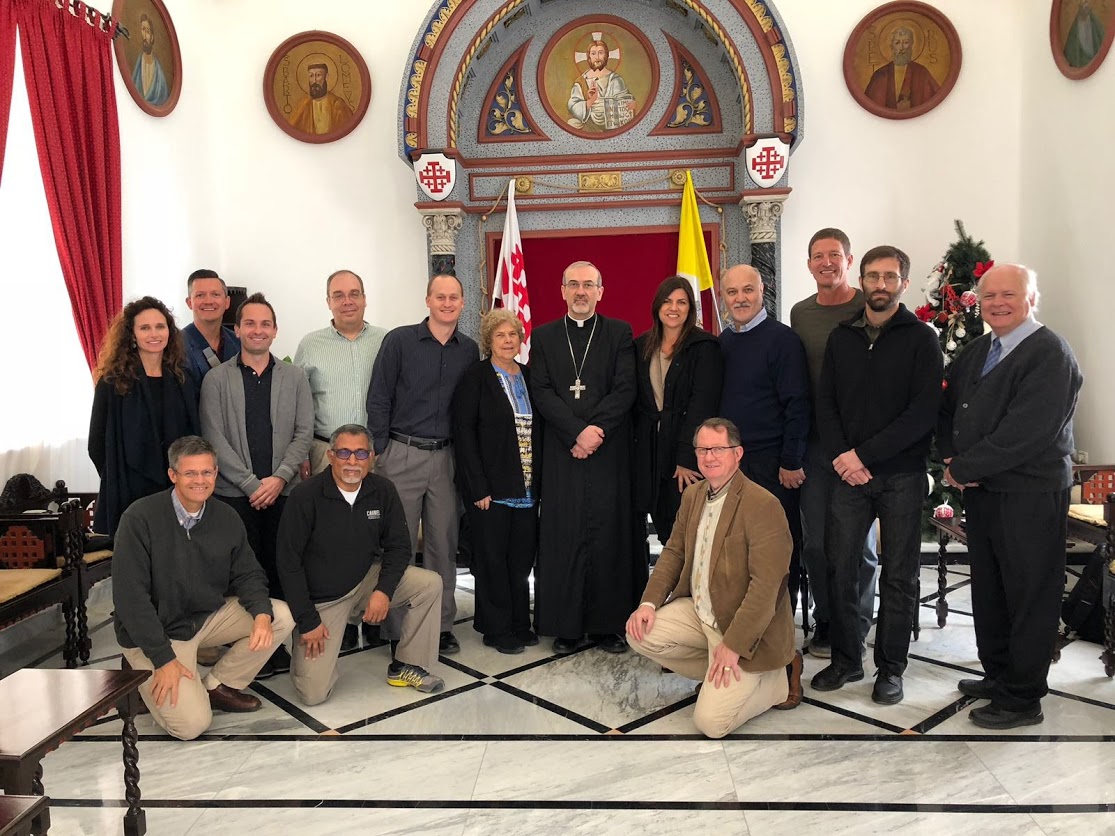 Faculty Presenters:
Monday, April 16, 2018
Frank Jacobitz, Mechanical Engineering, A Tale of Two Classes
Father Garrett Galvin, Franciscan School of Theology, Magdala, The Hemorrhaging Woman, and Contemporary Spirituality
Bradley Bond & Susannah Stern, Communications, Visibility, Media, and Self: Reflections from the Holy Land Immersion Trip
Subramanian Shastri, Engineering, My Journey in the Holy Land
Monday, April 23, 2018
Kevin Guerrieri, Languages, Cultures, and Literatures, Human Rights in the (Un)Holy Land: The Israeli-Palestinian Conflict in Graphic Novels
Emilie Amrein, Music, Chapter Proposal for Listening to Voices Seldom Heard: Perspectives and Narratives in Music Education. Chapter Title Structural Violence in the Choral Space: Explorations in Compassionate Artistry (provisional title)
Michelle Camacho Walter, Sociology
Timothy Clark, Chemistry/Biochemistry, Science in the Sepulchre: Chemical Tools to Probe Religious History