Monica Stufft, PhD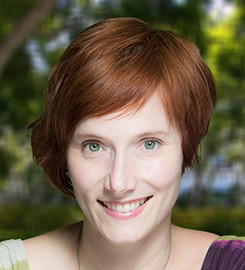 Office:
University Modular Offices #2 225
Associate Professor, Theatre
PhD, University of California Berkeley, Performance Studies

BA, Muhlenberg College, English and Theatre

Level 1 Yoga Teacher Training Certification (YogaFit Worldwide Training Systems) in September 2015
Monica Stufft is an Associate Professor in the Department of Theatre where she teaches courses in Theatre and Performance Studies and is involved in production work, both as a director and dramaturg. Her specializations include popular culture, theatre historiography, writing, as well as cultural, gender, and performance theory. Her research focus is on the intersections of performance and pedagogy in the classroom with a particular interest in the theoretical and philosophical implications of collaboration and collaborative theatre making.
Scholarly Work
Thanks to support from USD's International Opportunities Grant program, Dr. Stufft has started work on new project involving one of the world's preeminent Maya scholars, Dr. David Stuart of The University of Texas at Austin. She participated in a Collaborative Research Workshop on Maya Cosmology and Spirituality in Antigua, Guatemala in June 2018, after which she was invited by Stuart to return in May – June 2019 to UT Austin's Mesoamerican Center and the Casa Herrera, an international research center in Antigua, Guatemala. She participated in a series of workshops on performance theory and Ancient Maya Performance as well as serving as a Guest Lecturer in Stuart's Maya Art and Architecture course.
On January 27, 2019, she gave a post-show talk, "BFFs Through the Ages" following "Herland" facilitated by Callie Prendiville at Moxie Theatre. She has also recently given lectures on the "Chorus Girl Collective" at the Osher Lifelong Learning Institute at UCSD and the University of Third Age at USD.
Dr. Stufft and Dr. Kelly Rafferty developed of a series of workshops on facilitation techniques and collaborative strategies for both educational and professional contexts, most recently presented to the MFA students at Mary Baldwin College in June 2017.
A jointly written critical pedagogy piece, "To Thrive: Social Justice Theatre on a Catholic Campus," appeared in the November 2015 special issue of Theatre Topics, "Theatre and/as Education." In the dialogue, Dr. Stufft, [along with Reid Davis (Saint Mary's College of California), Peter Harrigan (St. Michael's College), Marietta Hedges (Catholic University), Maya Roth (Georgetown University), and Christine Young (University of San Francisco)] discuss the challenges and rewards of producing vital and engaged, if somewhat controversial, theatrical work at six distinct Catholic institutions of higher education. We reflect on how we differently steward and experience courses on performance theory, our theatre activism, interactive theatre work, and theatre for social change, cognizant of how these interactions contribute to our schools' respective Catholic identities and missions.
Dr. Stufft published an article entitled "Putting Collaboration Front and Center: Assessment Strategies for Theatre Departments" in the March 2013 issue of Theatre Topics in which she questions a focus on individuated modes of assessment in the field of theatre, details her development of collaboration based assessment tools, and shares insights from the implementation of those tools in the evaluation of collaboration during a production that she directed at USD.
She co-wrote an article with USD graduate Michael Frederick Ahmad entitled "Performances that Matter: Theory and Practice on a Catholic University Campus" for the spring 2011 volume of Ecumenica in which they explore two performance pieces Ahmad created while enrolled in Stufft's Performance Studies course.

Dr. Stufft co-adapted, produced, and directed a theatrical adaptation of screenwriter/director Todd Berger's indie film It's a Disaster. In this project, Dr. Stufft and her co-writer, Dr. Kelly Rafferty, explored how to get potential audience members off of their couches and into a theater. Rather than simply taking the screenplay, which has couples gathering for brunch at a friend's house, and re-creating the same narrative on a traditional stage, we developed a live event you could not experience on film or television, an open mic night featuring local performers that included pre-show food and an open bar throughout. We used theatricality – engagement with a live audience, music, shared laughter, our presence in the same imperiled room – to intensify the audience's engagement with the film's themes and driving questions. The script, "It's a Disaster: Live," was completed over Dr. Stufft's sabbatical; the world premiere production directed and produced by Dr. Stufft opened at Chloe's (Golden Road Brewery), and was extended, in Los Angeles, CA in June 2016. A review of the production is available at https://noproscenium.com/thankfully-its-not-a-disaster-live-review-ea1aa5dff9b5.
At USD, she has directed "TBD," a collaboratively-devised theatre piece created from scratch by students enrolled in the Spring 2016 course, THEA 494: Collaborative Theatre Making. The show investigated site-specificity, audience engagement, and the potentials and perils of social media. In a Spring 2013 iteration of the course, the devised show featured live music and explored how Disney princesses have shaped ideals as well as wants and needs by drawing from the personal stories of the participants. The students were interested in the journey to happily ever after, what it takes to get there, and in both celebrating and troubling the characters and narratives offered by Disney.
At USD, Dr. Stufft has also directed Naomi Iizuka's "ANON(ymous)" as well as Charles Mee's "The Mail Order Bride" using collaborative theatre making methods. She has served as dramaturg on shows such as "Cabaret," "An Experiment with An Air Pump," "The Country Wife," "Rosencrantz and Guildenstern Are Dead," "The Saint Plays," "Picasso at the Lapin Agile, " and "First Lady Suite."
Dr. Stufft recently served as the co-chair for ATHE's Professional Development's subcommittee on Assessment with Jane Duncan, and has served as the chair of the Collaborative Research Award Committee and as a member of the Domestic Exchange Program Committee of the American Society for Theatre Research, co-chaired the Performance and Pedagogy working group with Dr. Sruti Bala and sat on the board of Performance Studies international, and was the Membership and Finance Officer of the Susan Glaspell Society.


Areas of Interest
In all of her courses, Dr. Monica focuses on the various relationships between the aesthetic and the everyday, the real and the represented, and between the self and the other. Her courses are designed to facilitate and highlight the active interchange between theory and practice, between scholar and artist. At USD, she offers undergraduate courses in Acting 1 (Artistic Inquiry Core), Theatre and Society (Artistic Inquiry Core), Script Analysis, Collaborative Theatre Making, Theatre History 1 and 2, as well as an Advanced Writing and Oral Communication course that counts towards the Women's and Gender Studies minor, Performance Studies.
She is currently working on the development of a Special Topics course, "Telling the Story of Science" that will be offered in Spring 2021 in collaboration with Soroya Rowley, a Master's candidate in the Kroc School of Peace Studies, as well as Dr. Michel Boudrias from Environmental and Ocean Sciences. Theatre students will work with students in an Environmental Studies course to explore how various story telling methods and theatrical devices can be used both affectively and effectively in order to write short plays and create a longer devised piece about environmental issues.
Office Hours
Section 01R
1/25 - 5/10
M W
8:30 am - 11:00 am
TBD - TBD