Lisa Nunn, PhD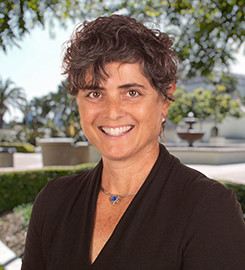 Office:
Saints Tekakwitha & Serra Hall 315K
Professor, Sociology
Faculty Integration Coordinator, Collaborate LLC
Director
Professor Nunn earned her B.A. in Literature and Theater from Whittier College in 1997.  She earned her M.A. in Sociology in 2005 and her Ph.D. in Sociology in 2009 from the University of California, San Diego.
I joined the Department of Sociology in 2009. I'm an involved member of campus life at USD.
Changemaking is near and dear to me. I spent the two years after I graduated college in the Peace Corps in Limbaži, Latvia, which set the foundation for the changemaking work that I do now including every summer when Professor Mike Williams and I take USD students to do community engagement in Makuleke Village in South Africa. I also work on issues of diversity, inclusion, and social justice here on campus, as well as faculty development and mentoring. Most of all, I am devoted to first-year students. I am on the leadership team for the Collaborate living, learning community for first year students, which means that I teach and advise Collaborate students and I facilitate faculty engagement in the program.
I am the editor of a book series with Rutgers University Press, Critical Issues in American Education, and I serve in the leadership of the Sociology of Education Association, in addition to being an active member of the American Sociological Association.
Scholarly Work
My scholarship centers on students' experiences, students' identities, and students' academic success and overall wellbeing. My current research follows first-year college students to see how they navigate their new campus homes and what kinds of obstacles they face to developing a sense of belonging there. As a sociologist, I care deeply about communities and how they function, and school communities are important parts of all of our lives as we grow up. I am a cultural sociologist and an organizations scholar, so I approach research questions about student belonging by looking at the role each university plays in terms of the programs and resources it provides to new students as well as the overall campus culture that the school fosters. I also systematically interview students to find out what their experiences are like, whether those school programs and resources help them, and what they do when the find themselves struggling.
I am particularly interested in first-generation college students, those for whom neither parent has a 4-year degree. When first-generation students succeed in college it is a sign that higher education is doing something right, something that benefits our entire society by serving as an engine of upward social mobility.
After interviewing first-generation and first-year students, I wrote a book to share insights with other faculty. I outline ways we might make small changes in our teaching and in our everyday interactions with students that can make a big difference in students' lives. I run workshops to share ideas on how to implement the ideas I learned.
33 Simple Strategies: A Week-by-Week Resource for Teaching First-Year and First-Generation Students. 2018. Rutgers University Press.
I am also working on another book from this research: College Belonging: How First-Year and First-Generation Students Navigate Campus Life, (under advance contract with Rutgers University Press).
My scholarship also includes:
Articles and Book Chapters (You can download these from my website.)
Forthcoming 2019. "First-Generation College Students" chapter in Education and Society, T. Domina, A. Penner, B. Gibbs and L. Nunn, eds. Under advance contract with University of California Press
2017 - "Implementing Innovative Pedagogy and a Rainbow Curriculum to Expand Learning on Diversity" (co-authored with Steven Sumner, lead author, Sandra Sgoutas-Emch, and Evelyn Kirkley). Insight: A Journal of Scholarly Teaching 12(1) 94-119.
2017 - "Girls Get Free Drinks: Undergraduates' Misunderstandings of Heterosexual Privilege" (lead author with Sandra Sgoutas-Emch, Steven Sumner, and Evelyn Kirkley, co-authors). Journal of Homosexuality 64(12) 1684-1699.
2016 - "Immersive Practices: Dilemmas of Power and Privilege in Community Engagement with Students in a Rural South African Village" (co-authored with J. Michael Williams, lead author). Engaging Pedagogies in Catholic Higher Education 2(1) Article 5.
2015 - "Wearing a Rainbow Bumper Sticker: Experiential Learning on Homophobia, Heteronormativity and Heterosexual Privilege" (lead author with Sophia C. Bolt, undergraduate co-author). Journal of LGBT Youth 12(3) 276-301.
2011- "Classrooms as Racialized Spaces: Dynamics of Collaboration, Tension, and Student Attitudes in Urban and Suburban High Schools." Urban Education 46(6) 1226-1255.
Books
Forthcoming 2019. Education and Society. Textbook for undergraduate Sociology of Education Courses. (co-edited with Thurston Domina, University of North Carolina, Chapel Hill; Andrew Penner, University of California, Irvine; and Benjamin Gibbs, Brigham Young University). Developed in collaboration with the Sociology of Education Association. Under advance contract with University of California Press.
2014 - Defining Student Success: The Role of School and Culture. New Brunswick: Rutgers University Press.
Areas of Interest
Professor Nunn teaches courses in our department's Social Justice Concentration, in the Honors program, and in the Changemaking minor.