Thomas Ehrlich Reifer, PhD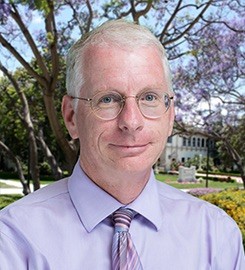 Office:
Saints Tekakwitha - Serra Hall 315A
Chair and Professor, Sociology
PhD, Binghamton University, Sociology

MA, Binghamton University, Sociology

BA, UC Santa Cruz, Sociology

Dr. Reifer is an Affiliated Faculty in Ethnic Studies, Latin American Studies, Women & Gender Studies, and the Kroc School of Peace Studies. He is also an Associate Fellow at the Transnational Institute, a worldwide fellowship of committed scholar-activists; formerly worked at Focus on the Global South in Asia and was Associate Director of the Institute for Research on World-Systems (IROWS) and the Program on Global Studies at UC Riverside. He was formerly a Research Associate at the Fernand Braudel Center for the Study of Economies, Historical Systems & Civilizations at Binghamton University—where he received his MA & PhD—and IROWS. His specialty is the study of large-scale, long-term social change and world-systems analysis.
Scholarly Work
Dr. Reifer is on the editorial board of the Journal of World-Systems Research and has published in the The Cambridge Dictionary of Sociology, Carceral Notebooks, Development & Change, Encyclopedia of Intelligence & Counterintelligence, International Journal of Comparative Sociology, International Journal of Human Rights, Law & Society Review, New Left Review, Journal of Palestine Studies, International Encyclopedia of the Social Sciences, and Society & Space. Co-authored books include Chaos & Governance in the Modern World System, and The Torturer in the Mirror. Edited books include Globalization, Hegemony & Power: Antisystemic Movements & the Global System and Global Crises & the Challenges of the 21st Century. Among his most recent writings are: (with USD English Professor Carlton D. Floyd) "What Happens to a Dream Deferred? W.E.B. Du Bois & the Radical Black Enlightenment/Endarkenment," Socialism & Democracy. Currently, Dr. Reifer is writing two books, Lawyers, Guns & Money: Wall Street & the American Century, and (with Dr. Carlton Floyd), American Dreams & Dreams Deferred. Dr. Reifer has worked closely with leading world-systems scholars, Giovanni Arrighi, Christopher Chase-Dunn, Walter Goldfrank, Beverly Silver and Immanuel Wallerstein. Dr. Reifer also assisted Dr. Daniel Ellsberg in the writing of Secrets: A Memoir of Vietnam and the Pentagon Papers, and more recently, The Doomsday Machine: Confessions of a Nuclear War Planner. Dr. Reifer is an official Freedom Writers Teacher and works closely with the Freedom Writes Foundation in Long Beach, and recently wrote the foreword to "Foreword," Giuseppe Cursio, The "Freedom Writers" Method: Teaching and the Search for Meaning: Changing Oneself and the World Though Writing (in Italian, 2019). A recent interview with Daniel Ellsberg and Erin Gruwell of the Freedom Writers Foundation, in which Dr. Reifer also participated in 2019, can be accessed at: https://www.stitcher.com/podcast/freedom-writers-foundation/freedom-writers-podcast/e/60820283
Areas of Interest
Evolution of the universe and life, emphasizing "prehistory," Neolithic revolution, comparative settler colonialisms/imperialism, comparative fascisms, American exceptionalism," political, economic and social development, militarism, state-corporate globalization, immigration, race-ethnic, class and gender formation and inequalities, in health care, criminal (in)justice systems, education, violence and warfare-welfare states, and the moral-ethical history of humanity, all studied in global, comparative world-historical perspective. Global literature, comparative epidemiology, slavery and freedom, sociology of catastrophe/disasters, climate change, environmental racism, world-regions, world-systems analysis, focusing on the capitalist world system and antisystemic movements, comparative and global finance, hegemonies, the changing social foundations of the global system, anthropology, Cartesian or (bio)linguistics, philosophy, sociological and political theory, politico-military sociology, technological change, genocide, international human rights, war crimes, crimes against humanity, torture, alternative regionalisms, media, propaganda, Tupac, hip hop, the public sphere, peace and social justice, trauma, recovery, moving from surviving to thriving, unnecessary human suffering, and how to overcome it and make the world a better place in the interests of eudaimonia (the flourishing of human capabilities, as well as those of other sentient beings).