Nadav Goldschmied, PhD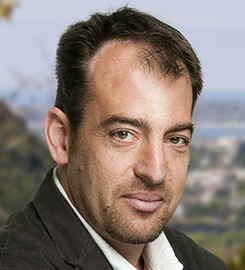 Office:
Saints Tekakwitha & Serra Hall 164
Associate Professor, Psychological Sciences
Ph.D., M.A., University of South Florida, Cognitive Psychology, Specialization in Social Psychology (2007)

M.S., Sports Administration (2000)

B.A., Bar-Ilan University, Psychology (1997)
Nadav Goldschmied, PhD, teaches a variety of courses that revolve around social psychology, such as introduction to Social Psychology, Social Psychology Research Methods Lab, the Psychology of Sports, and Psychology of the Law. He has an active research program, working with students on various research projects exploring how inequality and disadvantage shape social perceptions of competitors and groups in contention, as well as projects relating to sport psychology. He is also the faculty advisor for the Psychology Department's Club.
Scholarly Work
Goldschmied has broad interests in the psychology of inequality, disadvantage, and competitive asymmetries. Within this broad field of exploration, he focuses on zero-sum situations in the realm of the politics, sports and business. In addition, as a former and long-time mediocre basketball player, cantankerous coach, and an always behind-the-deadline sports journalist, Goldschmied concentrates on the intersection of psychology and sport in exploring diverse cognitive and social phenomena such as correlates of superior performance, aggression and fan behavior.
He has published research articles in the Journal of Sports Medicine, The Sport Psychologist, and Basic and Applied Social Psychology and presented his research, together with his undergraduate students, at the Society for Personality and Social Psychology (SPSP) and American Psychological Association (APA) conferences. His work was featured in the New York Times, Slate magazine, and NPR.
Evidence for Cross Cultural-Cultural Support for the Underdog: Is Affiliation Driven by Fairness and Competence Assessments?
"Air Ball, Air Ball!": A Study of Collective Crowd Chanting in Collegiate Basketball
Sweating the Uniform Colors and Success in Sport cCnnection: Time to Put the Effect to Rest?
Areas of Interest
Goldschmied has taught a variety of classes at USD. His upper division classes focus on social psychology topics. He also taught courses such as Research Methods, Statistics and Introduction to Psychology. He is a firm believer in the Socratic style of teaching so make sure you come prepared!