Anne Koenig, PhD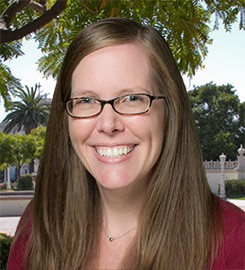 Office:
Saints Tekakwitha & Serra Hall 158
Professor, Psychological Sciences
Professor
Ph.D., Northwestern University, Social Psychology (2007)

M.A., Northwestern University, Social Psychology  (2003)

B.S., Iowa State University, Psychology (2001)
Anne Koenig, PhD, teaches courses in the area of social psychology and has an active research program, working with students on various research projects. Koenig's current research focuses on issues relating to stereotype content, role congruity theory of prejudice, prescriptive gender stereotypes, and the ideologies of sex differences.
Scholarly Work
Koenig's research focuses on gender issues and stereotyping and prejudice. She has used both correlational and experimental paradigms to assess the sources of stereotype content and to test role congruity theory of prejudice, both of which relate to social role theory. Koenig also studies the ideologies of sex differences, or what people view as the best way to reduce gender stereotyping and prejudice, and how prescriptive gender stereotypes are applied to different age categories. She has also written book chapters on cultural differences in attributions and classroom demonstrations for teaching about these differences.
Koenig has received Faculty Research Grants from USD to conduct some of her research. She has published research articles in the Journal of Personality and Social Psychology, Personality and Social Psychology Bulletin, and Sex Roles and presented posters at several conferences, including the Society for Personality and Social Psychology and the Association for Psychological Science. Her undergraduate students have also presented their work at the Western Psychological Association, the Psychology Department Student Colloquium Series, and USD's Creative Collaborations Conference.
Areas of Interest
Koenig teaches courses in social psychology, including Social Psychology and the Advanced Research Methods Capstone in Social Psychology. She also teaches Introductory Psychology (often in the LLC program) and Cross-Cultural Psychology. Her interests in gender issues also motivated Koenig to create a special topics course on the Psychology of Gender, which focuses on sex differences and similarities and the possible causes of those differences. She was also the Interim Director of the Center for Educational Excellence in 2017-2018, designing and organizing workshops and sessions on pedagogy and other areas of faculty development.