What made you choose a career in academia?
I had a big plan to become a city manager after graduating from UCLA with a bachelor's degree in political science-public administration. I worked for two small cities immediately after graduation (Grover Beach and San Luis Obispo, California) and went to graduate school with a plan to get a master's degree in public policy. The fellowship I was awarded through my master's program included monies to work as a teaching assistant and I discovered relatively quickly that I loved to teach much more than I loved managing cities. Where I had been the mosquito abatement coordinator, Grover beautiful committee chair and personnel officer for the City of Grover Beach, I got to teach legislative politics, gender and the law and urban politics in graduate school. I found that I loved the academic life where I could talk, read and think about ideas all day long. Once I completed the master's degree with a public policy focus, I kept on going and got my Ph.D. in political science.
Tell us a little about your research and how you came to study this topic.
I spent my first several years at USD writing about both committee power and institutional gender power in congress; the next several years were spent writing about welfare policy and the White House Office of the President. My most recent project extends my work on congressional leadership to help explain congressional handling (or lack thereof) of international women's rights legislation. I am interested in these topics because they help us understand the concept of legislative democracy– something most political scientists find fascinating.
What is your favorite course to teach and why?
I love teaching Congress (PS 312). In this class, students learn about the intricacies of our "first branch of government" by going over legislative theory and congressional procedures. But, the fun begins when students simulate the U.S. Congress by attempting to pass three bills while playing the role of a congress member. Alumni report back that the simulation truly prepared them for their rollicking political experiences on Capitol Hill.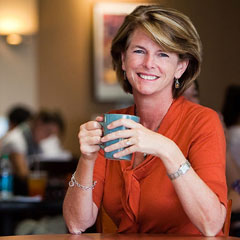 "USD is filled to the brim with people who are working toward creating the best university possible while enhancing the lives of students and faculty."
Noelle Norton
What is special about USD from a faculty perspective?
For me, the faculty/student relationship is the best thing about USD. Our classes are small enough to encourage a close mentorship or intellectual bond that often turns into a genuine friendship after students graduate.
How has your experience as a professor prepared you for work as an associate dean?
Because I have been a professor at USD since 1994, I think I understand the passions, culture, challenges and fears of a USD faculty member. I hope this knowledge will help me to think through various options when making decisions as an associate dean with responsibility for faculty issues. One of my new jobs in the dean's office, for example, is to work with faculty on classroom innovation and design. Because of my experiences in the classroom, I have a good idea about what will work and what won't work for those of us who use the classroom spaces.
What is the most rewarding aspect of your job?
Lately, I've found that I love to help faculty fix any kind of problem they encounter. I had no idea that I might find "faculty customer service" as interesting or as fun! Of course, it's always rewarding to work on fixing more complex problems that take more thought and time, but I find the easy fixes just as satisfying.
Complete the sentence "USD is…"
…is filled to the brim with people who are working toward creating the best university possible while enhancing the lives of students and faculty. I have never had a doubt about this fact since the day I accepted the job.
- Anne Malinoski '11