Communication Studies prepares students for a global world. In Spring 2010, Professor Leeva Chung's students worked with the Alzheimer's Foundation to help create greater awareness of the organization in a culturally diverse community such as San Diego. Chung shared with us her inspiration for this project and the Global Teams class (featured in the photos), as well as some insight into her educational approach.
Please tell us about your Global Teams course. How did you come up with the concept for this course? What project did your students work on this past semester?
Two things happened to me during my last sabbatical five years ago. First, I was fortunate to be a part of a very inspirational workshop facilitated by author/global leader Patti Digh and diversity trainer Anita Rowe on global and diverse teams in the workforce. Becoming a student for a week transformed the way I thought about small group and intercultural communication—in a way that was more realistic, practical and relevant. I wanted to do what I learned. Second, when designing this new course, and without the help of Twitter, Facebook or Myspace, I found former students who wanted to stay connected to the process of learning and thus, launched global teams.
Global teams is the intersection of small group, team development and intercultural communication geared toward the "real world" of working in multicultural teams. In one major project, students must work with an international virtual team member. This virtual team member is typically a former student. No doubt: the process is challenging, difficult, and frustrating. But it is because of this, at the completion, students have a sense of accomplishment of making the impossible possible.
The last project I had my students work on was making a video for the Spanish speaking community to raise awareness of Alzheimers. Daniel Jaimes (USD, 2005) approached me with the idea of having my students work with the Alzheimers Association. During the Fall semester, my freshmen preceptorial class raised $500 dollars. Because of their enthusiasm and commitment, I brainstormed with Daniel to have the Global teams work on a more complex project. And this is how the idea of a video was born.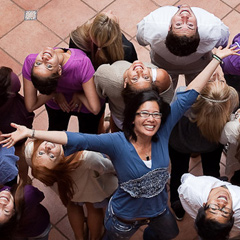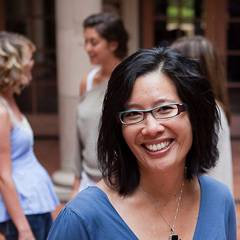 "Our future lies in our vigilant attempt to unleash creative minds to help us address our complex social issues..."
Leeva Chung
Do you feel that you have made an impact with your students and if so, how?
During a recent graduation speech, Dr. Carlos Cortez (creator of Dora the Explorer), outlined three needs for the betterment of our future: creativity, civility, and empathy. Our future lies in our vigilant attempt to unleash creative minds to help us address our complex social issues, educate students to be civil when they disagree, capable of seriously discussing complex, even controversial issues, and prioritizing our cognitive and emotional understanding of others, whose values, perspectives, and worldviews are vastly different from or conflict with our own. I believe these three needs are clearly articulated in my class, and by doing so, I have created life learners from my former students. This is my most rewarding aspect of my job. I have the ability to influence and contribute to their direct growth—and watch them incorporate class lessons and challenges in their lives outside of USD, be it organizational skills, leadership development, or in their relationships with others. In turn, they teach me new lessons learned as applied in their lives, which I then use in class. As a result I am always learning from my students. In fact, my curriculum is designed and integrated to include alumni who can serve as mentors, judges on projects, guest lecturers, or assist with an individual company project. I fully appreciate the connection and investment former students have on future graduating students.
How would you describe your educational approach?
Some categorize me as "experiential." Others may claim the style as "idiosyncratic." Personally, I coin my teaching style as organized chaos—it is about navigating students through unexpected "learning landmines" and unaccountable X-factors riddled with uncertainty, anxiety, and abrupt changes for us, much like the real world. With all the great attempts of foul-proof planning and clear procedures, change happens, right? So I try to prepare them for life by assigning uncomfortable assignments--things that exist in the workforce--so that students can be accustomed to the world beyond USD. I engage a wide range of students with varying degrees of interest by drawing on a number of real-life examples; bridging the expansive gap between established, academic writing and eight-in-the-morning, undergraduate understanding. Having a sense of humor and the ability to laugh at yourself is half the battle.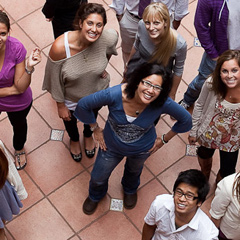 "No doubt: the process is challenging, difficult, and frustrating. But it is because of this, at the completion, students have a sense of accomplishment of making the impossible possible."
Leeva Chung
How is your research rewarding?
I am a curious person by nature. My research allows me to get answers to questions that I have—and contribute to the intercultural and experiential community. My co-authored textbook was personally rewarding because the feedback we received from a variety of readers complimented our attempts to understand how we can communicate more effectively with people whose values, identity, our cultural frame is different from our own.
Where is the best view on campus?
Trick question. But my view is from the dorms—looking down at the Football field and into the university with mission bay in the background.
When your family visits, what do you like to show them about USD?
Do you mean what do they want to see? Like my office?! Well, I like to show them the architecture of our buildings that match Spanish influence and design, Founders Chapel and the intricate stained glass windows, and for the grand finale, the reflection pool at IPJ.
Along with her work in the classroom, Chung is also active in the San Diego community. Since the founding of the San Diego Asian Film Festival (SDAFF), she has been active with the organization. In October, Chung was recognized with a Service Appreciation award from SDAFF. To read more about this award and Chung's service, please visit our news page.