What is StayClassy.org and how did you come to be recognized by this group? Tell us about your current nomination.
StayClassy.org is a national organization whose goal is to connect individuals with non-profit efforts and raise funds through various entertainment events. They also are the creators of the CLASSY Awards, recognizing philanthropic efforts in individuals and organizations. I am currently nominated for Most Influential College Student in the San Diego Finalist category for my philanthropic work with Invisible Children in USD's first annual ¡Olé! Music Festival.
You've been nominated by StayClassy.org before. And you won! Tell us briefly about that experience.
Yes! It was an amazing experience. I received the CLASSY Award for Best Volunteering Effort by an Individual for my work with Invisible Children. In April of 2009, I organized and implemented the largest RESCUE event in San Diego, CA. It was among 115 similar events held simultaneously across the world. It was an awareness campaign in solidarity with the thousands of child abducted soldiers, currently being held captive by Joseph Kony, the number one most wanted war criminal by the International Criminal Court. The event, attended by thousands, included letter-writing campaigns to United States Congressmen and Senators, "rescuing" by Chargers' Vincent Jackson and other awareness elements to raise attention to the crisis in Uganda/Congo.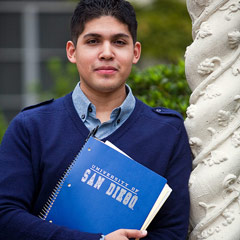 "When people become aware of a crisis or problem and don't act towards the betterment of that problem, they are basically the problem."
Joseph Bello
Tell us about your role as Associated Students director of concerts. Has philanthropy traditionally been associated with this position, or did you introduce that element?
As director of concerts last year, my immediate goal was to involve and implement philanthropy into several of the larger concert and entertainment events throughout the year. My main focus was to try and set up an annual spring music festival at USD, seeing a need for USD to join the tradition of other universities that have major annual music festivals, such as UCSD's SunGod Music Festival. And thus, the first annual ¡Olé! Music Festival was birthed.
My most important goal remained to redefine the massive, annual college music festival by focusing on philanthropic efforts, a feat that is still absent at the college level. While Associated Students is regularly involved with philanthropy and makes it their focus continually, I saw that the director of concerts position lacked any philanthropic focus. Traditionally, philanthropy is harder to do with music concerts and events, mainly because of the general costs just to deliver a regular show. However, I realized that even if money were not raised, the awareness that would come would be, in many ways, more important and vital. Therefore, I decided I wanted to make it a necessity to highlight and partner with a philanthropic organization every year.
You have consistently shown support for Invisible Children. What do you find special about this organization?
I have been involved with Invisible Children for 5 or 6 years now. When I was a senior in high school I saw an amateur style documentary called "Invisible Children: Rough Cut." The film was made by 3 college students from San Diego, who discovered one of the worst humanitarian crises in the world: child soldiers caught up in a 21-year civil war in northern Uganda. Through a mutual friend of the one of the filmmakers, I was able to see one of the first screenings of their rough-cut film. I immediately connected with the film and its cause so much that I decided to forgo my first year of college and trade it for a trip across the country to screen the film at hundreds of colleges, high schools and churches on Invisible Children's very first national tour.
What I found so incredible about this organization was how 3 ordinary college students, who stepped out in faith and their conviction that they needed to do something about what they had seen, were able to create one of the most pivotal grassroots non-profits to date. Their grassroots approach and personal connection is what keeps Invisible Children going, as evidenced by the fact that most of their donations are not coming from large donors and corporations, but from ordinary students and supporters making small donations of $20 or more.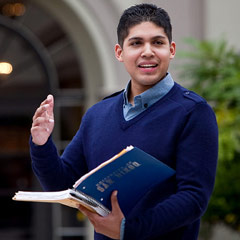 "Opportunities are all around you, and you don't necessarily need to go searching for them, you just have to wake up and realize they are there."
Joseph Bello
What is your advice to undergraduates who want to make a difference?
I think a lot of times making a difference seems overwhelming and not very tangible. For example, I traveled to Kenya, East Africa when I was 16 and worked in one of the largest slums of Kibera. I came home feeling that whatever small thing I tried to do to help, it would not matter or make any lasting impact. But when I saw Invisible Children, it gave me a tangible way of making a change, by simply exposing the crisis in northern Uganda to people who had no idea it was taking place.
So my advice is this: you don't have to have to do anything extraordinary to make substantial change. A lot of small acts add up to one big change. And most importantly, you don't have to go out of the way of your normal daily schedule to make a difference. Start with what you love to do, and find a way to use your talents and what you love to make change. I used my love for events and music to find a new way to help the cause I felt most passionate about. Opportunities are all around you, and you don't necessarily need to go searching for them, you just have to wake up and realize they are there.
Have you been inspired or influenced by USD faculty? Are there any students or organizations at USD that you find inspirational or influential?
I met Joan B. Kroc. Peace Scholar and Visiting Professor John Prendergast a few years back when I was involved with Invisible Children and before I was a student at USD. What I found most inspiring about John was his undying and unquestioning passion and drive for human rights. I remember in one of the interviews Invisible Children put out during an effort to raise awareness of child soldiers in Uganda he said that most causes like peace in northern Uganda have no enemies or opponents, just apathy and indifference. When people become aware of a crisis or problem and don't act towards the betterment of that problem, they are basically the problem.
Those words stuck with me, and have become engrained in my drive towards philanthropic efforts to this day. I think students at USD introducing grassroots causes on campus by setting up clubs and hosting screenings of films and fighting for the causes with which they have connected are some of the most influential students on campus. The main reason is that action starts with awareness. One of the most recent clubs to be formed at USD around this idea is the LiNK USD chapter, whose efforts are aimed at raising awareness and funds to help rescue North Korean refugees.
- Anne Malinoski '11
We would like to congratulate Joe for his second place finish in the Stay Classy Awards!