How did a liberal arts education prepare you for medical school?
Medical school covers a much broader spectrum of study than I anticipated. Understanding the sociological factors that affect patients, the ethical dilemmas physicians regularly face, and of course, the human physiology underlying disease are all necessary to provide complete care. The range of classes required in the core curriculum at USD gave me the chance to develop strengths and explore interests in areas outside of biology. Taking classes outside my major was also an opportunity to interact with different types of people. A central aim of medical school is teaching students how to develop relationships with patients from a variety of backgrounds. The education I received at USD went beyond the classroom and made me a more well-rounded person, which has prepared me for medical school and will benefit me as a physician.
Tell us a little bit about your medical school, what sets it apart and how you chose it.
Creighton University School of Medicine is a Jesuit medical school located in Omaha, Nebraska. Being educated at Creighton means learning to provide care for the whole person; mind, body and spirit are all important in treatment. My favorite aspect of Creighton is the emphasis placed on community service. Creighton draws students who desire to positively impact communities and the faculty are extremely supportive of students in their service endeavors. This commitment to serving others creates a culture with students and faculty who are very unified. Coming to Creighton was like becoming part of a family. I could never have imagined I would feel so at home here.
What are your long-term career plans?
Ideally, I would like to work in adolescent health care, possibly with at-risk youth in a school or clinic setting. This summer I worked as a junior high camp counselor and saw how even a small investment in kids at that age can change their lives. I was fortunate to grow up with really strong mentors who encouraged and motivated me, and I hope to do the same for my patients.
What activities did you take part in during your time at USD? How did they impact you?
I had the opportunity to serve as President of the American Medical Student Association (AMSA) for two years. AMSA is an organization that provides a community for premedical students where they can learn about the medical field, lead and engage in service projects, and share ideas. One of my favorite service opportunities was our monthly trip to the local convalescent home. We developed relationships with patients who were extremely vulnerable and we were able to get a glimpse into what medicine is really like. Additionally, I met physicians from various specialties, learned how to do sutures and was given the opportunity to do radiology research through AMSA.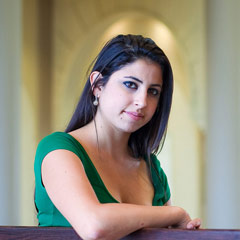 "I was fortunate to grow up with really strong mentors who encouraged and motivated me, and I hope to do the same for my patients."
Jennifer Rosin
Tell us who inspired you at USD and how.
Carol Moffett, former Director of Pre-Health Advising guided me through my entire premedical experience at USD. I did not come from a family of physicians and had no connections in the field, so without her I would not have known where to begin. She gave me instructions about how to be a successful applicant and continued to counsel me even after I'd been accepted to medical school. Not only did she tell me what the requirements for medical school were, she gave me opportunities to develop my leadership skills through AMSA and the Peer Advising Program. She went above and beyond what her job description entailed and was a personal cheerleader for me through every trial.
Dr. Patrick was my first biology professor at USD. I took her introductory course freshman year after a rash decision to major in biology. Luckily, the class was challenging and dynamic, so I stuck with the subject. I think of the saying "people become what you tell them they are," when I think of Dr. Patrick. She told me I was capable of success as a Biology student, which motivated me to study it even when I felt inadequate.
Dr. Malachowski made organic chemistry interesting enough that I even considered pursuing that instead of medicine. The concepts I learned in his class stuck with me and have been extremely valuable in my classes at medical school. In addition to being a great teacher, he was a great source of moral support and encouragement. He was always willing to go through problems with me step-by-step until he was convinced I fully understood it.
What is the most valuable advice you received during college?
"Becoming a doctor is like eating an elephant - you just have to keep chewing." -Dr. Michael Sise
He was the first physician I heard speak after deciding to pursue a career in medicine and to this day I still count it as one of the most encouraging lectures I've ever been to.
Where is your favorite place to eat at USD, and what do you order?
La Paloma! One of my favorite personal accomplishments was eating lunch there for under $2. I had a peanut butter and banana sandwich nearly everyday.
- Anne Malinoski '11