Disclaimer from Dean Mary Boyd: Any opinions, findings, conclusions or recommendations expressed in this material are those of the subject and do not necessarily reflect the views of the College of Arts and Sciences. A thorough background check has been conducted, and we have concluded that Dr. Dickson's only crime is his oddball sense of humor.
You've been an instructor for 23 years. Do you have a favorite course to teach? What is it?
My favorite course is Judicial Behavior. It is a lot of fun to teach, in spite of the off-putting title. When I told my dad that I was going to design and teach a course on judicial behavior, he said, "There is no way I would ever take that course," and I have included that quote in my course syllabus ever since. I also especially enjoy Introduction to Political Science and Constitutional Law: Civil Rights and Liberties.
What do you find most rewarding about advising USD's pre-law students?
The best part of being the campus pre-law advisor is helping our students cut through all of the myths and misinformation about law school. There is so much bad information out there, and so many people are trying to sell something or push something, and it can all be terribly confusing. We don't have an agenda, and it is nice to be able to give our students good, reliable, current and above all, honest information.
Our only interest is to help our students know their options and to be in a good position to help themselves. We want them to go into the process fully informed and with their eyes open. They should know the good, bad and ugly about law school, how to maximize their chances for admission to law school and what their career options might be after they graduate.
When I was getting ready to apply to law school, I was completely on my own. The schools I went to never had any academic advisors of any sort, and as a result I made a lot of mistakes. We want to make sure that our students won't make the same mistakes. Don't worry about my mistakes, by the way-- I was never convicted of anything and the statute of limitations expired a long time ago.
[Dean's Addition: This is what I meant with the disclaimer.]
Tell us a little about your research.
I am especially interested in the relationship between law and democracy. My dissertation was about juries. My first law review article, published in the Toledo Law Review, was about English magistrates courts, which were staffed by lay judges. My second law review article, published in the Yale Law Journal, was about an infamous jury trial in Georgia and its unlikely impact on Supreme Court authority. I am currently working on a book on democracy.
My biggest research project was on the U.S. Supreme Court, which became a book, "The Supreme Court in Conference," published by Oxford University Press. At over 1,000 pages, a colleague once said that it was the nicest doorstop he had ever seen. My mom was so proud when someone stole a copy of my book from our law library. She thinks that the fact that someone would care enough to steal my book was the highest compliment anyone could pay to an academic author. My book also won a prize, but she didn't care about that.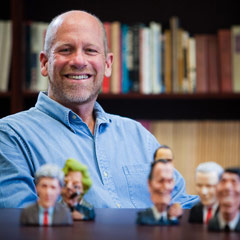 "I wouldn't trade USD for any other school in the country."
Del Dickson
How would you describe your educational approach?
Teaching and learning should be rigorous, but they should also be fun. I am fairly demanding, and I want my students to work hard and to be actively involved in class discussions every day. But I also want my students to enjoy class. If I can't make every student laugh at least once during the hour, I go back to my office and cry.
You are famous around campus for your bobble head collection. How did this collection begin?
My office is full of toys and knickknacks; everything from hundred-year-old campaign buttons to a real Star Trek prop phaser.
I have a talking (actually a screaming) Hugo Chavez doll that a wonderful ex-student gave me when he returned from his Peace Corps assignment in Venezuela. And of course I have a few bobble heads. They are all political figures, dating from the Margaret Thatcher and Ronald Reagan era. Besides those two, I have both Bushes, Dan Quayle, Bill Clinton, Arnold Schwarzenegger and Barack Obama, among others. Plus I have a few political theorists like John Locke and Jean-Jacques Rousseau. Most of them are really squeaker toys rather than bobble-heads, but it all amounts to pretty much the same thing.
My collection started in 1988, when I found my first two "Spitting Image" bobble heads, Prime Minister Margaret Thatcher and President Ronald Reagan, while on a trip to London. "Spitting Image" was a funny, mean-spirited show, and I absolutely loved it. There is nothing like it on TV now, unfortunately. It was a political puppet show, with brutally rude caricatures of assorted politicians and celebrities in absurdly hilarious skits.
There was one especially memorable bit involving Prime Minister Thatcher and her cabinet. All of Mrs. Thatcher's ministers were in a meeting, arguing loudly about something or other, when a caterer came in and asked Mrs. Thatcher what she wanted for lunch. She screamed that she wanted "Raw meat, lots of raw meat!" The caterer looked dubious and asked, "What about the vegetables?" Mrs. Thatcher looked around the room at all of the ministers, now silent and staring at her, and she replied, "They'll have the same!"
I was hooked, and that's when I started looking for "Spitting Image" and other political bobble heads to collect.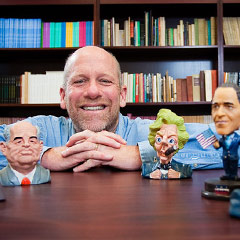 "Teaching and learning should be rigorous, but they should also be fun."
Del Dickson
What is special about USD from a faculty perspective?
At last, an easy question. Our students and faculty are what make USD special. Our students make it a joy to come to work every day. Students in the College of Arts and Sciences are smart, nice and fun to be around. The College is still small enough that we can get to know our students, and they can get to know us. It is so much better than being at a big school, where TA's do most of the teaching and students are considered unwelcome intrusions on faculty research. I would absolutely hate that kind of environment.
Our faculty are nicer, and get along better, than faculty anywhere else I know. I can call any faculty member, administrator or staff member on campus and many of them won't hang up on me, at least not until I tell them who it is. Our faculty still love to teach, which is not necessarily true at other universities.
All of this makes for a great academic environment. Of course it doesn't hurt that we have one of the most beautiful campuses in the country.
When I interviewed in 1987, I immediately felt at home here. I told [my wife] Ann afterwards that if they didn't hire me I was going to be depressed for the rest of my life. Fortunately, all of the other candidates died mysteriously in a series of unfortunate "accidents," and I got the offer. It was the second best day of my life. My department, by the way, is absolutely the best. I wouldn't trade USD for any other school in the country.
Where is the best view on campus?
The best view on campus just has to be from the top of the Immaculata bell tower. I have sworn an oath on the sacred relics of Quasimodo to climb the tower someday to see for myself. Access to the stairwell seems to be something of a legal gray area, so if you ever see me in the back of a campus police car you'll know why. It would be great if someone would authorize my climb, but somehow, some way, some day I am going to take a picture from the top of the bell tower. That is what tenure is all about.
[Dean's Addition: Once again, objectionable statements in this interview are not condoned by the university. Offended parties may issue their complaints directly to Dr. Del Dickson.]
[Dr. Dickson: Don't be fooled by Dean Boyd's disclaimer-- she just wants to climb the bell tower before I do!]
- Anne Malinoski '11