Choral Scholars
USD's Choral Scholars is a vocal ensemble composed of select students of high academic caliber and possessing exceptional vocal ability, coupled with a unique scholarship program. The Choral Scholars perform at university and community functions, performance tours and university concerts. The Scholars are available for both university functions and outside bookings, and maintain a repertoire that ranges from madrigals and motets to contemporary gospel, avant garde and popular music.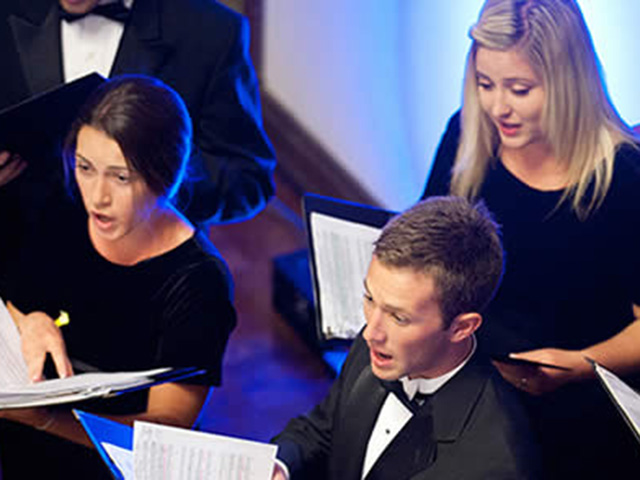 The University of San Diego's Choral Scholars is a vocal ensemble of musically gifted students of high academic caliber. Founded in 1989, this  elite choral ensemble of music majors and minors specializes in the performance of contemporary and early repertoire for the chamber choir.
Scholarships and Benefits of Participation
The Choral Scholars is one of the few collegiate choral ensembles in this  country to fund every member with an academic scholarship.
Beyond the financial award that is applied towards tuition expenses,  students in Choral Scholars receive private instruction in voice, advanced  choral training, ongoing music theory development and numerous  performance opportunities.
Rehearsals and Performance
Under the direction of Emilie Amrein, DMA, the Choral Scholars rehearse  for five hours each week, with additional individual and sectional practice  sessions arranged around student schedules. The ensemble maintains a  busy performance schedule, appearing in two to three full concert  performances each semester in addition to many smaller appearances at  official USD functions. In recent years, the Choral Scholars have toured  Italy, France, Poland, Hungary, Russia and the Czech Republic.
In addition to their rehearsal and performance duties, the Choral Scholars  serve as soloists and section leaders for a variety of ensembles on campus  and in the greater San Diego community. These additional leadership roles  provide a robust pre-professional performance experience with some of  the community's most highly regarded performing organizations.
RECRUIT ME
Roster of Singers
Will Altinger, '21
Madeline Ang, '19
Alexandra Annen, '18
Rosalyn Arvisu, '21
Lilia Baldauf, '18
Jonathan Bidinger, '19
Madeleine Braun, '21
Margaret Driscoll, '18
Annie Flati, '21
Solomon Dane Hood, '18
Sam Kassman, '20
Christina Kozlovsky, '20
Luke Leidiger, '21
Ethan Lindt, '20
Mylene Macias, '18
Shannon McAvoy, '18
Kiera McNeill, '19
Nicolas Moceri, '20
Lwendo Mwansa, '20
Daniel Myers, '18
Maddison Nelson, '18
Elliott Parker, '19
Dennis Pudjarminta, '17
Haley Pugh, '18
Andrew Saiz, '19
Mark Sasaki, '18
Danica Silan, '20
Emmalyn Spruce, '19
Haleigh Stewart, '19
Sam Stringer, '21
Jack Tice, '21
Alek Volkir, '18
Phoebe Woofter, '21
---
Audition and Interview Information
Membership in the University of San Diego Choral Scholars is contingent  upon an audition and interview each year. For priority placement,  prospective high school students should submit an unedited web-based,  video recording of two contrasting art songs accompanied by piano by  February 1. One of the two selections should be in a foreign language.  Students selected to advance to the next round will be invited to campus  for an audition and interview in March. Remaining awards and positions in  the ensemble will be awarded on a rolling basis.
Our 2019-2020 roster has been filled. Please contact Dr. Emilie Amrein for further information at choralscholars@sandiego.edu.
Recent Recordings
Questions? Contact:
Emilie Amrein, DMA
Assistant Professor, Music Department
Director, Choral Scholars
Director, Concert Choir
amrein@sandiego.edu
Phone: (619) 260-4111