Andrew Nosal, PhD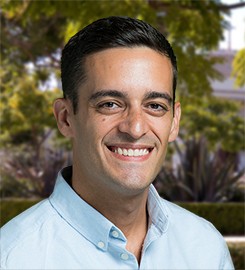 Phone:
(619) 260-4600 ext. 2438
Office:
Shiley Ctr for Science & Techn 250
Adjunct Assistant Professor, Environmental and Ocean Sciences
Ph.D., Scripps Institution of Oceanography, University of California – San Diego; Marine Biology

NSF Graduate Research Fellowship Program (GRFP)

NSF Integrative Graduate Education and Research Traineeship (IGERT)

B.S. (with High Distinction), University of Virginia; Biology (Concentration in Environmental and Biological Conservation)

Postdoctoral Research Fellow, Scripps Institution of Oceanography, University of California – San Diego

Andrew Nosal, Ph.D., joined the USD faculty in 2017. Nosal teaches courses in marine biology, ecology, and oceanography. His research on the movement ecology of sharks and rays combines laboratory experiments and field work to understand the causes and consequences of animal movement.
Areas of Expertise
Behavior, physiology, ecology, and conservation of sharks and rays; animal tracking; science communication
Scholarly Work
As a movement ecologist, Dr. Nosal studies the causes and consequences of animal movement, how individuals respond to environmental change, and how these individual responses scale up to affect the structure and function of communities and ecosystems. This requires a detailed and mechanistic understanding of animal movements and their underlying physiological and environmental processes. In his research, Nosal integrates high-resolution movement trajectories from animal-borne tracking devices and sensors with remotely sensed and modeled environmental data. The ultimate and unifying goal of his research is to develop highly predictive models that integrate habitat preferences, physiology, inter- and intraspecific interactions, and spatial memory into forecasts of animal movement in multidimensional climate and environment space.
Over the past decade, Nosal has applied this 'movement ecology' framework to study the sharks and rays of California and Baja California, including aggregation behavior, migration, navigation, sexual segregation, population structure, and multiple paternity. Nosal has also investigated the psychological effect of ominous background music in shark documentaries on viewers' perceptions of and willingness to conserve sharks. Nosal holds a concurrent Visiting Assistant Researcher appointment at Scripps Institution of Oceanography, where he conducts (mostly summer) research on the movement ecology of leopard, soupfin, sevengill, blue, and mako sharks, guitarfish, and bat rays. Nosal is also a member of the IUCN Shark Specialist Group for the Northeast Pacific Region.
News
Areas of Interest
Dr. Nosal has been teaching undergraduate lecture and laboratory courses since 2011, including more than 20 courses in general, cell, organismal, and marine biology for science and non-science majors. Currently, Nosal enjoys teaching a wide range of courses in marine biology, ecology, and oceanography. He believes that students learn science by doing science and that when students internalize the notion that they are scientists, they take ownership of their science education. Thus, Nosal strives to cultivate an attitude suited to scientific inquiry that blends curiosity, skepticism, and self-motivation, as well as to empower students with foundational scientific skills, such as formulating and testing insightful hypotheses, reading and evaluating primary literature, and problem-solving.
Nosal is also passionate about science communication generally and integrates opportunities for students to hone this fundamental skill into every course he teaches. Nosal has undergone formal training in science communication at the Alan Alda Center for Communicating Science at Stony Brook University in New York, where he learned how to incorporate improvisational theatre skills and storytelling into his science outreach to connect with the audience and distill the message. In 2015, Nosal was one of five international winners of the inaugural iBiology Young Scientist Seminar (YSS) Series competition.
Lastly, as a Puerto Rican, Nosal is committed to increasing inclusion and diversity in higher education, particularly the STEM fields.