James Bolender, PhD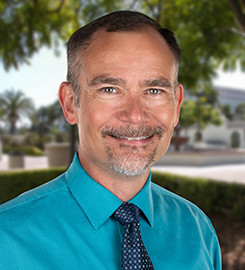 Office:
Shiley Ctr for Science & Techn 380
Associate Professor
Ph.D., University of Virginia, Physical Chemistry (1994)

B. A., Wittenberg University, Chemistry and Physics (1988)
James Bolender, PhD, came to University of San Diego in 1996 after a post-doctoral experience in the department of Chemistry at Pennsylvania State University. Bolender has received more than $700,000 in grants to assist in the purchase of equipment and to support undergraduate research. Bolender was awarded the Davies Award for Teaching Excellence in 2007.
Scholarly Work
As a laboratory chemist, Bolender works on luminescent lanthanide containing materials to use their photophysical properties to probe various molecular phenomena. These include molecular recognition and electron transfer processes. Current projects center on water soluble LaF3 nanocrystals and their potential uses as sensors. Various aspects of this project are done in collaboration with Chris Daley, Ph.D. and Julia Schaffer, Ph.D.
Currently Bolender is working on projects that involve water quality issues around the globe. These projects include long-term water quality monitoring of the pollution impact of a tuna and sardine cannery in Puerto San Carlos, Baja California Sur, Mexico (collaborative with Michel Boudrias, Ph.D., MARS) and associated studies. Additionally, he works in Mbarara, Uganda in support of the Holy Innocents Children's Hospital in collaboration with Anita Hunter, Ph.D., School of Nursing and Health Sciences. The work monitors the waters the Rwizi River and any impact the hospital might have on this important source of drinking water for the community.
Areas of Interest
Bolender teaches classes that span the sub-fields of chemistry and biochemistry. He has taught general chemistry, analytical chemistry, physical chemistry, biophysical chemistry, and upper division laboratory classes. Additionally, Bolender has taught "Pollution in the Sand" and the "Physical and Chemical Applications of Lasers" as team-taught courses in the Honors Program.
Office Hours
Section 02R
1/25 - 5/15
M
2:00 pm - 4:00 pm
Shiley Ctr for Science & Techn - 380
1/25 - 5/15
W
12:30 pm - 2:30 pm
Shiley Ctr for Science & Techn - 380
1/25 - 5/15
F
1:30 pm - 3:00 pm
Shiley Ctr for Science & Techn - 380