Labs and Equipment
Whether enrolled in chemistry and biochemistry courses or engaged in collaborative research with faculty, our students have complete access to top-of-the-line, modern facilities and equipment.
The Department of Chemistry and Biochemistry occupies 27,000 sq. ft. of the Donald P. Shiley Center for Science and Technology built in 2003. Teaching laboratories are equipped with state-of-the-art teaching and research laboratories to support learning and faculty-student research.
A $1 million grant from the Fletcher-Jones Foundation provided funding to purchase instrumentation and equipment for biochemical research now housed in the Center. Through external grants and internal support we continue to provide cutting edge instrumentation for teaching and research. In the new facility, each faculty member has 475 sq. ft. of well-equipped research space in a laboratory that accommodates 4-5 students.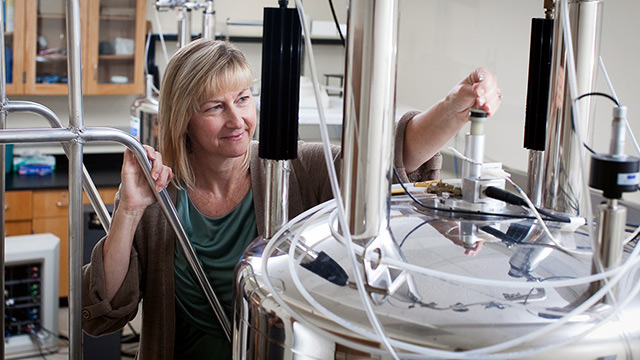 The department also has a molecular modeling facility with 12 PC desktop; 12 Unix/Linux workstations; a server cluster with molecular modeling software; and an eighteen dual-processor Xeon cluster for computational chemistry.
Instrumentation includes:
Photon Technologies and Jasco fluorimeters
Jasco circular dichroism spectropolarimeter
Double beam UV-Vis instruments with temperature control, multi cell and solid state accessory
Jasco UV-Vis/Near-IR spectrophotometer
Jasco FT-IR spectrometers with ATR attachments
"Varian Atomic absorption spectrometer
Varian HPLC
"Bruker & ThermoElectron GCMS
ThermoElectron LC-MS
Personal Chemistry microwave reactor
Varian Inova-500 and Mercury-400 NMR spectrometers
Laser laboratory
"Molecular Modeling facility: 12 UNIX / Linus workstations & 12 PC desktops"
Advanced Automated Liquid Chromatography (FPLC) station (BioRad)
Jasco FPLC

"Bruker Xray diffractometer Apex II Dup
Complete list of instrument holdings