Joan Lorraine Schellinger, PhD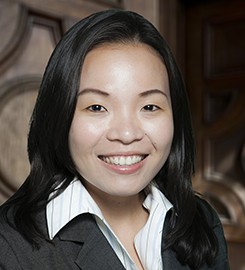 Office:
Shiley Ctr for Science & Techn 485
Associate Professor
AFFIRM Cohort '14
Postdoctoral Fellow, University of Washington, Seattle, WA (2011-13)

PhD in Chemistry, University of California, Davis, CA (2010)

BS in Biochemistry, University of the Philippines Manila (2003)
Dr. Joan Schellinger joins University of San Diego as an Assistant Professor in the Department of Chemistry and Biochemistry. A native of the Philippines, Dr. Schellinger received her doctorate in organic chemistry from University of California Davis in 2010 under the supervision of Professor Jacquelyn Gervay-Hague. She was as a postdoctoral fellow at the University of Washington Seattle in Professor Suzie H. Pun's laboratory where she mentored and worked with graduate and undergraduate students. She was one of the recipients of the very first Postdoctoral Mentoring Award in 2013 offered by the University of Washington Graduate School. The award was created to honor and acknowledge the significant role that postdoctoral trainees play in the lives and education of graduate and undergraduate students.
Areas of Interest
Dr. Schellinger's teaching and research interests are in the areas of organic chemistry, more specifically in peptide, polymer and bioconjugate chemistry. Prior to joining the USD academe, she was a classroom lecturer and laboratory instructor for general and organic chemistry at De La Salle University in Manila Philippines, University of Washington in Seattle, WA and Skagit Valley College in Mount Vernon, WA. Her broad research background includes synthesis of small molecules, linkers, peptides and polymers with applications to antibody-based cancer therapy, HIV vaccine and gene delivery. Dr. Schellinger's research program at USD will involve working with undergraduate students towards the synthesis and evaluation of biologically relevant molecules focusing on chemical modification of peptides for increased bioactivity.