Jessica Bell, PhD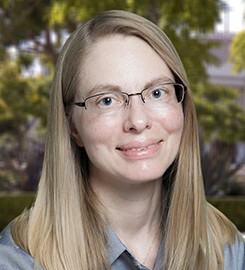 Office:
Shiley Ctr for Science & Techn 491
Associate Professor
AFFIRM Cohort '14
Postdoctoral studies, University of California-San Francisco, Biochemistry & Biophysics

Postdoctoral studies, National Institutes of Health, Biochemistry & Biophysics

Ph.D., University of Minnesota, Biochemistry, Molecular Biology & Biophysics

B.A., Gustavus Adolphus College, Chemistry & Biochemistry
Jessica Bell, PhD, joined the University of San Diego faculty in 2014. Dr. Bell's teaching interests lie in Biochemistry and Biophysics, but she also enjoys engaging first year students in the General Chemistry laboratory course. Her current research focus is on host-pathogen interactions and the structure-function relationships that build the host's defense mechanisms.
Scholarly Work
In her research, Dr. Bell uses a variety of techniques to investigate structure-function relationships in host-pathogen interactions. Currently, she is interested in uncovering the function of a newly discovered protein that is post translationally modified in the context of a viral infection and following invasion by Salmonella typhimurium. The goal of this project is to investigate this protein's function through structural studies via x-ray crystallography and hydrogen-deuterium exchange, cellular localization through immunofluorescence assays (fixed and live cell), functional assays such as cytoskeletal rearrangement observed via migration & phagocytosis assays, and defining the protein interaction network through co-immunoprecipitation coupled to tandem mass spectroscopy (MS)/MS studies. Also of interest to the Bell lab is the evolution of this protein's structure-function relationship from Metazoan precursors (choanoflagellates) through worms, flies, zebra fish to humans. With a long standing interest in allosteric regulation and enzyme cooperativity, Bell is also interested in regulatory control of the host's antiviral response, particularly the enzyme TANK binding kinase 1 which her group showed displays negative cooperativity towards phosphorylation targets. The goal of this project is to discern the molecular details of subunit communication within the dimeric kinase that conveys this regulation.
Areas of Interest
Professor Bell enjoys teaching Biochemistry as well as an upper division Biophysics lab intensive course and General Chemistry lab to 1st year students. She is part of a working group within the American Society of Biochemistry & Molecular Biology that accredits biochemistry degrees and programs. She is passionate about bringing the research paradigm to the classroom and is part of an inter-institutional team to develop an adoptable model to bring authentic research to biochemistry and molecular biology laboratory courses.