Tim Clark, PhD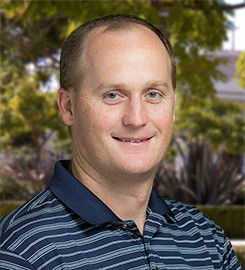 Office:
Shiley Ctr for Science & Techn 439
Professor
B.A. University of San Diego, 2001

Ph.D. University of California, Irvine, 2006

NIH Ruth L. Kirschstein Postdoctoral Fellow, 2006-2007
Timothy B. Clark joined the faculty at USD in 2011. His teaching and research are focused on the areas of organic and organometallic chemistry. His passion lies in leading undergraduate students to an appreciation for the richness of chemical concepts and inquiry. Undergraduate students are incorporated into every aspect of his research and are given the opportunity to engage in part-time research during the academic year and full-time research experiences during the summer, which has been funded by grants from the Research Corporation for the Advancement of Science, the American Chemical Society–Petroleum Research Fund, and the National Institutes of Health.
Scholarly Work
Dr. Clark's research interests are in the applications of organometallic chemistry to organic synthesis. Organometallic complexes are used as catalysts to mediate organic reactions that either cannot be achieved without a metal, or are much more efficient and practical with the metal present. The goals of his research are to develop new catalysts that are synthetically useful and ultimately to apply the newly developed reaction to a biologically relevant synthetic target. Projects in the Clark group range from synthetic organometallic chemistry (design of new transition metal complexes) to new organic reaction development that utilize transition metal catalysts.
Areas of Interest
Dr. Clark's teaching interests are in the area of organic and organometallic chemistry. Dr. Clark enjoys using the concepts of physical-organic chemistry and molecular orbitals to help students understand organic chemistry in more detail. Dr. Clark is also passionate about the pedagogy of undergraduate research and helping students deepen their understanding of all areas of chemistry through an authentic research experience.
Office Hours
Section 02
1/25 - 5/10
M
11:30 am - 12:30 pm
TBD - TBD
1/27 - 5/05
W
2:30 pm - 3:30 pm
TBD - TBD
1/28 - 5/06
TH
2:00 pm - 3:30 pm
TBD - TBD
1/29 - 5/07
F
10:00 am - 11:30 am
TBD - TBD